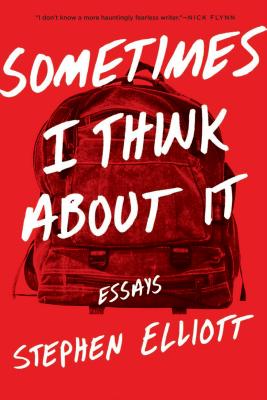 Sometimes I Think About It
Essays
Paperback

* Individual store prices may vary.
Description
An essay collection by a writer who "may be writing under . . . the influence of genius" (Vanity Fair)
In Sometimes I Think About It, Stephen Elliott gathers personal essays, reportage, and profiles written over fifteen years to tell a powerful story about outsiders and underdogs.
Moving from the self to the civic, the book begins with a series of essays that trace Elliott's childhood with an abusive and erratic father, his life on the streets as a teenager, and his growing interest in cross-dressing and masochism. These stories, which range from a comic portrait of a week spent hosting his younger brother to a brutal depiction of depression, provide a context for the essays that follow.
Stepping out into the world, Elliott tells of a man who loses his family in a rock slide in Southern California, explores the vexing realities of life in Palestine, and paints a chilling picture of a young man caught in the prison-industrial complex. The last section, "The Business of America Is Business," shows Elliott's abiding interest in the spectacle of money in America, from pop music to pornography to publishing, and it concludes with an off-kilter account of the tech industry's assault on West Los Angeles.
Building on the extraordinary storytelling that characterized his breakout book, The Adderall Diaries, Elliott's search for dignity and happiness leads him to tell with great sympathy the stories of those who are broken and seek to be whole.
Praise For Sometimes I Think About It: Essays…
"Stephen Elliott grounds each entry in an authentic, down-to-earth voice that conveys the pain of being human and moribund. . . . Sometimes I Think About It is dark, ruminative and piercing. At his best, Elliott depicts how tragedy and pain can actually bring people together."—Shelf Awareness
"I love these essays so hard I want to chew on them. For the bite of it. Stephen Elliott has the uncanny ability to go out into the culture and locate a self set loose from consumer culture and money identity. When it comes to outsider bodies and lives and stories, Stephen Elliott is there to remind us that the edges are where our cultural shape comes from. Without the edges, the center doesn't even exist. Sometimes I Think About It is an outsider tour de force."—Lidia Yuknavitch
Graywolf Press, 9781555977757, 256pp.
Publication Date: November 7, 2017
About the Author
Stephen Elliott is the author of seven books, including Happy Baby, a finalist for the New York Public Library's Young Lions Award. He is also the founding editor of the online culture magazine TheRumpus.net.
or
Not Currently Available for Direct Purchase