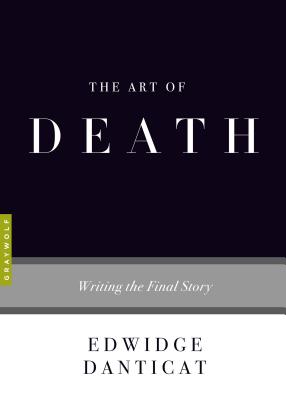 The Art of Death (Paperback)
Writing the Final Story (Art of...)
Graywolf Press, 9781555977771, 160pp.
Publication Date: July 11, 2017
* Individual store prices may vary.
Description
A moving reflection on a subject that touches us all, by the bestselling author of Claire of the Sea Light
Edwidge Danticat's The Art of Death: Writing the Final Story is at once a personal account of her mother dying from cancer and a deeply considered reckoning with the ways that other writers have approached death in their own work. "Writing has been the primary way I have tried to make sense of my losses," Danticat notes in her introduction. "I have been writing about death for as long as I have been writing." The book moves outward from the shock of her mother's diagnosis and sifts through Danticat's writing life and personal history, all the while shifting fluidly from examples that range from Gabriel García Márquez's One Hundred Years of Solitude to Toni Morrison's Sula. The narrative, which continually circles the many incarnations of death from individual to large-scale catastrophes, culminates in a beautiful, heartrending prayer in the voice of Danticat's mother. A moving tribute and a work of astute criticism, The Art of Death is a book that will profoundly alter all who encounter it.
About the Author
Edwidge Danticat is the author of several books, including Breath, Eyes, Memory, an Oprah's Book Club selection; Krik? Krak!, a National Book Award finalist; The Farming of Bones, an American Book Award winner; and the novel-in-stories, The Dew Breaker. She is the editor of The Butterfly's Way: Voices from the Haitian Diaspora in the United States and The Beacon Best of 2000: Great Writing by Men and Women of All Colors and Cultures, Haiti Noir and Haiti Noir 2, and Best American Essays 2011. She has written several books for young adults and children—Anacaona, Behind the Mountains, Eight Days, The Last Mapou, Mama's Nightingale, and Untwine—as well as a travel narrative, After the Dance, A Walk Through Carnival in Jacmel. Her memoir, Brother, I'm Dying, was a 2007 finalist for the National Book Award and a 2008 winner of the National Book Critics Circle Award for autobiography. She is a 2009 MacArthur Fellow.
Praise For The Art of Death: Writing the Final Story (Art of...)…
"This book is a kind of prayer for her mother — an act of mourning and remembrance, a purposeful act of grieving. . . . Danticat writes beautifully about fellow writers, dissecting their magic and technique with a reader's passion and a craftsman's appraising eye. . . . As a grieving daughter, she wants to understand how others have grappled with this essential fact of human existence; and as a writer — a 'sentence-maker,' in the words of a DeLillo character — she wants to learn how to use language to try to express the inexpressible, to use her art to mourn."—The New York Times
"Danticat taps into such tough subject matter . . . with a trickless, spellbinding clarity. . . . This small book is a bracingly clear-eyed take on its subject."—The Boston Globe
"Danticat's is a memoir written in a manner akin to the circular, overlapping and overwhelming processes of grief and mourning; she layers her story with other poems, memoirs, novels and essays about death, scaling the personal to wider-ranging political and ecological catastrophes. . . . Deeply felt."—Los Angeles Times
"The Art of Death offers an inspired syllabus of Danticat's own design. . . . What's important about reading great writing about death — or in the case of The Art of Death, reading about reading about it — is that it teaches us how to live. Rather than shy away from these books, we should turn to them in all seasons."—Chicago Tribune
"There is, after all, no more universal experience for humans, other than birth, and that is, in some ways, what this beautiful book feels like; it is an offering, almost, a renewal about the ways in which we think about the unthinkable, force ourselves to confront the dark in order to live with light in our lives. It is elegant and thoughtful, and a fascinating meditation on the thing that brings us together."—Nylon
"It's unusual for a craft book to make such an emotional impact, but The Art of Death shows readers—through the words of others and through Danticat's own—how it's done."—Star Tribune (Minneapolis)
"In The Art of Death, Danticat writes clearly and judiciously about a subject that is challenging for both writers and people to face directly. Her range and grasp of literary references is wide and powerful."—Milwaukee Journal Sentinel
"Consider [The Art of Death] a master class in literature and a guidebook for the most universal human experience."—BUST Magazine
"A haunting heart-breaking book that illuminates the artfulness in writing about death as well as Danticat's own genius at conjuring up powerful emotions."—Literary Hub
"A portrait of the emotional toll of death as well as a cathartic guide to finding peace."—Ryan Strong, The Paris Review Staff Picks
"The Art of Death, much like the author's prayer, feels like an offering, a study born of devotion. Part essay, part memoir, part elegy, the book has numerous obsessions — lingual, mortal, and parental — that come together to compelling effect. Danticat — who has published novels, short story collections, a memoir, a children's book, and a volume of poetry — combines these forms fluidly, in a meditation as instructive as it is moving."—Los Angeles Review of Books
"Remarkably rich. . . . This is a volume that respectfully and brilliantly draws in astute observations about scores of great writers and their relationship with death. More important, the skill and tact [Danticat] employs in bringing outside texts into her narrative should be a required roadmap that will reward inquisitive readers for years to come."—PopMatters
"For a subject that's so daunting to tackle, Danticat manages to distill death down to its core elements. . . . The penultimate section of The Art of Death culminates with a prayer. . . [that] manages to accomplish everything Danticat does throughout The Art of Death: leave you wanting more, while knowing in your heart that what you were given was just enough."—Miami Rail
"Danticat's literary reach is impressive—especially so in a book that spans fewer than 200 pages. . . . The Art of Death overflows with life, quietly but insistently inspiring anyone reading it to make good use of what remains of that precious gift."—Shelf Awareness
"The Art of Death is a rare blend of criticism and memoir, and it reaches a breathtakingly touching conclusion in the last chapter."—Garrand Conley, Slice Magazine
"Danticat's latest book articulates with fervent heart what we often cannot when faced with loss."—Dianca Potts
"The author lends a deeply personal touch to this study. . . . Danticat takes on an unpleasant topic with sensitivity and passion."—Kirkus Reviews, starred review
"In a series of linked essays on overlapping topics such as suicide, close calls, and how we relate to catastrophic events, she both shows how great writers make death meaningful, and explores her own raw grief over her mother's death. This slim volume wraps literary criticism, philosophy, and memoir into a gracefully circling whole, echoing the nature of grief as 'circles and circles of sorrow.'"—Publishers Weekly