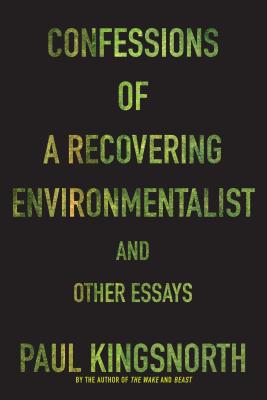 Confessions of a Recovering Environmentalist and Other Essays
Paperback

* Individual store prices may vary.
Description
A provocative and urgent essay collection that asks how we can live with hope in "an age of ecocide"
Paul Kingsnorth was once an activist—an ardent environmentalist. He fought against rampant development and the depredations of a corporate world that seemed hell-bent on ignoring a looming climate crisis in its relentless pursuit of profit. But as the environmental movement began to focus on "sustainability" rather than the defense of wild places for their own sake and as global conditions worsened, he grew disenchanted with the movement that he once embraced. He gave up what he saw as the false hope that residents of the First World would ever make the kind of sacrifices that might avert the severe consequences of climate change.
Full of grief and fury as well as passionate, lyrical evocations of nature and the wild, Confessions of a Recovering Environmentalist gathers the wave-making essays that have charted the change in Kingsnorth's thinking. In them he articulates a new vision that he calls "dark ecology," which stands firmly in opposition to the belief that technology can save us, and he argues for a renewed balance between the human and nonhuman worlds.
This iconoclastic, fearless, and ultimately hopeful book, which includes the much-discussed "Uncivilization" manifesto, asks hard questions about how we've lived and how we should live.
Praise For Confessions of a Recovering Environmentalist and Other Essays…
"This book is refreshing in both a literary respect and an environmental one. What Kingsnorth argues in these essays is so radical that, if put into practice, it could effect meaningful preservation. . . . Kingsnorth's is a much-needed perspective in the environmental movement, recovering or otherwise."—Star Tribune (Minneapolis)
"Versed in both art and science, he uses an engaging prose style to link disparate topics, from cave paintings to the space race, from the poetry of Charles Bukowski to the Norman Conquest. . . . Although he writes about feeling despair, grief, and loss in the face of climate change, Kingsnorth says he has not given up hope—only what he perceives as false hope."—Sierra Magazine

"This collection speaks not of defeatism or of mere retreat, but of the particular kind of hope to be found in realism and in responsibility to the place where you are right now."—Orion Magazine
"Lyrical, compelling and provocative."—National Catholic Reporter
"Kingsnorth writes with undeniable love: for the planet, for locations and histories, and for people. . . . The overall effect is necessarily grim, but often remarkably uplifting as well. In a world on the brink of collapse, Kingsnorth offers humor, compassion, humility and wisdom."—Shelf Awareness
"Arresting and bracing."—Small Farmer's Journal
"A brilliant and sobering collection recommended for anyone, liberal or conservative, concerned about the runaway train of climate change."—Booklist
"A fervent plea to respond creatively and personally to environmental destruction. . . . A hard-hitting collection that shows why we need new stories to revise our perceptions of civilization, progress, and nature."—Kirkus Reviews
"Kingsnorth's essays are sobering and thought provoking. Recommended for those worried about the planet yet frustrated with the modern environmental movement."—Library Journal
"Kingsnorth is a talented, engaging writer. . . . Every essay provides food for thought and given a chance, can rearrange the way you view things. . . . It could even change the way you decide to live."—The Ecologist (UK)
Graywolf Press, 9781555977801, 208pp.
Publication Date: August 1, 2017
About the Author
Paul Kingsnorth is the author of Beast and The Wake, which was long-listed for the Man Booker Prize. He is cofounder of the Dark Mountain Project, a global network of writers, artists, and thinkers in search of new stories for a world on the brink.