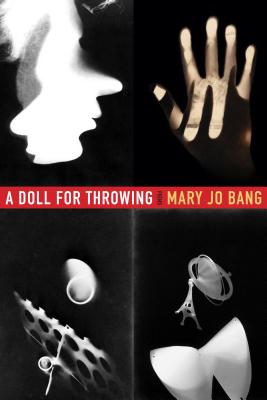 A Doll for Throwing
Poems
Paperback

* Individual store prices may vary.
Description
The exquisite new collection by the award-winning poet Mary Jo Bang, author of The Last Two Seconds and Elegy

We were ridiculous—me, with my high jinks and hat. Him, with his boredom and drink. I look back now and see buildings so thick that the life I thought I was making then is nothing but interlocking angles and above them, that blot of gray sky I sometimes saw. Underneath is the edge of what wasn't known then. When I would go. When I would come back. What I would be when.

—from "One Glass Negative"

A Doll for Throwing takes its title from the Bauhaus artist Alma Siedhoff-Buscher's Wurfpuppe, a flexible and durable woven doll that, if thrown, would land with grace. A ventriloquist is also said to "throw" her voice into a doll that rests on the knee. Mary Jo Bang's prose poems in this fascinating book create a speaker who had been a part of the Bauhaus school in Germany a century ago and who had also seen the school's collapse when it was shut by the Nazis in 1933. Since this speaker is not a person but only a construct, she is also equally alive in the present and gives voice to the conditions of both time periods: nostalgia, xenophobia, and political extremism. The life of the Bauhaus photographer Lucia Moholy echoes across these poems—the end of her marriage, the loss of her negatives, and her effort to continue to make work and be known for having made it.
Praise For A Doll for Throwing: Poems…
"Mary Jo Bang bends and tosses ideas as easily as one would a Wurfpuppe, a flexible doll created by Bauhaus artist Alma
Siedhoff-Buscher that always landed with grace when thrown."—The Washington Post

"Daring, direct, and always-surprising poetry. . . . A Doll for Throwing explores the political alongside the personal: nostalgia, xenophobia, and political extremism; art, marriage, and loss."—Bustle

"Brilliant. . . . While A Doll for Throwing is an urgent work of art history and archival research, it also speaks directly to the present."—Star Tribune (Minneapolis)

"The philosophy guiding each [poem] along is so staggering—so sweeping—that I've found myself returning to it again and again."—Caitlin Youngquist, The Paris Review Staff Picks

"Many of these prose poems are dream-like, philosophical takes that require time and reflection. . . . Bang can make her narrators find the surreal moments from their pasts that ring curiously true."—The Millions

"[Mary Jo Bang] rocks the world with this unmatchable new book inspired by the "Bauhaus" movement. . . . These intriguing poems are sometimes pieces so we get the edge of a relationship, as memory works, or part of a prism. Breaking old forms to create new ones makes for robust writing. I'm not sure what the poet expected to do; but whatever it was she accomplished it—she's bringing it—perhaps for the future of poetry."—Washington Independent Review of Books

"A haunting exploration of a past world whose terrors still ring true today, A Doll for Throwing testifies to the permanency of art [and] the value in creating."—Ms. Magazine

"Coldly beautiful and relentlessly quotable."—Poets.org

"A Doll for Throwing is an exhumation of an archive. It is a Wunderkammer of image-poems dedicated to displaying people and things, circling back round to them from different angles with a photographer's eye."—Music & Literature

"Bang's impeccable collection reads as a 'circular mirror of the social order,' reflecting the historicity of our current moment with wit, subtlety, and grace."—Publishers Weekly, starred review
Graywolf Press, 9781555977818, 88pp.
Publication Date: August 15, 2017
About the Author
Mary Jo Bang has published seven poetry collections, including The Last Two Seconds; Elegy, winner of the National Book Critics Circle Award; and an acclaimed translation of Dante's Inferno. She teaches at Washington University in Saint Louis.
or
Not Currently Available for Direct Purchase