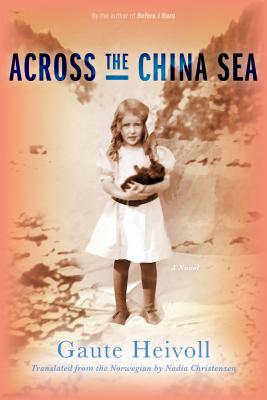 Across the China Sea
A Novel
Paperback

* Individual store prices may vary.
Other Editions of This Title:
Digital Audiobook (9/4/2017)
Description
An atmospheric and affecting novel set in rural Norway, by the award-winning author of Before I Burn

In the waning days of the German occupation of Norway, Karin and her husband move from Oslo to a tiny village in the south with their young son, the narrator. There they aim to live out their dream of caring for those who can't look after themselves. They have spent months building a modest house with rooms for patients, and it's soon filled with three adult men who are psychologically unstable—including Karin's uncle Josef, who suffered a head injury in a carriage accident—and five siblings whose parents have been declared unfit, and who are the subjects of much conversation in the village. This small and idiosyncratic community persists for nearly three decades.
After his parents' deaths, the son returns to clean out this unusual home. The objects of his childhood retain a talisman-like power over him, and key objects—including an orange crate where he and his sister slept as infants, Josef's medal of honor, his mother's beloved piano, and many others—unlock vivid memories. In recounting the ways that the siblings both are and are not a part of his family, he reveals his special relationship with Ingrid, who cannot speak, and his sister's accidental death, which occurred when they were playing together, and its quiet yet tragic effects on the extended family.
With warmth, gentle humor, and deep compassion, Gaute Heivoll portrays an unconventional family as it navigates an uncertain and often unkind world.
Praise For Across the China Sea: A Novel…
"Heivoll moves seamlessly through scenes and memories, creating a powerful sense of the compassion and routine that made this community feel like family. An elegiac, heartbreaking novel."—BBC Culture
"Superbly translated by Nadia Christensen. . . . Heivoll stands alone with his lush and quirkily beautiful descriptions of his pastoral surrounds. . . . Via Proustian reminiscence, Heivoll's mesmerizing and affecting novel travels through the years, from childhood to adulthood, and reminds us that for all the vicissitudes and tragedies—deaths, deteriorations, departures—seasons change and life goes on."—Star Tribune (Minneapolis)
"A beautiful rumination on the ties that bind us as family, as well as the delicate line between sanity and madness."—The Gazette (Cedar Rapids)
"[A] compelling tale. . . . It is the intimate account of a family's life told with dignity, the chapters often ending on a note that invites the reader to linger for a moment rather than plunge ahead. . . . The skillfully crafted nonlinear narrative never confuses; and the thoughtful delivery of each character's journey always calls the reader back. Recommended."—Historical Novels Review
"Across the China Sea . . . broadens the concept of who makes up a family unit, and the poignant and collective memories that even non-traditional families can leave behind."—Foreword Reviews

"Heivoll deftly explores the subtle dramatic possibilities of this tangled web of interactions among a family, the people they care for, and the state that was initially responsible for bringing them all together."—Asymptote Journal
"Translated with great lyricism and restraint, Across the China Sea unravels the largeness of history into the tragedies and triumphs of an unconventional family, desperate to hold itself together even as it is tossed about like a bottle at sea."—The Arkansas International
"Deeply affecting. . . . A striking and exquisitely detailed novel exploring the depths of compassion, cognizance, and mutual understanding amidst a household of adults and children who cannot always communicate in traditional ways."—Publishers Weekly

"Humane and lovely; reminiscent of Paul Harding's Tinkers in its sympathetic understanding of mentaldisability and the power of memory."—Kirkus Reviews

"This is an intensely moving work, the characters drawn with such depth that when overwhelming tragedy strikes or the inexorable cruelty of time makes itself felt, grief is palpable. While bittersweet, this is primarily a story of kindness, of imperfect people who are good at heart making a safe place in an otherwise unsympathetic world for those less fortunate than themselves."—Booklist

"Quietly affecting. . . . Too few books address the plight of the mentally disabled, and Heivoll handles his assignment with grace. Good lessons on family for all readers."—Library Journal
Graywolf Press, 9781555977849, 232pp.
Publication Date: September 5, 2017
About the Author
Gaute Heivoll is the author of Before I Burn, which won the Brage Prize and was a finalist for the Critics Prize and the Booksellers' Prize in Norway. He lives in southern Norway.
or
Not Currently Available for Direct Purchase