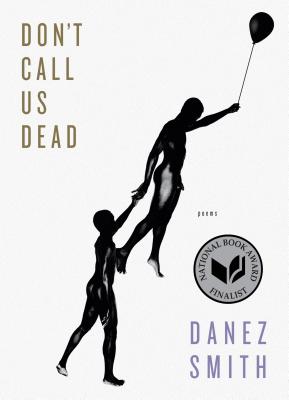 Don't Call Us Dead
Poems
Paperback

* Individual store prices may vary.
Other Editions of This Title:
Digital Audiobook (1/13/2020)
Compact Disc (1/14/2020)
Compact Disc (1/14/2020)
Compact Disc (1/14/2020)
MP3 CD (1/14/2020)
Description
Finalist for the National Book Award for Poetry
Winner of the Forward Prize for Best Collection

[Smith's] poems are enriched to the point of volatility, but they pay out, often, in sudden joy.The New Yorker

Award-winning poet Danez Smith is a groundbreaking force, celebrated for deft lyrics, urgent subjects, and performative power. Dont Call Us Dead opens with a heartrending sequence that imagines an afterlife for black men shot by police, a place where suspicion, violence, and grief are forgotten and replaced with the safety, love, and longevity they deserved here on earth. Smith turns then to desire, mortalitythe dangers experienced in skin and body and bloodand a diagnosis of HIV positive. Some of us are killed / in pieces, Smith writes, some of us all at once. Dont Call Us Dead is an astonishing and ambitious collection, one that confronts, praises, and rebukes AmericaDear White Americawhere every day is too often a funeral and not often enough a miracle.
Praise For Don't Call Us Dead: Poems…
These poems cant make history vanish, but they can contend against it with the force of a restorative imagination. Smiths work is about that imaginationits role in repairing and sustaining communities, and in making the world more bearable. . . . Their poems are enriched to the point of volatility, but they pay out, often, in sudden joy. . . . But they also know the magic trick of making writing on the page operate like the most ecstatic speech.The New Yorker

Danez Smith is angry, erotic, politicized, innovative, classical, a formalist, an activist, and blends all of this without seeming to strain. . . . This will be one of the years essential books.Craig Morgan Teicher, NPR

[A] stunning collection. . . . These pieces pulse with the rhythms and assertiveness one expects from poetry slams.The Washington Post

Searing. . . . Smiths capacity for compassionate invention is epic. . . . Smith races across lexicons and spectra, pushing even the boundaries of typography in wrestling with the dreadful fact that the black male body is imperiled from both within and without.Tracy K. Smith, O, The Oprah Magazine

Arguably the years most powerful and affecting collection.Publishers Weekly, Best Books 2017

Dont Call Us Dead is poet Danez Smiths ferocious second collection. With humanity and heart, Smith contemplates the assaults on a black, male body in America police brutality, violence, and AIDS, and the resulting culture of danger, suspicion, grief, psychological pain, and resistance.BuzzFeed

Smith prophesies an end from which a new beginning might spring. Throughout Dont Call Us Dead, hope appears as a form of resistance and rebirth.The Guardian (UK)

Exceptional. . . . There is pain here but there is so much joy, so much fierce resistance to anything that dares to temper the stories being told here.Roxane Gay, Vulture

Smiths work is astonishing, its power is a seething one. . . . An essential part of every Americans reading experience.Nylon

Danez Smiths astonishing second collection, a finalist for this years National Book Award, is a testament to the collective power of the queer black imagination and to Smiths individual talent. He is one of the most original and powerful poets working today.Star Tribune (Minneapolis)

In between rich odes to sexual awakening and love, Smiths poetry reverberates with an ever-present awareness of the endless fear and latent hurt that accompanies the daily existence of black men in the United States. . . . These are poems you want to wrap your arms around and keep safe.Vox

Dont Call Us Dead . . . may be the greatest booknot just of poetry, but of any writing, periodIve read all decade.Porochista Khakpour, Bookforum

Smith activates a spectrum of emotions in material that could justifiably remain tragic, bringing pathos and several senses of humor.The Nation

These poems are a reminder that there is always at least as much joy as there is violence.Rookie

Elegy meets celebration of the black male body on every page. . . . Smith cant help but be breathtaking in style and substance.Virginia Quarterly Review

Aching and elegiac, these poems bless our world in all its ruin, beg it to be otherwise, and begin the bloody work of writing it anew.Literary Hub

Danez Smith is a meteorite of the poetry world, blazing new territory with each new book.MPR News

Dont Call Us Dead is an historical commentary, a scientific document, a personal narrative, and a formal poetics. . . . Smith uses every tool of craft at a poets disposal to deliver powerful, urgent, deliberate, crucial poems. Dont miss this book.The Rumpus

Smiths book is like poetic rapture. . . . Read Dont Call Us Dead start to finish and if your breath takes a beat, thats the point: Smith is here to call us out, wake us up, tear us down to what is raw.The Millions

The result is bittersweet, but the sweetness is real, even when its grounded in imaginationpartly because that imagination is so grounded in the reality it wants to refuse, but just as much because Smith, in fantasy and in grief, commits to giving pleasure. These poems are a form of entertainmentsomething far more profound than we tend to admit. Entertainment is more than mere escapism; its a form of generositya way to knit up the raveled time and materials of lives made ragged. And Smith, at their best, entertains unusually well.Kenyon Review

The poet has always been a prophet leading cultural change to the good, and Danez Smith makes a revival of death into song in Dont Call Us Dead. . . . Danez Smith is making a high niche in evolution, by sourcing his life into indelible art.Washington Independent Review of Books

Smith has created in this book a universe of boysblack boys, brown boys, sexualized bois, but for every struggling, injured or dead boy, there is a heartbroken mother, a grieving grandmother, a fractured circle of friendsa community joined by loss. Smith has managed to leaven this pathos with praise, humor, and the hope of redemption.The Hudson Review

Danez Smith has become one of a generations most noticed poets, and for good reason: at once a stunning performer and a tersely effective arranger of words on the page, Smith can address the Black Lives Matter movement, the erasure of black humanity by malign police, and then pivot to vivid, sexy, or scary records from a complex queer sexuality.Poets.org

Its been a while since Ive read a book of poems where I felt that the poems had to be written, that everything was at stake in the writing of themthats how I feel about Danez Smiths Dont Call Us Dead, in terms of what the poems address, variously queerness, life on both sides of the divide between HIV- and HIV+, life in the wake of having lost so many friends to the seeming dailiness of police murdering black men in particular, black people more generally. Far, though, from succumbing to despair, Smith makes of joyof the expression of joyboth a tool for survival and a form of resistance.Carl Phillips, Poetry Foundation

[Dont Call Us Dead] is all the things poetry ought to be but rarely graspsheartbreaking, funny, sorrowful, surprising.Mpls.St.Paul Magazine

Not content to merely allow us to play witness to the horrors of oppression, Smiths poems pull us into it; they brim with blood, violence, aches and broken bodies. But there is humor, too, and hope, and its this hope that elevates the book to its crucial contemporary importance.BookPage

These poems decenter through love, erasing margins and reconfiguring the world as a space in which the marginalized body is worthy, the dismissed spirit is honored. They imagine lovingly. They critique lovingly. They mourn and celebrate and insist lovingly.Fight and Fiddle

Dont Call Us Dead rattles the core of the heart and consciousness for a new understanding of self and its singular and collective orientation in the world. . . . This volume is a testament of a lively and courageous human facing the gun, so to speak, interrogating who flexes power and who is on the other end. Smith lifts the fallen body/bodies up to the light, probes the cosmos for a fierce justice, sees in their brothers redemption, objects to random forces of violence, of people gone unhonored, resisting oppression.Empty Mirror

Luminous and piercing, this collection reassembles shattering realities into a shimmering and sharp mosaic.Publishers Weekly, starred review

In this remarkable second collection from Kate Tufts/Lambda Award winner Smith, the content as well as the writing is transcendent.Library Journal, starred review

Part indelible elegy, part glorious love song to those brown folks who make / up the nation of my heart, Smiths powerhouse collection is lush with luminous imagery, slick rhythms, and shrewd nods to Lucille Clifton, Beyonc, and Diana Ross. Incandescent, indispensable, and, yes, nothing short of a miracle.Booklist, starred review

This book is poetry as fierce fire. There is such intelligence and fervor in these poems about black men and their imperiled bodies, gay men and their impassioned bodies, what it means to be HIV positive, and so much more. Every poem impressed me, and the level of craft here is impeccable. Loved this one.Roxane Gay

Danez Smiths is a voice we need now more than ever as living, feeling, complex, and conflicted beings. These poems of love extend beyond the erotic into the struggle for unitynot despite the realities of race but precisely because of what race has caused us to make of and do to one another. Dont Call Us Dead gives me a dose of hope at a time when such a thing feels hard to come by. This is a mighty work, and a tremendous offering.Tracy K. Smith, Pulitzer Prize-winning author of Life on Mars

In an America that conspires against black, brown, queer, and trans bodies, Danez Smith writes poems of insistence and resistance; they anticipate a better world for all of us where everything is sanctuary & nothing is a gun.D. A. Powell

Danez Smith is an original. . . . If you have ever lost faith, if you want to believe in life, then you must read this bookit will humble and uplift you, leave you understanding that in the face of it all, there is only awe.Chris Abani
Graywolf Press, 9781555977856, 96pp.
Publication Date: September 5, 2017
About the Author
Danez Smith is the author of [insert] boy, winner of the Lambda Literary Award for Gay Poetry and the Kate Tufts Discovery Award. Smith has received fellowships from the McKnight Foundation and the Poetry Foundation, and lives in Minneapolis.