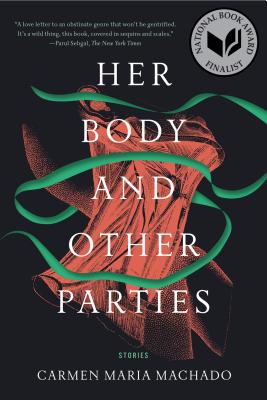 Her Body and Other Parties
Stories
Paperback

* Individual store prices may vary.
Other Editions of This Title:
Digital Audiobook (10/2/2017)
Digital Audiobook (6/13/2018)
Description
Finalist for the National Book Award for Fiction

"[These stories] vibrate with originality, queerness, sensuality and the strange."—Roxane Gay

"In these formally brilliant and emotionally charged tales, Machado gives literal shape to women's memories and hunger and desire. I couldn't put it down."—Karen Russell

In Her Body and Other Parties, Carmen Maria Machado blithely demolishes the arbitrary borders between psychological realism and science fiction, comedy and horror, fantasy and fabulism. While her work has earned her comparisons to Karen Russell and Kelly Link, she has a voice that is all her own. In this electric and provocative debut, Machado bends genre to shape startling narratives that map the realities of women's lives and the violence visited upon their bodies.

A wife refuses her husband's entreaties to remove the green ribbon from around her neck. A woman recounts her sexual encounters as a plague slowly consumes humanity. A salesclerk in a mall makes a horrifying discovery within the seams of the store's prom dresses. One woman's surgery-induced weight loss results in an unwanted houseguest. And in the bravura novella "Especially Heinous," Machado reimagines every episode of Law & Order: Special Victims Unit, a show we naïvely assumed had shown it all, generating a phantasmagoric police procedural full of doppelgängers, ghosts, and girls with bells for eyes.

Earthy and otherworldly, antic and sexy, queer and caustic, comic and deadly serious, Her Body and Other Parties swings from horrific violence to the most exquisite sentiment. In their explosive originality, these stories enlarge the possibilities of contemporary fiction.
Praise For Her Body and Other Parties: Stories…
"Her Body and Other Parties, by Carmen Maria Machado, is a love letter to an obstinate genre that won't be gentrified. It's a wild thing, this book, covered in sequins and scales, blazing with the influence of fabulists from Angela Carter to Kelly Link and Helen Oyeyemi, and borrowing from science fiction, queer theory and horror. . . . Not since Karen Russell's St. Lucy's Home for Girls Raised by Wolves, in 2006, has a debut collection of short stories from a relatively unknown author garnered such attention, or deserved it more."—Parul Sehgal, The New York Times

"Carmen Maria Machado has managed to have readers, critics and everyone in-between sitting on the edge of their seats for the chance to read her debut story collection. . . . Part science fiction, part fantasy and all fun, Machado's stories deal with the sometimes unbelievable reality of being a woman in a way you won't see coming; in a way that is entirely her own."—NBC "Today Show"

"[Machado's] use of a vivid experimental lens to show women struggling for agency is startling."—The New Yorker

"An abrupt, original, and wild collection of stories, full of outlandish myths that somehow catch at familiar, unspoken truths about being women in the world that more straightforward or realist writing wouldn't."—NPR.org

"[Her Body and Other Parties] is that hallowed thing: an example of almost preposterous talent that also encapsulates something vital but previously diffuse about the moment. . . . Machado is a master of such pointed formal play, of queering genre and the supposed laws of reality to present alternative possibilities. . . . Machado reveals just how original, subversive, proud and joyful it can be to write from deep in the gut, even—especially—if the gut has been bruised."—Los Angeles Times

"[Her Body and Other Parties is] written in prose so textured that you want to rub her phrases between your fingertips. . . . A muscular strain of feminism runs through this book, whose contemplation of the female body is bound up in sex, power, pleasure, pain, and the fitful struggle against self-loathing. Rarely is a writer as skilled as Machado at evoking corporeality: the myriad sensations of inhabiting flesh and bone, with all its messiness and ecstasies. . . . [Machado] blend[s] disparate, jostling elements to achieve a ferocious alchemy."—The Boston Globe

"The book abounds with fantastical premises that ring true because the intensity of sexual desire, the mutability of the body, and the realities of gender inequality make them so. . . . These stories stand as exquisitely rendered, poignant hauntings."—San Francisco Chronicle

"Cross-pollenating fairy tales, horror movies, TV shows, and a terrific sense of humor, [Machado's] work reminds me at different times of such wildly divergent figures as David Lynch, Jane Campion, Maggie Nelson, and Grace Paley; which is a way of saying, Machado sounds like nobody but herself. . . . [An] imaginative and enjoyable collection, which charts dark territory with enormous
style, wit, and storytelling panache."—John Powers, NPR "Fresh Air"

"Her Body and Other Parties is an astonishing debut, dark and glittering, like a night, or a knife. The stories in this book unroll like millipedes, smooth shells of lyric giving way to sharp joints and flailing, alien limbs."—Bookforum

"Machado's stories . . . have reverberated among readers with the prophetic force of a soothsayer's divinations."—Vulture

"Imaginative, unsettling, haunting stories."—BuzzFeed

"With supernatural flair, an engaging pop culture awareness . . . and an intimate, unrelenting style that grabs you by the throat and sinks its perfectly-polished nails in, Machado explores 'femaleness' in a way that makes women who evaporate or telepathically hear the thoughts of porn stars feel eerily, impossibly, like long-lost friends."—Harper's Bazaar

"In her twistedly original and thrilling debut short story collection, Her Body and Other Parties, Carmen Maria Machado blends both the terrifying and the horrible into a psychologically realistic and darkly comic mixture. . . . Simultaneously hot and chilling, these stories leave the reader enthralled and shaken."—Chicago Tribune

"Thrilling and page-turning, smart and fearless, and very likely the best book of the year."—Jezebel

"Machado brushes past taboo to treat women's sexuality with frankness and lyricism. . . . These daring stories are deeply feminist, but never dogmatically so, slipping into the murky places where we begin to fear our desires and desire what we fear."—Slate

"Between its covers, we find ourselves inside a gorgeously warped reflection of the world in which we actually live. It's recognizable as our own, but everything is a little more lurid, a little more queer, a little more violent, a little more magical than what we're used to."—Nylon

"It's rare to discover an author who can catalyze a reader's laughter and fear in mere pages, but Machado succeeds again and again, placing herself alongside names like Angela Carter, Kelly Link, Helen Oyeyemi and Karen Russell when it comes to genre-bending fiction with a dark bent. . . . This gloriously engaging and utterly queer collection is necessary reading."—Paste

"With her first book Machado has already emerged a master of several beloved genres. . . . Her work could be placed in conversation with a host of fiction writers who inscribe the walls of such stories with fairy-tale magic—Angela Carter, Kelly Link, Alexandra Kleeman, Aimee Bender, and Lesley Nneka Arimah come to mind. But there are stories here too that possess a courageous and indelible originality."—The Village Voice

"With Machado, everything feels razed and built anew. . . . [Her Body and Other Parties] feels determined to live well beyond annual prize-giving cycles, to become that classic misfit survivor that readers and writers keep returning to."—Star Tribune (Minneapolis)

"Machado's writing is full of repressed physical energy and the raw juice of annihilating female fury. The body is the subject, the culprit, the innocent. Standard accessories like ribbons become frightful. She does unimaginable things with a prom dress. But these stories are also funny—which really made me uneasy—because I could hear in my laugh that same squawk a tiny dog makes in moments of duress."—Louise Erdrich, The Millions

"Her success comes not just from the strength of her voice, but from the idea that by recentering classic genre stories on the women who haunt their edges, and diving deep into their subconscious, territory still ripe for exploration will open up."—Vox

"The stories in this book are of the finest quality: sexy and threatening, strange and playful."—Literary Hub

"Her Body and Other Parties is a masterful assemblage of tales that is at once luminous and dingy, sexy and terrifying, queer and mundane. These wondrous stories remind readers not only that the lives of women are full of paradoxes and contradictions, but that fiction as an endeavor is especially powerful when it takes as its task the examination of these ambiguities."—The Rumpus

"Machado's first collection of short fiction is finally here for all to enjoy and marvel at. . . . Surreal and subversive, this debut standsout no matter the company."—W Magazine

"A refreshing—and provocative—read."—The Nation

"She writes with a sincerity I didn't realize I was missing until I found it in these pages; it's rare to encounter an articulation of feminist themes that isn't self-conscious of them. . . . Machado's work, like her characters, is accessible and nuanced, textured without being overwrought."—Lauren Kane, The Paris Review Staff Picks

"Carmen Maria Machado is an Angela Carter for 2017: Both of them have a distinctively gothic, bloody, dark fairy tale sensibility, but unlike Carter, Machado is overtly queer, feminist, and body-positive. What's most striking about Machado's [Her Body and Other Parties] . . . is how insistently her women are embodied, and how clearly their oppression manifests itself on their bodies."—Vox

"Machado's debut is the most blisteringly brilliant story collection of the fall."—Book Riot

"All good story collections are in some sense unified by a style or theme that binds the book together, but few cohere with as much force and energy as this book. . . . Her Body and Other Parties is an artful powerhouse and a writing textbook rolled into one. It is fearsome and fearless. It is a book that won't be forgotten."—Los Angeles Review of Books

"Her work is brazenly unapologetic, or perhaps unapologetically brazen. Her fearlessness, combined with some spellbinding writing, delivers stories that are at once discomfiting and revelatory."—Washington Independent Review of Books

"Artfully structured stories. . . . [Her Body and Other Parties is] a vibrant collection that presents women in their vulnerabilities and strengths in relationships with men, in relationships with other women, and in reflection upon their own bodies as they sort through the social conventions that have long stifled their full expression of self."—Seattle Review of Books

"Her Body and Other Parties is as strong, and strange, a short story collection as any you'll read this year. From story to story, often from paragraph to paragraph, Machado mixes and matches genres—a fairy tale here and a post-apocalyptic vision there, a little science fiction sprinkled with a little body horror—reconfiguring old tropes and helping us to see what is at stake in them."—Commonweal

"Machado's writing is embodied and sensuous."—Tor.com

"Her Body and Other Parties may be Carmen Maria Machado's first book, but it's one that puts her squarely front of mind as one of the most talented writers today. There are no rules in the stories she puts forth; instead, it's all about buckling up and enjoying theride—and boy, is it an enjoyable ride."—PopSugar

"The prose is inventive and unrestrained, with the deliberate precision of a spider that probably, usually, kills her mates. . . . Each story is its own, gripping universe, but perhaps even more impressive: Machado exudes a palpable sense of defiance on the page, slipping out of the trappings of what separates 'literary fiction' from erotica; 'serious' work from fantasy; love from lust. Her women often exist not as women with insatiable sexual appetites for the man or woman opposite them, but for sex itself—an idea so simple, yet radical in our present culture."—Girlboss

"Each [story] is clever, provocative and refreshingly new."—MPR News

"This book feels like meeting Angela Carter for a wild night of drinking and dancing. The experimentation with form is simply astonishing, and there is a directness in the treatment of sexuality and identity that is both refreshing and deeply affecting. I assume that I'll reread this book every year for the rest of my life."—Rakesh Satyal, The Millions

"Her Body and Other Parties is compelling, gloriously weird, and, though some of the narrators are occasionally deeply frightened, the stories collected are nothing less than fearless. Genre and gender bending, erudite and steamy, Machado's stories manage to defy expectation and be compulsively readable."—New York Journal of Books

"Machado melds folklore and fabulist images with the raw realities of love, sex, queerness and alienation, forging a poetic sensibility that's full and alive with possibilities in a way that narrower realism could never match. . . . Machado pulls everything together with bravura. . . . [Her Body and Other Parties] demonstrates that literature, when forthright and brave, can simultaneously dig deep within the self and reframe the greater world."—Shelf Awareness

"Machado is a revolution. She is at once a funny, dark, terrifying, uplifting anti-Lovecraft who observes in the everyday oppressions of heteropatriarchy and late capitalism what is truly horrifying, nonetheless finding release in the dark's nooks and crannies. . . . Her Body and Other Parties is fiery, mischievous, and elusive. Like the worlds Machado glimpses: brutal and yet life-affirming."—World Literature Today

"Machado understands and commands the body so well it proliferates the text, and the reader is left with gasps and sighs. . . . [Her Body and Other Parties] is poetic and powerful, a profound call to action."—The Brooklyn Rail

"A surreal powerhouse of a book."—Vol. 1 Brooklyn

"Machado bends much more than genre in these brilliant stories—she's bending the very fabric of storytelling, working with new models of textuality, orality, and corporeality."—Ploughshares

"Reminiscent of the work of Shirley Jackson, Angela Carter, Kelly Link, and Mariana Enriquez, Machado remixes strands of myth, horror, and pop culture and gives us something uniquely her own. Her Body and Other Parties is as much a thrilling reading experience as it is a powerful and important exploration of women's lives."—Lambda Literary

"A rich work of literary horror. . . . An instant classic."—The Riveter

"The world of Carmen Maria Machado is bright and bizarre, full of magic and haunted places."—Hazlitt

"Stunning. . . . What Maachado is doing here couldn't really be done within the bounds of conventional SF or fantasy, but it couldn't be done without it either—and that's part of what makes Her Body and Other Parties as important as it is exciting."—Locus

"This collection is brilliant, stunning and strange—a wholly evocative read."—The Fold

"These are stories that listen more than they speak. . . . Machado, refusing victimhood, turns her relatively hidden position into a strength. She uses it as a form of protest, like her invisible girls in 'Real Women Have Bodies', to say that, although the world keeps coming up with new and interesting ways to convince us that some women are worth less, worth nothing, she knows better."—The White Review

"Within that crisp writing style are humor and sorrow and a seamless mashup of genres: from horror and fantasy to domestic
drama. . . . The world of Machado's heroines starts out just a bit divergent from the one we recognize, revealing twists and
contortions that still seem bizarre but real."—Pasatiempo

"An original, stylistically cohesive, steadfastly queer book of stories."—San Antonio Current

"The best surrealist fiction resides somewhere between the eerie and the actual, and that's exactly where Carmen Maria Machado feels most at home. . . . A stunning debut."—Los Angeles Magazine

"The collection unpacks queerness, the female body, feminism, and the fantastic with a surrealism that will leave you
aching."—Philadelphia Weekly

"Her Body and Other Parties is a one-of-a-kind collection — a potent blend of atavistic spookiness and hallucinatory modernity, told with verve, witchiness, and wit. This is the kind of book that will leave you haunted, and thrilled, by the possibilities of contemporary fiction."—Dallas Morning News

"Machado blends a heady mix of fairy tales, erotica and magic realism that toys with the readers' expectations and lingers in the imagination afterwards."—San Diego City Beat

"A blend of horror, erotica and fairytale that makes for an original, stylistically cohesive, steadfastly queer book of stories."—Orlando Weekly

"These are weird, sexy, scary tales that thrum at the electrifying junction of fear and desire."—Indiana Review

"These stories are at once apocalyptic, timeless and brutally timely. . . . They are merciless in their prescience, hearken to the gothic and pre-gothic origins of magic, and are rooted in the brutality of womanhood. . . . Do not miss this bitingly clever, astonishing work."—Book Reporter

"This could be a book that changes how you look at the world, but that's not necessarily Machado's goal. Really, it's for the ones who already look at the world with mistrust. For them, these stories say: I believe you."—Fiction Unbound

"Electrifying. . . . Machado moves from the surreal to the real and back again with incredible ease. This spellbinding collection marks the arrival of an impressive new writer."—BookPage

"Delightfully visceral, these stories invite the reader to witness and experience the various traumas and pleasures that women live in their day-to-day lives as they are translated into a generic cornucopia of horror, fabulism, surrealism, and more."—American Microreviews & Interviews

"Weird, sexy, funny and imaginative."—PureWow

"Genre and gender bending, erudite and steamy, Machado's stories manage to defy expectation and be compulsively readable. . . . They launch the reader into a realm rarely seen in fiction, and the journey, at times discomfiting, is always exhilarating."—The Military Spouse Book Review

"Machado's debut collection brings together eight stories that showcase her fluency in the bizarre, magical, and sharply frightening depths of the imagination. . . . The fierceness and abundance of sex and desire in these stories, the way emotion is inextricably connected with the concerns of the body, makes even the most outlandish imaginings strangely familiar. Machado writes with furious grace. She plays with form and expectation in ways that are both funny and elegant but never obscure. . . . An exceptional and pungently inventive first book."—Kirkus Reviews, starred review

"Machado creates eerie, inventive worlds shimmering with supernatural swerves in this engrossing debut collection. . . . Machado builds entire interior lives through sparse and minor details, turning even litanies of refrigerator contents and free-association on the coming of autumn into memorable meditations on identity and female disempowerment. . . . Machado's slightly slanted world echoes our own in ways that will entertain, challenge, and move readers."—Publishers Weekly, starred review

"The writing is always lyrical, the narration refreshingly direct, and the sex abundant, and although the supernatural elements are not overt, every story is terrifying. These weird tales present a slightly askew version of the world as we know it and force us, no matter our gender, to reconsider our current life choices and relationships."—Booklist, starred review

"This brilliant debut compilation showcases a fresh literary voice. Machado's originality and emotional acumen make her a match for Karen Russell or Kelly Link. Highly recommended."—Library Journal, starred review
Graywolf Press, 9781555977887, 248pp.
Publication Date: October 3, 2017
About the Author
Carmen Maria Machado's work has appeared in Granta, The New Yorker, NPR, Electric Literature, and elsewhere. She has been nominated for a Nebula Award and a Shirley Jackson Award, and was a finalist for the Calvino Prize. She lives in Philadelphia.