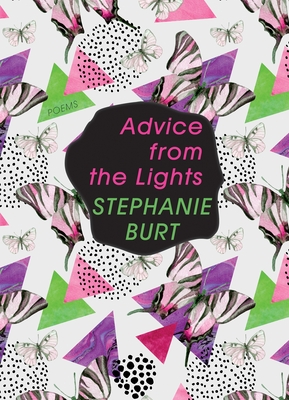 Advice from the Lights (Paperback)
Poems
Graywolf Press, 9781555977894, 96pp.
Publication Date: October 3, 2017
* Individual store prices may vary.
Description
Stephen is sometimes Stephanie and sometimes wonders how his past and her past are their own collective memory

Advice from the Lights is a brilliant and candid exploration of gender and identity and a series of looks at a formative past. It's part nostalgia, part confusion, and part an ongoing wondering: How do any of us achieve adulthood? And why would we want to, if we had the choice? This collection is woven from and interrupted by extraordinary sequences, including Stephanie poems about Stephen's female self; poems on particular years of the poet's early life, each with its own memories, desires, insecurities, and pop songs; and versions of poems by the Greek poet Callimachus, whose present-day incarnation worries (who doesn't?) about mortality, the favor of the gods, and the career of Taylor Swift. The collection also includes poems on politics, location, and parenthood. Taken all together, this is Stephen Burt's most personal and most accomplished collection, an essential work that asks who we are, how we become ourselves, and why we make art.
About the Author
Stephen Burt (who also goes by Steph and Stephanie) is Professor of English at Harvard and the author of several previous books of poetry and literary criticism, among them Belmont and Close Calls with Nonsense, as well as The Poem Is You.
Praise For Advice from the Lights: Poems…
"Advice From the Lights triumphs at its most plainspoken, in the thrilling sequence of 'Stephanie' poems, their speakers curious and playful. . . . The collection's self-scrutiny is sometimes painful but rendered with formal grace, often with the satisfaction of rhyme. Burt's intricate poems enact an experience of yearning that is emotional and also political."—San Francisco Chronicle
"For all its insights into trans experience, Advice from the Lights is the brightest and most inviting of Burt's collections for readers of any, all, and no genders."—Boston Review
"Burt's year-by-year cataloging gives Advice from the Lights an immediacy within its nostalgia, a compelling ars poetica of self."—The Millions
"Deft, bubbly, poised, polished, consistently witty, affecting an air of light verse, very composed. . . . I am sure those readers who already admire her work will enjoy Advice From The Lights hugely. But I also think this book has the potential to speak movingly to a trans audience, and I hope it finds one."—Lambda Literary
"Curiously and courageously, Burt keeps saving us by making poems that are small cultural changes. . . . Poems about the speaker's young years are funny and sweet even though Burt is always making a fist—but don't be scared—when it opens only magic silk scarves and white doves fly out."—Washington Independent Review of Books
"Advice from the Lights deftly explores gender and self."—Largehearted Boy
"Burt mines a nearly limitless store of empathy, lending voices to living things and inanimate objects alike. . . . Burt's poems are never less than compassionate."—Library Journal, starred review

"[A] touching portrait series of self and family. . . . A remarkable imagination allows Burt . . . to convincingly identify with an array of different figures. . . . Burt demonstrates aptitude with the classical poet's tools. . . . These poems achieve something rare, helping readers to 'learn/how to live in this world' more attentively."—Publishers Weekly
"A book of tremendous intricacy and the best kind of recurrent music. Strung throughout are several separate yet converging poetic sequences, exploring what it means to come of age while inhabiting multiple genders and multiple selves."—Natalie Shapero