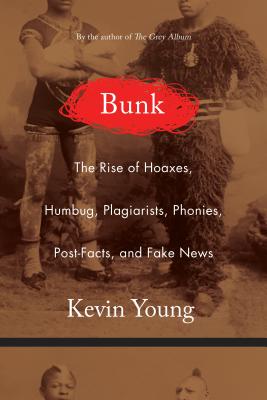 Bunk
The Rise of Hoaxes, Humbug, Plagiarists, Phonies, Post-Facts, and Fake News
Hardcover

* Individual store prices may vary.
Other Editions of This Title:
Digital Audiobook (11/13/2017)
Paperback (9/4/2018)
MP3 CD (11/14/2017)
Compact Disc (11/14/2017)
Library Binding, Large Print (4/18/2018)
Description
Longlisted for the National Book Award for Nonfiction

"There Kevin Young goes again, giving us books we greatly need, cleverly disguised as books we merely want. Unexpectedly essential."—Marlon James

Award-winning poet and critic Kevin Young tours us through a rogue's gallery of hoaxers, plagiarists, forgers, and fakers—from the humbug of P. T. Barnum and Edgar Allan Poe to the unrepentant bunk of JT LeRoy and Donald J. Trump. Bunk traces the history of the hoax as a peculiarly American phenomenon, examining what motivates hucksters and makes the rest of us so gullible. Disturbingly, Young finds that fakery is woven from stereotype and suspicion, race being the most insidious American hoax of all. He chronicles how Barnum came to fame by displaying figures like Joice Heth, a black woman whom he pretended was the 161-year-old nursemaid to George Washington, and What Is It?, an African American man Barnum professed was a newly discovered missing link in evolution.

Bunk then turns to the hoaxing of history and the ways that forgers, plagiarists, and journalistic fakers invent backstories and falsehoods to sell us lies about themselves and about the world in our own time, from pretend Native Americans Grey Owl and Nasdijj to the deadly imposture of Clark Rockefeller, from the made-up memoirs of James Frey to the identity theft of Rachel Dolezal. In this brilliant and timely work, Young asks what it means to live in a post-factual world of "truthiness" where everything is up for interpretation and everyone is subject to a pervasive cynicism that damages our ideas of reality, fact, and art.
Praise For Bunk: The Rise of Hoaxes, Humbug, Plagiarists, Phonies, Post-Facts, and Fake News…
"[Young's] scrupulous feel for archival traces — for the urgent materiality of memory — is one of the superpowers he brings to both his poems and nonfiction. The newest example is Bunk, Young's enthralling and essential new study of our collective American love affair with pernicious and intractable moonshine. . . . Bunk is a sort of book that comes along rarely: the encompassing survey of some vast realm of human activity, encyclopedic but also unapologetically subjective. . . . Bunk, a panorama, a rumination and apolemic at once, asks more of the reader. It delivers riches in return. . . . Bunk is a reader's feast, a shaggy, generous tome with a slim volume of devastating aphorisms lurking inside; it also shimmers with moments of brief personal testimony."—Jonathan Lethem, The New York Times Book Review

"In Bunk, Kevin Young exhaustively tracks our longtime ambivalence toward 'hoaxes, humbug, plagiarists, phonies, post-facts, and fake news.' In these pages our founding father isn't George Washington, who supposedly couldn't tell a lie, but rather showman P.T. Barnum, who brazenly exhibited an old black woman as Washington's 161-year-old childhood nurse. . . . There's so much to enjoy and learn from in this encyclopedic anatomy of American imposture and chicanery."—The Washington Post

"A wild, incisive, exhilarating tour through Western culture's sideshows and dark corners. Like a sideshow barker, Young writes with unbridled enthusiasm, a showman's conviction, and a carny's canny, telling a story that at times defies belief. And every word of it is true."—Los Angeles Times

"Kevin Young . . . reflects on hoaxers and events as diverse as P.T. Barnum, Rachel Dolezal, the forged Hitler Diaries, Binjamin Wilkomirski's fabricated Holocaust memoir, James Frey, Stephen Glass and Lance Armstrong. What could be timelier in the age of post-truth politics, science denial and fake news?"—Newsweek

"[A] fascinating, dense, and hyper-referential look into the strange forms and contours of our indigenous cultural b.s."—O, The Oprah Magazine

"Riveting. . . . Young covers, and uncovers, America's long and varied history of deceptive practices."—Elle

"[A] thorough examination of two centuries of hoaxing. . . . Original and illuminating."—BBC Culture

"Brilliant . . . that rare thing, a trove of fresh and persuasive insights. . . . Impeccably, even superhumanly erudite. . . . [Young's] subject, a procession of outlandish, inventive, theatrical, and utterly brazen liars, is inherently entertaining."—Slate

"[Young's] copious research, his talents in literary analysis and his associative skills as a poet are on acrobatic display as he argues convincingly that the hoax is all too often an underrecognized mechanism for maintaining white — and to a concurrent extent, male — supremacy. . . . As we enter the second year of the Trump administration . . . this book could scarcely be more timely or useful."—Chicago Tribune

"Bunk is a fiercely intelligent account of the lies public figures tell us and the lies we tell ourselves, and it's one of the mostimportant books you'll read all year."—Nylon

"Reading Bunk, one may get the sense that Young's history of the secret themes of our society has suddenly moved out of the shadows and into full view. It's equal parts enlightening and unnerving."—Star Tribune (Minneapolis)

"Young . . . assumes the daunting task of cataloguing America's obsession with deception . . . [and] diligently explores how marginalization of 'the other' breathes life into deceit. . . . Bunk is the thrilling fun house at the state fair one wishes to never exit."—Atlanta Journal-Constitution

"This enlightening, entertaining and timely tome is just what we need to understand and protect against the pervasive cynicism that threatens our nation to our very core."—Detroit Free Press

"Young entertains with his erudition and solid facts, his original thinking and impeccable narrative writing skills."—KMUW

"[A] profoundly erudite new study of the ways truthiness, as Stephen Colbert used to call it, travels through America's fabric."—Literary Hub

"Thick and information-laden as the internet cacophony, Young's book proves a worthy and exhaustingly researched read."—Paste

"Bunk is a barefisted reckoning with American culture, an extension of sorts of his whip-smart book-length essay The Gray Album that coils, swerves, and diverts out at right angles from itself. . . . Young is a pure essayist in the vein of Emerson and Montaigne. Reading Young, you feel like you're making connections along with him, and it's exciting, at times flabbergasting, to peel back the layers of the American psyche together."—Jeffery Gleaves, The Paris Review Staff Picks

"Young is a fine poet—incoming poetry editor of The New Yorker, no less—and his often recursive, textured prose is the perfect delivery for the cyclical nature of literary lies."—The Millions

"Young goes over this fakery at great length, not simply to reveal the origins of fake news today but to demonstrate something deeper, which he calls a 'narrative crisis.' . . . Young writes from the perspective of his vocation as a poet and with the commitment to what can be understood as poetic truth."—New York Review of Books

"[Kevin Young is] second to none in his ability to make unlikely pop cultural connections and bring in a vast and complex sense of history."—Vol. 1 Brooklyn

"Kevin Young's magisterial study, Bunk . . . should set many back on their heels. . . . Choosing to read [this] book that systematically—and with a great deal of entertainment—exposes and explains the promulgation of 'fake news' would be a perfect way to resist the dumbing down of America."—Signature Reads

"Thoroughly researched and consistently illuminating. . . . Bunk serves as a necessary reference book you can dip in and out of as you like, or else turn to any time the president says anything."—The Stranger

"A powerful, far-reaching read."—BookPage

"As exhaustive as its subtitle: part survey of modern imposture, part detective story about the origins of American fakery. . . . It's an important book for 2017, not only because 'fake news' is a part of the zeitgeist, but because public discourse about white supremacy and political hucksterism suffers from citizens' short memory. . . . Bunk is a consistently incisive look at the nature of American imposture and epistemology itself: How do we know what we know, how do we learn? How do we undo what we learn, and how do we avoid making the same mistakes?"—Harvard Magazine

"If you're ready for a riveting lesson on a loaded subject, immerse yourself in award-winning poet and critic Kevin Young's Bunk."—Elle.com

"A persuasive and exhaustive examination of the history and ubiquity of the hoax."—4Columns

"Young chronicles a distinctly American brand of deception in this history of hoaxers, fabricators, liars, and imposters. . . . [He] astutely declares the hoax a frequent metaphor for a 'deep-seated cultural wish' that confirms prejudicial ideas and stereotypes. . . . Young's remarks on race and his comparison of Trump and Barnum, both of whom gained power from spectacle, in the book's coda are well worth sifting through."—Publishers Weekly, starred review

"As we adjust to life with a president who plays fast and loose with the truth and whose backstory arouses growing skepticism, this examination of the long and colorful history of hoaxes and cons is most welcome. . . . Compelling and eye-opening."—Booklist, starred review

"Fake news and alternative facts have a long and complex history in American culture. Young, an award-winning poet and director of the New York Schomburg Center for Research in Black Culture, explores the deep roots of hoaxing in entertainment, literature, journalism, sports, and public life. . . . The final chapter touches on the current 'post-fact' world and its rejection of expertise, raising important questions about how we can know the truth. This dense and wide-ranging critique offers a fascinating view of the impact of fraud on truth."—Library Journal, starred review

"A fascinating, well-researched look at the many ways Americans hoodwink each other, often about race."—Kirkus Reviews
Graywolf Press, 9781555977917, 480pp.
Publication Date: November 14, 2017
About the Author
Kevin Young is the author of a previous book of nonfiction, The Grey Album, and eleven books of poetry, including Blue Laws, which was long-listed for the National Book Award. He is the director of the Schomburg Center for Research in Black Culture in Harlem.
Coverage from NPR