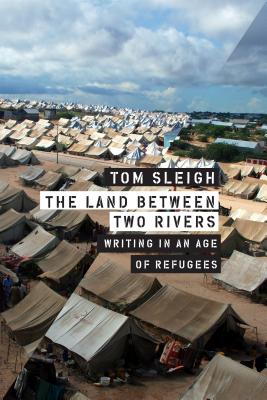 The Land between Two Rivers
Writing in an Age of Refugees
Paperback

* Individual store prices may vary.
Description
Essays on the urgency of our global refugee crisis and our capacity as artists and citizens to confront it
Tom Sleigh describes himself donning a flak jacket and helmet, working as a journalist inside militarized war zones and refugee camps, as "a sort of Rambo Jr." With self-deprecation and empathetic humor, these essays recount his experiences during several tours in Africa and in the Middle Eastern region once called Mesopotamia, "the land between two rivers."
Sleigh asks three central questions: What did I see? How could I write about it? Why did I write about it? The first essays in The Land between Two Rivers focus on the lives of refugees in Syria, Lebanon, Jordan, Kenya, Somalia, and Iraq. Under the conditions of military occupation, famine, and war, their stories can be harrowing, even desperate, but they're also laced with wily humor and an undeluded hopefulness, their lives having little to do with their depictions in mass media. The second part of the book explores how writing might be capable of honoring the texture of these individuals' experiences while remaining faithful to political emotions, rather than political convictions. Sleigh examines the works of Anna Akhmatova, Mahmoud Darwish, Ashur Etwebi, David Jones, Tomas Tranströmer, and others as guiding spirits. The final essays meditate on youth, restlessness, illness, and Sleigh's motivations for writing his own experiences in order to move out into the world, concluding with a beautiful remembrance of Sleigh's friendship with Seamus Heaney.
Praise For The Land between Two Rivers: Writing in an Age of Refugees…
"In Sleigh's hands . . . moments of ongoingness mix something of the daily with something of the miraculous. . . . Like [Walt] Whitman, Sleigh here plays with what the observer's notebook can become. He embeds lines of poetry in journalistic essays like a rogue reporter; conversely, he'll forge a sonnet or rhymed tercets out of reported language."—The New York Times Book Review
"Sleigh's prose — often about the ugliest things in life, war and rape and murder, and neglect for those suffering rape and murder —is beautiful and sensitive. His writing is simultaneously insightful, stuffed with facts, and beautiful at the line level. . . . His reporting is lively and intellectually engaging in a way that is too often missing from 'traditional' journalism. We need more writing from poets like Sleigh, particularly writing about criminally underserved topics like the plight of refugees."—Michigan Quarterly Review
"His stories from these war-torn places are sharply observed and humane. . . . The second half of the book is a remarkable critical memoir, in which Sleigh writes perceptively about some of his poet heroes . . . . What emerges is a uniquely personal take on the responsibilities of the poet and the potential for language to be 'a form of care.'"—Publishers Weekly, starred review

"Wry and sharply observed, Sleigh's book bears witness to injustice as it engages in a compelling, humane quest for artistic truth. Provocative and eye-opening work from a dedicated artist."—Kirkus Reviews
Graywolf Press, 9781555977962, 272pp.
Publication Date: February 6, 2018
About the Author
Tom Sleigh is the author of a previous essay collection, Interview with a Ghost, and ten books of poetry, including Station Zed, Army Cats, and Space Walk, winner of the Kingsley Tufts Poetry Award. He teaches at Hunter College and lives in New York.
or
Not Currently Available for Direct Purchase