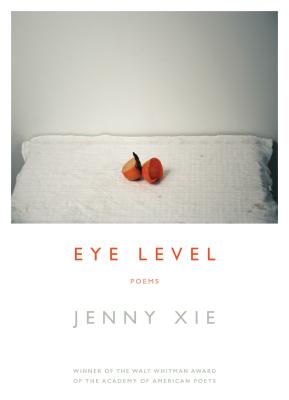 Eye Level
Poems
Paperback

* Individual store prices may vary.
Description
FINALIST FOR THE NATIONAL BOOK AWARD FOR POETRY

Winner of the Walt Whitman Award of the Academy of American Poets, selected by Juan Felipe Herrera

For years now, I've been using the wrong palette.
Each year with its itchy blue, as the bruise of solitude reaches its expiration date.

Planes and buses, guesthouse to guesthouse.

I've gotten to where I am by dint of my poor eyesight,
my overreactive motion sickness.

9 p.m., Hanoi's Old Quarter: duck porridge and plum wine.

Voices outside the door come to a soft boil.

—from "Phnom Penh Diptych: Dry Season"

Jenny Xie's award-winning debut, Eye Level, takes us far and near, to Phnom Penh, Corfu, Hanoi, New York, and elsewhere, as we travel closer and closer to the acutely felt solitude that centers this searching, moving collection. Animated by a restless inner questioning, these poems meditate on the forces that moor the self and set it in motion, from immigration to travel to estranging losses and departures. The sensual worlds here—colors, smells, tastes, and changing landscapes—bring to life questions about the self as seer and the self as seen. As Xie writes, "Me? I'm just here in my traveler's clothes, trying on each passing town for size." Her taut, elusive poems exult in a life simultaneously crowded and quiet, caught in between things and places, and never quite entirely at home. Xie is a poet of extraordinary perception—both to the tangible world and to "all that is untouchable as far as the eye can reach."
Praise For Eye Level: Poems…
"The poems in [Xie's] crystalline debut . . . are ever alert to the complex relationship between geography and the self."—The New York Times Book Review

"Xie comes across as a magician of perspective and scale. . . . [Eye Level] suggests a kind of Fodor's or Lonely Planet guide to inner life."—The New Yorker

"Xie's poems take us on a journey to new places . . . in such vivid detail that you'll feel as if you really traveled, as well as to new questions about immigration, identity, and loneliness."—BuzzFeed

"A discerning eye is at work in this debut collection; Xie has a voice at once ironic and poised, restless and deeply meditative. . . . Stealthily beautiful, Eye Level is one of those immersive books that changes you as you read it."—Vulture

"For a poet so capable of taking readers on far-flung journeys to places like Corfu, Cambodia, and New York, Xie is perhaps most remarkable for her ability to take readers deeper inside themselves than they have ever been. . . . Xie's work is just a thing of pure, piercing beauty."—Nylon

"Jenny Xie's Eye Level . . . is a master class in shifting perspectives. . . . With her sweeping, exact language, watching the world with Xie is nothing but a pleasure."—Vox

"Despite Xie's wide-ranging adventures, we remain burrowed in the mind of this magnificent poet, who braids in the lonesomeness and sorrow of being unmoored and on your own."—The Paris Review, Staff Picks

"An excellent debut. Xie is particularly gifted with precise description."—The Millions

"The effect of reading through [Jenny Xie's] work, whether languorously or in sudden bursts, is recognition—you wander, and then come to the waypoint you've sought all along."—Shondaland.com

"A stunning collection—part travel narrative, part kaleidoscopic autobiography. . . . Xie's lively formal approach incorporates many styles. . . . That's what makes Eye Level such an enchanting read: its ability to be everywhere and do everything at once. It draws its energy from all over and then finds its way directly to the heart."—BookPage

"An exquisite interrogation of perspective and selfhood."—Michigan Quarterly Review

"Jenny Xie's breathtaking debut is a sharp blade that opens the world like the ripe persimmon pictured on its cover and offers us the halves to savor. Beauty and loneliness comprise those halves, and the delicious tension between the two propels the collection forward."—The East Bay Review

"Sublime language and keen observations."—Publishers Weekly

"In Eye Level, Jenny Xie fashions a crystalline travelogue of restlessness. The poet's wanderings, through cities as disparate as Phnom Penh and New York, make manifest the communion between inner and outer worlds. It is against those dissimilar backdrops that Xie discloses, with precision, the dissoluble mystery of the self. Her delight in paradox reveals, like a rain shower, a world washed clean of habitual perception."—Judges' Citation for the National Book Award in Poetry
Graywolf Press, 9781555978020, 80pp.
Publication Date: April 3, 2018
About the Author
Jenny Xie has published poems in Harvard Review, the Literary Review, The New Republic, Tin House, and elsewhere. She teaches in the Expository Writing Program at New York University and lives in Brooklyn.