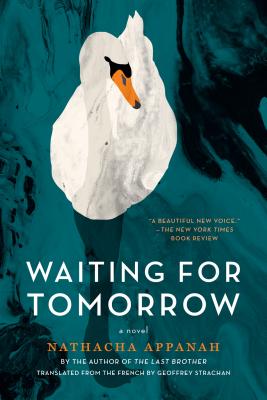 Waiting for Tomorrow
A Novel
Paperback

* Individual store prices may vary.
Other Editions of This Title:
Compact Disc (4/3/2018)
Compact Disc (4/3/2018)
MP3 CD (4/3/2018)
Description
A powerful examination of the artistic impulse, cultural identity, and family bonds
Anita is waiting for Adam to be released from prison. They met twenty years ago at a New Year's Eve party in Paris, a city where they both felt out of place—he as a recent arrival from the provinces, and she as an immigrant from the island of Mauritius. They quickly fell in love, married, and moved to a village in southwestern France, to live on the shores of the Atlantic with their little girl, Laura.
In order to earn a living, Adam has left behind his love of painting to become an architect, and Anita has turned her desire to write into a job freelancing for a local newspaper. Over time, the monotony of daily life begins to erode the bonds of their marriage. The arrival of Adèle, an undocumented immigrant from Mauritius whom they hire to care for Laura, sparks artistic inspiration for both Adam and Anita, as well as a renewed energy in their relationship. But this harmony proves to be short-lived, brought down by their separate transgressions of Adèle's privacy and a subsequently tragic turn of events.
With the careful observation, vivid description, and emotional resonance that are the hallmarks of her previous novel, The Last Brother, in Waiting for Tomorrow Nathacha Appanah investigates the life of the artist, the question of cultural differences within a marriage, and the creation and the destruction of a family.
Praise For Waiting for Tomorrow: A Novel…
"Lyrical and gripping. . . . There's something magical about the ways in which Appanah makes the betrayals, the falsehoods, the appropriations and the disasters seem inevitable."—BBC Culture
"[Appanah's] beautiful prose shines through this translation by Geoffrey Strachan, allowing her to lay bare the danger of words not
spoken and the volatility of dreams denied."—Star Tribune (Minneapolis)
"Fans of literary fiction and the exploration of the artist will appreciate Waiting for Tomorrow's attention to language and the way the narrative moves between prologue, incident, and aftermath."—Washington Independent Review of Books
"Appanah meticulously brings the narrative back in time and then forward, deliberately parceling out pieces of information as the narrative awaits its own unsettling conclusion."—Words Without Borders
"The novel ends in high drama—with lives cut short and dreams unfulfilled, with Appanah making it painfully apparent that life is little more than a collector's inventory, a long list of choices and consequences that live on in our memories despite our best efforts to forget. Waiting for Tomorrow aches with longing."—The Arkansas International
"[Waiting for Tomorrow's] second act complications produce a genuine page-turning tension that almost feels out of place in a book filled with such lovely language and down-to-earth realities."—Open Letters Review
"Rewarding. . . . the characters are complicated and well-drawn and the story immersive."—Publishers Weekly

"Appanah's tightly told tale offers an affecting story of displacement, regret, and the meaning of home."—Booklist
Graywolf Press, 9781555978037, 176pp.
Publication Date: April 3, 2018
About the Author
NATHACHA APPANAH, a French-Mauritian of Indian origin, was born in Mauritius and worked there as a journalist before moving to France in 1998. The Last Brother, her fourth novel, won the Prix de la FNAC 2007 and the Grand Prix des Lecteurs de L'Express 2008.

Geoffrey Strachan is an award-winning translator.
1. Anita and Adam are called "an oddly matched couple" (17). Can you name a few ways their beliefs and desires conflict with one another? By the end of the book, do you think they have become more alike or even more different?
2. The nonlinear narrative structure of Waiting for Tomorrow gives readers a glimpse of what's to come. For instance, we know from the second page that Adam will end up in prison. How did this foreshadowing affect your experience of reading the novel?
3. Throughout the novel, the characters savor privacy—soaking up solitude and reflection while drawing, writing, or walking on the beach. What purpose do these private moments serve throughout the book? Is Adèle afforded privacy in her life as well?
4. Belonging, assimilation, and purpose are important themes in the novel. How do each of these relate to the three main characters?
5. Towards the end of Waiting for Tomorrow, Anita notes that both she and Adèle "grew up under the same tropical sun, they like the same food, the same music, they speak the same language, they have lived beside the sea but have never learned to swim, they could have been sisters" (139). Do you think Adèle would agree with this statement? In what ways are Adèle and Anita different?
6. How does Waiting for Tomorrow complicate the ideas of artistic expression and exploitation?
7. Anita writes her novel from Adèle's perspective. How does she develop Adèle's character? What are the similarities and differences between the voice Anita gives Adèle and her real voice?
8. At which points in the book do Anita, Adam, and Adèle experience homesickness? How are their experiences of these feelings different? How are they similar?
9. How does Waiting for Tomorrow fit into current conversations and controversies around immigration, both in Europe and across the globe?
10. In what ways is Laura a peripheral character in this narrative? In what ways is she the most central character?
or
Not Currently Available for Direct Purchase