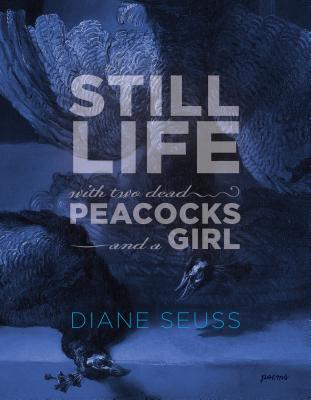 Still Life with Two Dead Peacocks and a Girl
Poems
Paperback

* Individual store prices may vary.
Description
Finalist for the National Book Critics Circle Award
Finalist for the Los Angeles Times Book Prize

Diane Seuss's brilliant follow-up to Four-Legged Girl, a finalist for the Pulitzer Prize for Poetry
Still life with stack of bills phone cord cig butt and freezer-burned Dreamsicle
Still life with Easter Bunny twenty caged minks and rusty meat grinder
Still life with whiskey wooden leg two potpies and a dead parakeet
Still life with pork rinds pickled peppers and the Book of Revelation
Still life with feeding tube oxygen half-eaten raspberry Zinger
Still life with convenience store pecking order shotgun blast to the face
—from "American Still Lives"
Still Life with Two Dead Peacocks and a Girl takes its title from Rembrandt's painting, a dark emblem of femininity, violence, and the viewer's own troubled gaze. In Diane Seuss's new collection, the notion of the still life is shattered and Rembrandt's painting is presented across the book in pieces—details that hide more than they reveal until they're assembled into a whole. With invention and irreverence, these poems escape gilded frames and overturn traditional representations of gender, class, and luxury. Instead, Seuss invites in the alienated, the washed-up, the ugly, and the freakish—the overlooked many of us who might more often stand in a Walmart parking lot than before the canvases of Pollock, O'Keeffe, and Rothko. Rendered with precision and profound empathy, this extraordinary gallery of lives in shards shows us that "our memories are local, acute, and unrelenting."
Praise For Still Life with Two Dead Peacocks and a Girl: Poems…
"[A] marvelous, complex, attractive, frightening book. . . . Ekphrasis (art about art) in Seuss' wonderfully flexible syntax, with her linguistic pizazz and startling juxtapositions, removes boundaries between living and dying, paradise and hell, made things and live things."—The New York Times Book Review
"The picturesque and the grotesque pair flawlessly in Seuss's poems, and even gore has an abject charm. . . . She admires art without forgetting that it's only a facsimile; she questions whether reality, with all of its texture and dimensionality, can be known at all."—The New Yorker
"This collection showcases a poet who is writing some of the most animated and complex poetry today. . . . By the end of the book, everything is larger and more vibrant—the paintings, the speaker's life, the reader and the world. This is the brilliance of Seuss—everything is animated and complicated by her mind, a mind that has a hunch that silence holds truth"—Los Angeles Times
"A skilled, inventive collection."—The Millions
"Every poem changes perspective in surprising ways with psychographic messages, because Seuss sees a world that combines versatility, tenderness, and sheer lingual strength. . . . Craft, brightness, darkness; she's writing at the top of her game."—Washington Independent Review of Books
"With command of language, humor, and emotional intensity, Seuss's work finds its home in art, philosophy, satire, and semantics. . . . The terrible beauty of this collection is that it shows how necessary art is in helping us get through this life."—The Rumpus
"In Still Life with Two Dead Peacocks and a Girl, Diane Seuss shows us that in stillness, there is so much to see."—Southern Indiana Review
"Still Life with Two Dead Peacocks and a Girl exquisitely layers self, art, and language. . . . Seuss demonstrates remarkable tenderness toward her figures and speakers, exquisite control over form and design, and has given us, her readers, another exquisite collection, where visual art and poem are combined into an inextricable whole."—The Adriot Journal
"Lyrical, lusty, art-centric. . . . Still Life with Two Dead Peacocks and a Girl is as much about running as it is about standing still, and as much about confronting death as it is about rediscovering life. . . . A kinetic art walk rich in observation, curiosity, reverence and impudence."—Shelf Awareness

"In Still Life with Two Dead Peacocks and a Girl poetry is an agent of resurrection and reanimation."—Fork and Page
"Spell-binding in its engagement with music and visual texture, Still Life with Two Dead Peacocks and a Girl is a masterpiece of poetic forms that innovate their origins."—Tyler Mills, On the Seawall

"Seuss hones in on the act of engaging with art to brilliantly imagine worlds beyond a painting's frame. . . . Invigorating ekphrastic poems and self-portraits."—Publishers Weekly
"In Still Life with Two Dead Peacocks and a Girl, Diane Seuss dives into ecstatically transformative ekphrasis. Still lifes grow animate under her eye, revealing 'perfect cherries lit as if each held a small red room, and a girl, and a candle bringing gold up through the red walls.' In the poem 'Mark Rothko,' humans morph into paintings: 'We wore solid yellow shirts and red pants, with a rope belt demarcating the blocks of color, befuddling the critics.' This book is a merry-go-round in which Seuss is the swan bench, the orange-and-pink horse frozen mid-whinny, the tinny music, and the dizzy rider who disembarks and falls on the grass."—Matthea Harvey
"Neuroimaging of a reader's brain under the sway of a Diane Seuss poem must be a fantastic display of light and color. Still Life with Two Dead Peacocks and a Girl is abundant with music and vitality. Seuss thrills at art and art history, but she has a leg up on Auden's Old Masters, who were limited to the material space of the canvas. Seuss's roving awareness makes no distinction between high and low, beauty and filth, my body and yours. She has coined a new gothic in which nothing is overlooked or expendable. Her vision is urgent, consuming. This book is a ravishment of the eyes."—Gregory Pardlo
Graywolf Press, 9781555978068, 120pp.
Publication Date: May 1, 2018
About the Author
Diane Seuss is the author of three previous poetry collections, including Four-Legged Girl, a finalist for the Pulitzer Prize, and Wolf Lake, White Gown Blown Open, winner of the Juniper Prize. She lives in Michigan.