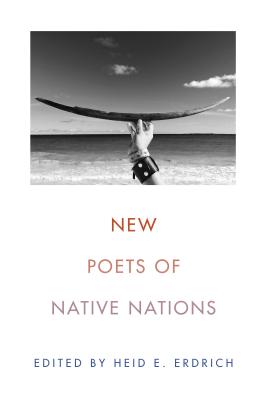 New Poets of Native Nations
Paperback

* Individual store prices may vary.
Description
A landmark anthology celebrating twenty-one Native poets first published in the twenty-first century

New Poets of Native Nations gathers poets of diverse ages, styles, languages, and tribal affiliations to present the extraordinary range and power of new Native poetry. Heid E. Erdrich has selected twenty-one poets whose first books were published after the year 2000 to highlight the exciting works coming up after Joy Harjo and Sherman Alexie. Collected here are poems of great breadth—long narratives, political outcries, experimental works, and traditional lyrics—and the result is an essential anthology of some of the best poets writing now.
Poets included are Tacey M. Atsitty, Trevino L. Brings Plenty, Julian Talamantez Brolaski, Laura Da', Natalie Diaz, Jennifer Elise Foerster, Eric Gansworth, Gordon Henry, Jr., Sy Hoahwah, LeAnne Howe, Layli Long Soldier, Janet McAdams, Brandy Nalani McDougall, Margaret Noodin, dg okpik, Craig Santos Perez, Tommy Pico, Cedar Sigo, M. L. Smoker, Gwen Westerman, and Karenne Wood.
Praise For New Poets of Native Nations…
"A wonderful introduction to the diverse landscape of native voices."—The Washington Post
"This collection is a breathtaking, wide-ranging work of art. . . . It is a modern classic."—BuzzFeed

"A revelatory anthology."—BBC Culture

"[New Poets of Native Nations] is distinctly contemporary in its urgency, diversity and vibrancy."—Star Tribune (Minneapolis)
"This book is a wonderful, needed, vital breath of air. . . . New Poets of Native Nations is a wonderfully conceived collection, full of exciting juxtapositions, rich language and a fine equipoise between generosity and restraint. It's safe to say New Poets of Native Nations is an essential read."—Paste Magazine
"The artists collected in New Poets of Native Nations occupy a powerful role culturally, and a book like this, at this moment, acts as a looking-glass for white-dominated culture. As challenges to the status quo of global capital, environmental degradation, and underserved communities rise in pitch, the perspectives held by these poets offer vital reading."—3:AM Magazine
"A gorgeous volume of poetry."—The Coil
"[A] marvelous and much needed new anthology."—Shelf Awareness
"Essential. . . . Through this first anthology of US Native poets since 1988, Erdrich offers readers a path into a 'brilliantly lit dimension' that has long been obscured by colonialism in the worlds of academia and cultural production."—Publishers Weekly, starred review

"An immensely important anthology that belongs in every library."—Booklist, starred review
Graywolf Press, 9781555978099, 304pp.
Publication Date: July 10, 2018
About the Author
Heid E. Erdrich is the author of five collections of poetry, including Curator of Ephemera at the New Museum for Archaic Media. She is Ojibwe enrolled at Turtle Mountain, and lives and teaches in Minneapolis.