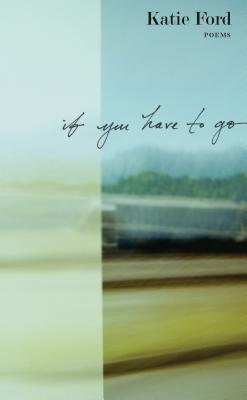 If You Have to Go
Poems
Paperback

* Individual store prices may vary.
Description
The transformative new book from "one of the most important American poets at work today" (Dunya Mikhail)
I am content because before me looms the hope of love.
I do not have it; I do not yet have it.
It is a bird strong enough to lead me by the rope it bites;
unless I pull, it is strong enough for me.
I do worry the end of my days might come
and I will not yet have it. But even then I will be brave
upon my deathbed, and why shouldn't I be?
I held things here, and I felt them.
—From "Psalm 40"
The poems in Katie Ford's fourth collection implore their audience—the divine and the human—for attention, for revelation, and, perhaps above all, for companionship. The extraordinary sequence at the heart of this book taps into the radical power of the sonnet form, bending it into a kind of metaphysical and psychological outcry. Beginning in the cramped space of selfhood—in the bedroom, cluttered with doubts, and in the throes of marital loss—these poems edge toward the clarity of "what I can know and admit to knowing." In song and in silence, Ford inhabits the rooms of anguish and redemption with scouring exactness. This is poetry that "can break open, // it can break your life, it will break you // until you remain." If You Have to Go is Ford's most luminous and moving collection.
Praise For If You Have to Go: Poems…
"Faith and doubt—in love, in God—course through Ford's powerful fourth book, anchored by a long sonnet sequence about the end of a marriage. 'It comes, then it goes, then it never was.'"—The New York Times Book Review
"There's a shadow looming over If You Have To Go—the poignantly-titled and brilliant collection of poetry from Katie Ford—and it's the dissolution of Ford's marriage. . . . She grasps for meaning in small objects, flickering moments of peace amidst the pain, and communion with the divine. That none of these seem to provide solace only makes her journey that much more devastating and beautiful."—The Portland Mercury
"Part threnody, part longing, all song. [If You Have to Go] is anchored by an extended crown of sonnets, which feel like pained and punctuated addresses to God, herself. . . . Ford's lines are impassioned, full of the terrible desire of doubt. . . . This book is a journey."—The Millions

"In Katie Ford's four-sectioned fourth collection, If You Have to Go, readers find themselves in indifferent rooms where the walls quit or remain standing regardless, like shrugs of the shoulder. The end of a marriage reveals the false promises believed since childhood—the kingdom—the house with a white-picket fence and 2.5 kid—is flimsy at best, a farce. . . . Her poems capture this stark truth: even as one's sorrow all encompasses, the rest of the world either changes or doesn't but it remains unmarked by that suffering."—Arkansas International
"[If You Have to Go] is nothing less than a full dramatic monologue with innuendo, philosophy, interior soliloquy. The spectrum of emotions ranges from dispassion, to passion, to acceptance, to inquiry, and disbelief, and more. A lesser poet would have descended into pity but Ford will have none of that when, instead, she can build a home from a kingdom of words to live in and rule magnificently."—Washington Independent Review of Books

"Katie Ford's ruminative poetry collection If You Have to Go transforms a failed marriage into soul-searching art. . . . These are poems of profound introspection, paring down one's voice to a skeleton of perception."—Shelf Awareness
"Ford explores and performs the work of mourning in [If You Have to Go], which traces the dissolution of a relationship and a home. . . . The emotional resonance remains constant with grief lightened by such auspicious moments as when the speaker declares, 'I am content because before me looms the hope of love.' Ford makes sense of sorrow by way of poetry."—Publishers Weekly

"[Katie] Ford becomes stronger with each book, and is among the best poets of our generation."—Shane McCrae
"[A] distinct and powerful voice in American poetry. . . . This is a complex, riveting, and heartbreaking book."—Jane Mead
Graywolf Press, 9781555978112, 72pp.
Publication Date: August 7, 2018
About the Author
Katie Ford is the author of three previous poetry collections: Blood Lyrics, Colosseum, and Deposition. The recipient of a Lannan Literary Fellowship and the Levis Reading Prize, she teaches at the University of California, Riverside.
or
Not Currently Available for Direct Purchase