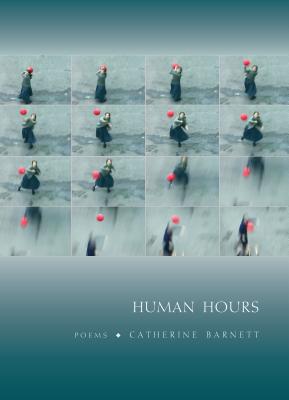 Human Hours
Poems
Paperback

* Individual store prices may vary.
Description
Winner of the Believer Book Award

The triumphant follow-up collection to The Game of Boxes, winner of the James Laughlin Award

Catherine Barnett's tragicomic third collection, Human Hours, shuttles between a Whitmanian embrace of others and a kind of rapacious solitude. Barnett speaks from the middle of hope and confusion, carrying philosophy into the everyday. Watching a son become a young man, a father become a restless beloved shell, and a country betray its democratic ideals, the speakers try to make sense of such departures. Four lyric essays investigate the essential urge and appeal of questions that are "accursed," that are limited—and unanswered—by answers. What are we to do with the endangered human hours that remain to us? Across the leaps and swerves of this collection, the fevered mind tries to slow—or at least measure—time with quiet bravura: by counting a lover's breaths; by remembering a father's space-age watch; by envisioning the apocalyptic future while bedding down on a hard, cold floor, head resting on a dictionary. Human Hours pulses with the absurd, with humor that accompanies the precariousness of the human condition.
Praise For Human Hours: Poems…
"A fast-paced but unflappable tour of hotels, airports, college drop-offs, gynecologists' offices and the cafes of Lower Manhattan. . . . The moments of stillness in Human Hours are equally compelling."—The New York Times Book Review
"[Human Hours] brim[s] with emotional intelligence."—The New York Times Style Magazine
"Barnett's marvelous third collection is populated by devastatingly wry (and wryly devastating) poems about aging, time, and the existential predicaments—violence, trauma, consciousness itself. . . . Iconoclastic and penetrating, the speaker of these poems unsettles and enlivens."—Vulture
"[Human Hours] unspools in a conversational, free-associative idiom. . . . Even in our darkest hours, the poems insist, company and comedy are never far away."—BOMB.com
"[Catherine Barnett's] new poems, collected in Human Hours, display a new and beautifully-feathered sense of doubt. They say in the kindest way that doubt, in its best form, can be a way of knowing. . . . Watching each of these poems dive after a target and swerve away is simply breathtaking."—John Freeman, Literary Hub
"A book-long meditation on time marked by vigorous inquiry. . . . Barnett's interrogations are unrelenting, occasionally riddles, like koans, posed in response to life's challenges. . . . But there is a constant search for answers, through an interrogation of the everyday."—American Poets
"Barnett's style is conversational, convivial. . . . The poems in Human Hours both disrupt time and hold it in place."—Ploughshares
"[Barnett] thread[s] in little lines of soaring lyric grace, laying them comfortably alongside mundane concerns."—On the Seawall
"Elegantly understated. . . . The emotional depth and observational nuance of these poems is something to behold."—Publishers Weekly, starred review

"These unforgettable poems, interrogating a singular life so precisely, draw us into the precarious nature of being human."—Claudia Rankine

"Barnett uses her extraordinary poetic skills not simply to manage her not-knowing but to unleash it. . . . These poems are elixir, and they burn."—Mary Szybist
Graywolf Press, 9781555978143, 80pp.
Publication Date: September 4, 2018
About the Author
Catherine Barnett is the author of a previous poetry book, Into Perfect Spheres Such Holes Are Pierced. She has received a Whiting Writer's Award and a Guggenheim Fellowship. She lives in New York City.
or
Not Currently Available for Direct Purchase