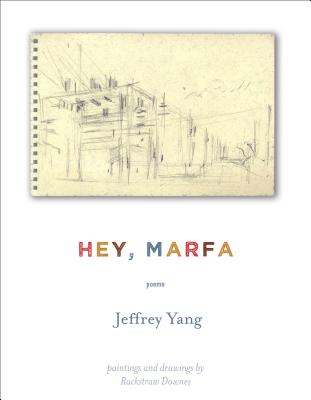 Hey, Marfa
Poems
Paperback

* Individual store prices may vary.
Description
An extraordinary lyric and visual meditation on place, nature, and art rippling out from Marfa, Texas

Situated in the outreaches of southwest Texas, the town of Marfa has long been an oasis for artists, immigrants looking for work, and ranchers, while the ghosts of the indigenous and the borders between languages and nations are apparent everywhere. The poet and translator Jeffrey Yang experienced the vastness of desert, township, sky, and time itself as a profound clash of dislocation and familiarity. What does it mean to survive in a physical and metaphorical desert? How does a habitat long associated with wilderness and death become a center for nourishment and art?
Out of those experiences and questions, Yang has fashioned a fascinating, multifaceted work—an anti-travel guide, an anti-Western, a book of last words—that is a lyrical, anthropological investigation into history, culture, and extremity of place. Paintings and drawings of Marfa's landscapes and substations by the artist Rackstraw Downes intertwine with Yang's texts as mutual nodes and lines of energy. Hey, Marfa is a desert diary scaled to music that aspires to emit particles of light.
Praise For Hey, Marfa: Poems…
"Yang's third book of poems is an ode to the past and present of, yes, Marfa. . . . Yang collaborates here with the artist Rackstraw Downes, and the elegant precision of Downes's paintings and drawings of an electrical substation is nicely matched by Yang's playfully exacting lines."—The New York Times Book Review, The Best Poetry of 2018
"Hugely rich, insightful, and moving. . . . Yang has done no less than to bring many parts of the world and its history into a very small place on the American map."—BOMB
"[Yang] ushers us down a rabbit hole of [Marfa's] history, unleashing a series of investigations that fuel this prosimetrum's lyrics, newspaper clippings, and memoirs—and paintings and drawings by Rackstraw Downes—to present a kaleidoscopic portrait of this iconic little city."—Poetry Magazine
"A truly unique project of text and visuals and a synthesis of lyric and history and landscapes."—Poetry Society of America
"Part-love-song-part-historical-exposé, Jeffery Yang's Hey, Marfa is a multi-faceted portrait of Marfa, Texas. . . . A blend of both traditional and experimental forms, Hey, Marfa gives voices of the past space in the present."—Electric Literature
"Marfa is lucky to earn such a quicksilver ode from Yang, whose poems are flexible, expansive, sonorously clever."—The Millions

"[Hey, Marfa is] part versified diary, part commonplace book, shot through with desert father-like meditations on oblivion."—The New York Review of Books
"Remarkably blended, with references from Bach to Hollywood showing how Marfa fired Yang's imagination, just as he will fire yours."—Library Journal, starred review
"Yang . . . has constructed an Escher-like collage by weaving together musings on Southwest America's past and accounts of current art movements. Illustrated with the sublime paintings and drawings of British artist Rackstraw Downes, Hey, Marfa is itself an art object as much as a book of exacting poetry. . . . A collection to read in wonder and then reread, discovering something new."—Booklist

"As Marfa grows in the cultural zeitgeist, Hey, Marfa captures the spirit of this eccentric, idiosyncratic, incomparable town."—The Culture Trip
Graywolf Press, 9781555978198, 184pp.
Publication Date: October 2, 2018
About the Author
Jeffrey Yang is the author of two previous poetry books, Vanishing-Line and An Aquarium, winner of the PEN/Joyce Osterweil Award. He is the translator of the Nobel Peace Prize recipient Liu Xiaobo's June Fourth Elegies. Yang lives in Beacon, New York.
or
Not Currently Available for Direct Purchase