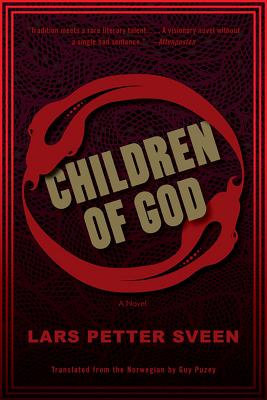 Children of God
A Novel
Paperback

* Individual store prices may vary.
Description
Daring and original stories set in New Testament times, from a rising young Norwegian author
Lars Petter Sveen's Children of God recounts the lives of people on the margins of the New Testament; thieves, Roman soldiers, prostitutes, lepers, healers, and the occasional disciple all get a chance to speak. With language free of judgment or moralizing, Sveen covers familiar ground in unusual ways. In the opening story, a group of soldiers are tasked with carrying out King Herod's edict to slaughter the young male children in Bethlehem but waver in their resolve. These interwoven stories harbor surprises at every turn, as the characters reappear. A group of thieves on the road to Jericho encounters no good Samaritan but themselves. A boy healed of his stutter will later regress. A woman searching for her lover from beyond the grave cannot find solace. At crucial moments an old blind man appears, urging the characters to give in to their darker impulses.
Children of God was a bestseller in Norway, where it won the Per Olov Enquist Literary Prize and gathered ecstatic reviews. Sveen's subtle elevation of the conflict between light and dark focuses on the varied struggles these often-ignored individuals face. Yet despite the dark tone, Sveen's stories retain a buoyancy, thanks to Guy Puzey's supple and fleet-footed translation. This deeply original and moving book, in Sveen's restrained and gritty telling, brings to light stories that reflect our own time, from a setting everyone knows.
Praise For Children of God: A Novel…
"Children of God is an original and unsettling text, a ruthless dismantling of the Bible. . . . Sveen teases out every ambiguity and paradox in the biblical parables."—Star Tribune (Minneapolis)
"Children of God exposes the turmoil of illumination, a striving that exists alongside what's confusing, inscrutable, and seemingly contrary. Puzey's impressive translation delivers an astounding voice to English-language literature."—Foreword Reviews, starred review

"The world of Children of God is one of a kind of Gnostic duality, where every blessing can be undone by a curse, where every light is balanced with darkness."—Entropy
"Written in muscular, gritty prose, . . . Sveen has brilliantly remade an old story into something compulsively readable and chillingly modern."—Publishers Weekly

"Both historical fiction and allegory, the book is insightful in both contexts. . . . While reflecting individuals' long-ago struggles for faith, autonomy, and survival, Sveen's linked stories also have significant modern relevance that reaches a powerful crescendo by the book's end."—Booklist
Graywolf Press, 9781555978204, 256pp.
Publication Date: October 16, 2018
About the Author
Lars Petter Sveen was named one of Norway's ten best authors under thirty-five by Morgenbladet, and has received Tarjei Vesaas' Debutant Prize and the Per Olov Enquist Literary Prize. Children of God is his first book to be translated into English.
or
Not Currently Available for Direct Purchase