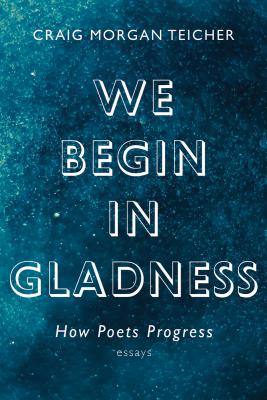 We Begin in Gladness
How Poets Progress
Paperback

* Individual store prices may vary.
Description
One of our most perceptive critics on the ways that poets develop poems, a career, and a life

Though it seems, at first, like an art of speaking, poetry is an art of listening. The poet trains to hear clearly and, as much as possible, without interruption, the voice of his or her mind, the voice that gathers, packs with meaning, and unpacks the language he or she knows. It can take a long time to learn to let this voice speak without getting in its way. This slow learning, the growth of this habit of inner attentiveness, is poetic development, and it is the substance of the poet's art. Of course, this growth is rarely steady, never linear, and is sometimes not actually growth but diminishment—that's all part of the compelling story of a poet's way forward.
—from the Introduction
"The staggering thing about a life's work is it takes a lifetime to complete," Craig Morgan Teicher writes in these luminous essays. We Begin in Gladness considers how poets start out, how they learn to hear themselves, and how some offer us that rare, glittering thing: lasting work. Teicher traces the poetic development of the works of Sylvia Plath, John Ashbery, Louise Glück, and Francine J. Harris, among others, to illuminate the paths they forged—by dramatic breakthroughs or by slow increments, and always by perseverance. We Begin in Gladness is indispensable for readers curious about the artistic life and for writers wondering how they might light out—or even scale the peak of the mountain.
Praise For We Begin in Gladness: How Poets Progress…
"We Begin in Gladness is well worth reading for its celebration of the art, and for placing poetry as a necessity in today's frenzied society. . . . Teicher's examination of poets' artistic maturation is an engaging topic."—NPR
"Craig Morgan Teicher explores how poets progress and learn from one another in We Begin in Gladness. This fantastic collection of essays begins with insightful descriptions of poetry as 'an art of listening' and the poet's task as hearing clearly. . . . Every section will deepen your understanding of the creative arc and will make you rethink what's possible when one continues to forge ahead."—The Washington Post

"In [We Begin in Gladness]—informed by Teicher's considerable work as both a poet and a critic, and imbued with a sensibility that is as comfortable in the lyrical mode as it is in the critical—Teicher considers the idea of poetic voice, as well as its complement, form."—The Atlantic
"This engaging set of essays may have been motivated by the question of a poet's spark, but rather than focus on himself, Teicher looks for answers in how other poets are attracted to the poetic form of expression. Particularly fascinating are his insights into how poets influence other poets, and Teicher has a broad sweep on a wildly different set of poets from Constantine Cavafy to Sylvia Plath, Elizabeth Bishop and John Ashbury."—Star Tribune (Minneapolis)
"Teicher's best insights are ultimately about poetry's connection to the sublime."—The Christian Science Monitor
"Part guidebook for emerging poets and part homage to a wide range of major poets, Teicher's We Begin in Gladness . . . is one of the most enjoyable books about poetry I have encountered."—Zyzzyva
"We Begin in Gladness . . . takes readers on a poetic journey through the development of voice by examining how the works of several poets changed over the course of their careers. In this insightful and delightful collection, Teicher looks at his own poetic development alongside others to show how our voices develop together."—The Arkansas International
"Teicher's reasoning is sound, articulate, and accessible to readers of all poetic fluency levels, but also so original that even experts will find new ways of thinking about old favorites."—Publishers Weekly, starred review

"Craig Morgan Teicher is an artist of the first order."—Hilton Als

"This collection of thoughtful, readable essays by a very attentive poet and critic . . . . is very inviting and sometimes very wise."—Stephanie Burt

"Teicher's smart and sturdy essays will be of use to poets trying to understand how artistic growth happens, and to anyone out to glimpse the miraculous."—Mark Doty

Graywolf Press, 9781555978211, 176pp.
Publication Date: November 6, 2018
About the Author
Craig Morgan Teicher is an acclaimed poet and critic. He is the author of three books of poetry, including The Trembling Answers, and regularly writes reviews for the Los Angeles Times, NPR, and The New York Times Book Review. He lives in New Jersey.
or
Not Currently Available for Direct Purchase