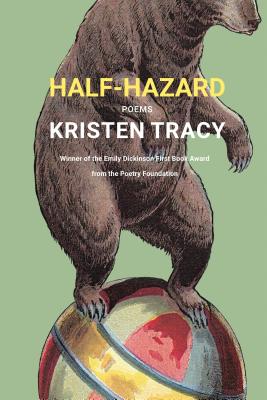 Half-Hazard
Poems
Paperback

* Individual store prices may vary.
Description
Half-Hazard is the Winner of the Emily Dickinson First Book Award from the Poetry Foundation for a debut by an American poet over forty.

Half-Hazard is a book of near misses, would-be tragedies, and luck. As Kristen Tracy writes in the title poem, "Dangers here. Perils there. It'll go how it goes." The collection follows her wide curiosity, from growing up in a small Mormon farming community to her exodus into the forbidden world, where she finds snakes, car accidents, adulterers, meteors, and death-marked mice. These wry, observant narratives are accompanied by a ringing lyricism, and Tracy's knack for noticing what's so funny about trouble and her natural impulse to want to put all the broken things back together. Full of wrong turns, false loves, quashed beliefs, and a menagerie of animals, Half-Hazard introduces a vibrant new voice in American poetry, one of resilience, faith, and joy.
Praise For Half-Hazard: Poems…
"The edgy, surprising poems in Kristen Tracy's Half-Hazard . . . are as readable as good fiction. Tracy, the author of a dozen novels for young readers . . . here delivers a more personal and introspective work. . . .The writing is delightfully crisp and wry, and always walks a tightrope between hope and disaster."—The Washington Post
"When you open this book, the energy pops off the page. It's a free-wheeling, lack of fear of language. Maybe the confidence that lights up the word comes from years of writing novels, sharpening so many pencils and ideas. Whatever makes for the holy fire, I love it. Tracy is so real you can almost touch her with her observations, mishaps, wry information. There's sadness here, too. Who can avoid this? But something wonderful holds everything up like a gleaming net under an acrobat's high-wire act."—Washington Independent Review of Books

"Kristen Tracy's collection Half-Hazard . . . was twenty years in the making. And so, it should come as no surprise that time plays a pivotal role in this outstanding collection. Time is the medium across which cruelty unfolds towards the plants, animals, and people that we share the world with—and it is the medium through which we bear witness."—The Arkansas International
"Tracy, a prolific author of tween and teen fiction, debuts in verse with an irresistible collection selected for the Poetry Foundation's Emily Dickinson First Book Award. These energetic poems showcase a writer who knows how to draw readers in—with short sentences, quick turns, and a comic edge that courts disaster."—Publishers Weekly, starred review

"Nearly 20 years in the making, this debut collection from a prolific children's author won the Poetry Foundation's Emily Dickinson First Book Award . . . evidently, it was worth the wait. Written in an open, conversational voice. . . . Empathetic accessible reading."—Library Journal
Graywolf Press, 9781555978228, 72pp.
Publication Date: November 6, 2018
About the Author
Kristen Tracy is a poet and the acclaimed author of more than a dozen novels for young readers. Her poems have been published in Poetry, Prairie Schooner, and The Threepenny Review, among other magazines. She lives in Los Angeles with her husband and son.
or
Not Currently Available for Direct Purchase