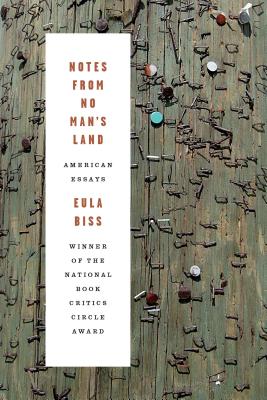 Notes from No Man's Land
American Essays
Paperback

* Individual store prices may vary.
Other Editions of This Title:
Paperback (4/19/2017)
MP3 CD (5/3/2016)
Paperback (2/3/2009)
Description
Winner of the National Book Critics Circle Award for Criticism

Winner of the Graywolf Press Nonfiction Prize
Acclaimed for its frank and fascinating investigation of racial identity, and reissued on its ten-year anniversary, Notes from No Man's Land begins with a series of lynchings, ends with a list of apologies, and in an unsettling new coda revisits a litany of murders that no one seems capable of solving. Eula Biss explores race in America through the experiences chronicled in these essays—teaching in a Harlem school on the morning of 9/11, reporting from an African American newspaper in San Diego, watching the aftermath of Hurricane Katrina from a college town in Iowa, and rereading Laura Ingalls Wilder in the Rogers Park neighborhood of Chicago. What she reveals is how families, schools, communities, and our country participate in preserving white privilege. Notes from No Man's Land is an essential portrait of America that established Biss as one of the most distinctive and inventive essayists of our time.
Praise For Notes from No Man's Land: American Essays…
"Notes From No Man's Land is the most accomplished book of essays anyone has written or published so far in the 21st century. . . . Unlike all but a handful of the best books I have ever read, it is unimpeachably great."—Salon
"Graywolf Press has reissued Biss' penetrating essay collection—a wise and welcome decision. In a moment when geography seems to have a stranglehold on political sensibilities, Notes from No Man's Land delivers nuanced regional dispatches from New York, California and the Midwest."—Los Angeles Times
"Biss' pairings of ideas, like those of most original thinkers, have the knack of seeming brilliant and obvious at the same time . . . forceful, beautiuful essays."—NPR
"Biss is telling us the story of our country--one we never saw coming."—The Chicago Tribune

"Biss's examination of America's complicated racial heritage offers penetrating insight."—Time Out New York
"Biss's compelling investigation of race and privilege in the United States remains as timely and relevant as ever."—The Brooklyn Rail
"Powerful essays on the nature of identity, national and racial and personal. . . . Containing the music and force of [Biss's] singular thought."—Orion Magazine

This book is as relevant today as it was a decade ago."—Pioneer Press
"[A] wondrous book. . . . [Biss] picks and worries at the idea of race in America—incarceration, education, social welfare. . . . Lyrical she may be, but she is also exhilaratingly bold."—The Spectator (UK)
"Two of the qualities that make Eula Biss's essays in Notes from No Man's Land compelling and beautiful are precision and independence—independence from orthodoxies of the right and left and the conventions of literary essays and their displays of sensibility and sensitivity. And whatever topic she takes up she dissects and analyzes with startling insight that comes from deep reading and original thinking. She's important to this moment, important to opening up what essays can be, important for setting a standard of integrity and insight, and she's also a joy to read."—Rebecca Solnit
Graywolf Press, 9781555978235, 256pp.
Publication Date: November 6, 2018
About the Author
EULA BISS is the author of The Balloonists. She teaches nonfiction writing at Northwestern University and is co-editor of Essay Press. Her essays have appeared in Harper's and The Believer. She lives in Chicago.