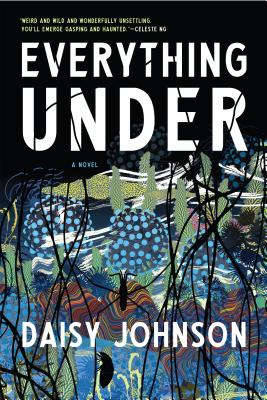 Everything Under
A Novel
Paperback

* Individual store prices may vary.
Other Editions of This Title:
Digital Audiobook (1/14/2019)
Compact Disc (1/15/2019)
MP3 CD (1/15/2019)
Description
SHORTLISTED FOR THE 2018 MAN BOOKER PRIZE

An eerie, watery reimagining of the Oedipus myth set on the canals of Oxford, from the author of Fen

The dictionary doesn't contain every word. Gretel, a lexicographer by trade, knows this better than most. She grew up on a houseboat with her mother, wandering the canals of Oxford and speaking a private language of their own invention. Her mother disappeared when Gretel was a teen, abandoning her to foster care, and Gretel has tried to move on, spending her days updating dictionary entries.

One phone call from her mother is all it takes for the past to come rushing back. To find her, Gretel will have to recover buried memories of her final, fateful winter on the canals. A runaway boy had found community and shelter with them, and all three were haunted by their past and stalked by an ominous creature lurking in the canal: the bonak. Everything and nothing at once, the bonak was Gretel's name for the thing she feared most. And now that she's searching for her mother, she'll have to face it.

In this electrifying reinterpretation of a classical myth, Daisy Johnson explores questions of fate and free will, gender fluidity, and fractured family relationships. Everything Under—a debut novel whose surreal, watery landscape will resonate with fans of Fen—is a daring, moving story that will leave you unsettled and unstrung.
Praise For Everything Under: A Novel…
"Everything Under is a force of nature. . . . Johnson carries on this grand tradition by making something very old uncannily new."—The New York Times Book Review

"Entrancing. . . . Johnson's own writing summons the just-off-ness of the uncanny; she is capable of passages of exquisite creepiness. . . . Her sentences have an aqueous quality."—The New Yorker

"Skillful and imaginative. . . . It takes a bold mind to steer so many elements through one tale, and an even stronger stylist to render them in a narrative that heeds, but seems not to, the laws of nature. Johnson has done all this in a book that will probably be read, like Ali Smith's How to Be Both, for years to come as a part of the reclaiming of narrative territory."—The Boston Globe

"Johnson is one of her generation's most intriguing authors. . . . [She] deliberately fashions language as a 'character'. . . . By breaking it down to its barest parts, she fits us into tapestries of her own making—holding up a mirror to us before shattering and reassembling it."—Entertainment Weekly

"Daisy Johnson . . . pulls off several marvels at once in Everything Under. She coins words, channels outlier voices, and fractures chronology. The result is an uncanny update of ancient storytelling." —The Atlantic

"Everything Under is about fluidity — of water, of words and their meanings, and of identity. Using unsettling imagery and intertwining narratives that amp up the dread factor, this excellent debut is as haunting as it so rightly deserves to be."—Vulture

"Everything Under surprises and beguiles. It is a radical rewrite of the Oedipus myth and a penetrating study of turbulent mother-daughter relations. . . . This is a novel filled with mysterious currents and intriguing tributaries, a book whose murky, rippling narrative surface conceals latent secrets and dormant threats."—Star Tribune (Minneapolis)

"[A] sly, elliptical repurposing of the Oedipus myth. . . . Each sentence lands with contemplative delicacy—the sensation while reading is of being pushed down into the muddled sequence of foregone conclusions. . . . In Everything Under, as the prophetic title warns, the waters are blind and their full embrace is fatal."—Jezebel

"Our certainties are mere illusions. Everything Under, understatedly, conveys this powerful message, via a dazzling structure of edges and circles and liminalities that eventually explode in unison. . . . These are fables, or myths, or narratives, redone for our times, forcing us to acknowledge what is out there, waiting."—Vol. 1 Brooklyn

"An intimate look at language and motherhood, but with a physical manifestation of terror that manages to straddle the line between obviously real and a product of the imagination."—The Outline

"Everything Under's original story, of Gretel searching for her wild mother, of Marcus's flight on the river, is beautiful, haunting, and propulsive. And the Oedipus strand introduces a playful, referential pleasure."—Fiction Unbound

"Johnson's singular, hallucinatory storytelling is well up to her book's ambitious form. The result is spellbinding."—Shelf Awareness

"A tense, startling book of true beauty and insight. Proof that the oldest of stories contain within them the seeds of our future selves."—Kirkus Reviews, starred review

"Harrowing, singular. . . . A stunning fever dream of a novel."—Publishers Weekly, starred review

"Dreamy, unsettling, and vividly poetic. . . . With its lyrical descriptions of a frightening landscape as well as the inner worlds of its confused characters, Everything Under demands—and rewards—close reading and rereading."—Booklist, starred review

"A haunting tale of children lost and parents found, this debut novel is a special treat for word lovers."—Library Journal, starred review

"[Everything Under blends] a deep understanding of character and storytelling sophistication to examine a troubled mother-daughter relationship. . . . [A] complex, uncompromising novel."—The Guardian (UK)

"Saturated in mythology and fairy tales, Everything Under is weird and wild and wonderfully unsettling. Daisy Johnson writes in a torrent of language as unrelenting and turbulent and dark as the river at the book's heart; dive in for just a moment and you'll emerge gasping and haunted."—Celeste Ng

"Surprising, gorgeously written, and profoundly unsettling, this genderfluid retelling of Oedipus Rex will sink into your bones and stay there."—Carmen Maria Machado

"Daisy Johnson is a genius."—Jeff VanderMeer
Graywolf Press, 9781555978266, 272pp.
Publication Date: October 23, 2018
About the Author
Daisy Johnson is the author of the short-story collection Fen. She is the winner of the Harper's Bazaar Short Story Prize, the A. M. Heath Prize, and the Edge Hill Short Story Prize. She lives in Oxford, England, by the river.