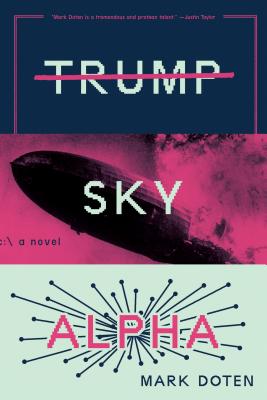 Trump Sky Alpha
A Novel
Paperback

* Individual store prices may vary.
Other Editions of This Title:
Digital Audiobook (2/18/2019)
Compact Disc (2/19/2019)
MP3 CD (2/19/2019)
Description
A novel on the political madness of our time and the Internet's deep workings, by the author of The Infernal
One year after the president has plunged the world into nuclear war, a journalist takes refuge in the Twin Cities Metro Containment Zone. On assignment, she documents internet humor at the end of the world, hoping along the way to find the final resting place of her wife and daughter. What she uncovers, hidden amid spiraling memes and twitter jokes in an archive of the internet's remnants, are references to an enigmatic figure known only as Birdcrash, who may hold the key to an uncertain future.
Praise For Trump Sky Alpha: A Novel…
"Trump Sky Alpha is a funny book and a sad one, a bright one and a dark one, a distant sci-fi dystopia and a ripped-from-the-headlines tragedy. . . . The book acts both as a novel and as a searching, tortured position paper on the use of media, message and, especially, satire in our time."—Ben Greenman, The New York Times Book Review
"Doten [is] a virtuosic satirist. . . . This is bracingly good satire, so attentive to the subtleties of its object of caricature that it feels almost documentary."—The Nation
"What Doten uncovers with [Trump Sky Alpha] is the always pulsating anxieties that fuel our current existence, both online and off, and the ways in which we use irreverence and cynicism as armor against what we know is largely an uncaring world."—NYLON
"[Doten] channels the brusqueness of the president's Twitter feed into a vivid literary depiction. And this is indeed a novel where Twitter personas don't just matter: They are, in fact, at the heart of this heady work's thematic concerns. . . . Fundamentally, this is a long and thrilling meditation on information and disinformation, on personas and the elusiveness of truth."—Star Tribune (Minneapolis)
"It's a darkly hilarious novel that managers to do what many thought impossible: satirize the age of Twitter and Trump."—BOMB Magazine
"Trump Sky Alpha begins as an elaborate farce and ends as something much more grim and compelling, covering issues of politics, resistance, identity, and what, after all these years of mindless info-consumption, the internet actually means to our society."—Longreads
"In Trump Sky Alpha, Doten combines a genius for fictive architecture with dazzling prose. . . . Satirically pyrotechnic and brilliantly formed."—The Brooklyn Rail
"Trump Sky Alpha . . . makes incisive and important points about our internet culture. . . . But Trump Sky Alpha is more than social commentary. . . . What makes this novel eloquent and urgent are its human elements."—Ploughshares
"By turns a dystopian nightmare, a cyber thriller, a spot-on treatise on memes, and a tragic tale of love and loss. . . . Doten's novel is haunting, incisive, and surprisingly touching."—Publishers Weekly
"[An] unconventional and darkly satirical mix of memes, Twitter jokes, Q&As, and tightly written stream-of-consciousness passages. . . . Doten's speculative tale is very strange and chilling, subversive and surreal, and disturbingly relevant."—Booklist
"Mark Doten brings a hilarious, subversive eye to the way we live, joke, and tweet at the edge of what could, for all we know, be an explosive end."—Alexandra Kleeman
"It's a commonplace that no one could satirize Trump. But Mark Doten has done it in this scathing, hectic portrayal of the end of the world."—Edmund White
"An act of rogue hope and antic compassion. . . . Mark Doten emerges as the shadow president of our benighted generation of American literature."—Joshua Cohen

"With resplendent, even lurid detail, Trump Sky Alpha unpacks every contemporary source of American anxiety."—Catherine Lacey

"Doten's cracked archaeology of the nearly-now is so brilliant it will make you joyful despite yourself, despite the world's self."—Rivka Galchen

"What an extraordinary novel—gutsy, astute, frightening, and fun; only history will show if it remains speculative or proves prescient. (Either way, may the gods save us!)"—Miguel Syjuco

"Fiction as original as it is provocative, and as plausible and illustrative of what is happening around us as any breaking news report. Read this book and then duck and cover."—A. M. Homes

Graywolf Press, 9781555978280, 192pp.
Publication Date: February 19, 2019
About the Author
Mark Doten is the author of The Infernal. One of Granta's 2017 Best of Young American Novelists, he is the literary fiction editor at Soho Press and teaches in Columbia University's graduate writing program. He lives in Brooklyn.
or
Not Currently Available for Direct Purchase