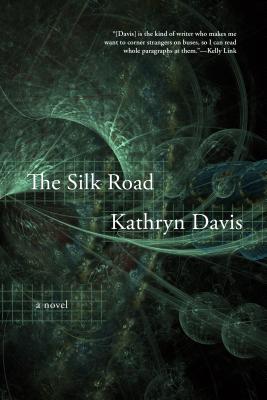 The Silk Road
A Novel
Hardcover

* Individual store prices may vary.
Other Editions of This Title:
Digital Audiobook (6/24/2019)
Paperback (8/3/2021)
Compact Disc (6/25/2019)
MP3 CD (6/25/2019)
Description
A spellbinding novel about transience and mortality, by one of the most original voices in American literature

The Silk Road begins on a mat in yoga class, deep within a labyrinth on a settlement somewhere in the icy north, under the canny guidance of Jee Moon. When someone fails to arise from corpse pose, the Astronomer, the Archivist, the Botanist, the Keeper, the Topologist, the Geographer, the Iceman, and the Cook remember the paths that brought them there—paths on which they still seem to be traveling.

The Silk Road also begins in rivalrous skirmishing for favor, in the protected Eden of childhood, and it ends in the harrowing democracy of mortality, in sickness and loss and death. Kathryn Davis's sleight of hand brings the past, present, and future forward into brilliant coexistence; in an endlessly shifting landscape, her characters make their way through ruptures, grief, and apocalypse, from existence to nonexistence, from embodiment to pure spirit.

Since the beginning of her extraordinary career, Davis has been fascinated by journeys. Her books have been shaped around road trips, walking tours, hegiras, exiles: and now, in this triumphant novel, a pilgrimage. The Silk Road is her most explicitly allegorical novel and also her most profound vehicle; supple and mesmerizing, the journey here is not undertaken by a single protagonist but by a community of separate souls—a family, a yoga class, a generation. Its revelations are ravishing and desolating.
Praise For The Silk Road: A Novel…
"The Silk Road concerns itself with nothing less than the workings of the great wheel of time and its terrifying promises of rebirth and forgetfulness. A mysterious and wonderstruck work."—Joy Williams

"A book so vertiginously strange and yet so lullingly beautiful, it falls upon the reader like the change of day to night. Like all of Kathryn Davis's books, The Silk Road induces a fugue state in the reader from which she emerges with reluctance."—Kelly Link

"[Kathryn Davis's] writing exists outside of genre and trends and time. . . . For those willing to get lost in its spiritual haze, there is a uniquely un-2019 pleasure to be found: a meditative bewilderment that just might cede to enlightenment."—The New York Times Book Review

"With nothing less than the human condition on its mind, The Silk Road works in archetype and allegory to produce a slim (not even 150 pages!) but resounding book unlike any you've ever read."—Entertainment Weekly

"[Davis is] the most original novelist in America. . . . The Silk Road is . . . a feat of flashing enchantment. I read it in a state I can only describe as baffled wonder."—Slate

"Radiant and endlessly shifting, sensitive to outer form and inner reality, wildly and beautifully impenetrable: that's as good a paraphrase of this splendid, poetic novel of ideas as you'll get."—Boston Globe

"This novel isn't a puzzle to be solved; rather, like a reading of Tarot cards (another motif), Davis is channeling the symbolically rich and evocative onto the page. No two readers may interpret this book the same way, or even close to it — but these unexpected and unruly juxtapositions carry plenty of emotional power and philosophical provocation."—Star Tribune (Minneapolis)

"Davis works with language in ways that few of her contemporaries do."—Literary Hub

"The Silk Road dives right into the extraordinary from the first paragraph. . . . It can be helpful to think of The Silk Road as a piece of music, in which meaning is produced through rhythm and repetition rather than rational exposition. . . . The mystery in The Silk Road . . . revolves around nothing less than the formation and dissolution of selfhood."—The Millions

"Kathryn Davis' dreamy and sinuous new novel The Silk Road will challenge readers to reconsider what a novel can be and do."—Seven Days

"Davis renders [the siblings] with heartbreaking perfection. While her characters' names and biographies are obscured, she digs into particular moments with such profound specificity that they are brilliantly alive to the reader."—Shelf Awareness

"The tenacity of Davis' language, her spellbinding images and spellbound objects, the fragile beauty of the worlds she creates in the moment of their destruction reward an open-minded reader's labors. A book that stuns, almost literally, with its force and its humility. A tender book. A savage book. A once-in-a-lifetime story."—Kirkus Reviews, starred review

"A haunting take on the fluidity and circuitousness of human life. . . . Davis is a singular writer, capable of piercing observations and gorgeous language."—Publishers Weekly

"[Davis is] a master of mind-whirling, arabesque fiction. This puzzle of pieces of time past, present, and future is an alternately funny and wistful tale of excursions across forbidding, pandemic-afflicted landscapes. . . . Davis has created a spooky, slippery, provocative, and elegiac fable in which amusingly fractious and poignantly imperiled pilgrims press on in a blasted world, destination unknown."—Booklist
Graywolf Press, 9781555978297, 144pp.
Publication Date: March 5, 2019
About the Author
Kathryn Davis is the author of six novels. She has received the Kafka Prize, the Morton Dauwen Zabel Award, a Guggenheim Fellowship, and the Lannan Foundation Literary Award. She teaches at Washington University, and lives in Vermont and St. Louis, Missouri.
or
Not Currently Available for Direct Purchase