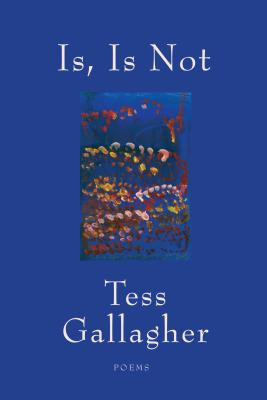 Is, Is Not
Poems
Paperback

* Individual store prices may vary.
Description
Tess Gallagher's new poems are suspended between contradiction and beauty

Is, Is Not upends our notions of linear time, evokes the spirit and sanctity of place, and hovers daringly at the threshold of what language can nearly deliver while offering alternative corollaries as gifts of its failures. Tess Gallagher's poems reverberate with the inward clarity of a bell struck on a mountaintop. Guided by humor, grace, and a deep inquiry into the natural world, every poem nudges us toward moments of awe. How else except by delight and velocity would we discover the miracle within the ordinary?
Gallagher claims many Wests—the Northwest of America, the Northwest of Ireland, and a West even further to the edge, beyond the physical. These landscapes are charged with invisible energies and inhabited by the people, living and dead, who shape Gallagher's poems and life. Restorative in every sense, Is, Is Not is the kind of book that takes a lifetime to write—a book of the spirit made manifest by the poet's unrelenting gaze and her intimate engagement with the mysteries that keep us reaching.
Praise For Is, Is Not: Poems…
"[Gallagher's] mode of elegy is one of transcendence, and it extends to even the changed lives of the living."—The Millions

"Is, Is Not is a thorough and unapologetic exploration of the self. Gallagher's poems, like the shattered reflection of the moon in the ever-changing flowing water of the world, reveal various parts of that self—sometimes coherent, sometimes ambiguous and evasive—as it is transformed by experience."—Harvard Review
"Each poem, fully realized, builds toward a collection that is luminous and far ranging—both in substance and in form."—The Oregonian
"Tess Gallagher is an American classic. . . . Gallagher's voice is so clear, graceful and unstoppable—and it ranges so greatly from large matters to small—she makes poetry's dreams come true."—Washington Independent Review of Books
"[Gallagher's poetry] is intelligent, lives on the page, and makes a music out of thinking."—Hudson Review
"Tess Gallagher is in top form with this collection of challenging but intellectually rewarding poems."—Shelf Awareness
"Impressively wide-ranging in its intellectual inquiry. . . . Gallagher's craft excels as she balances image and abstraction, grounding the wild flights of the speaker's philosophical imagination."—Publishers Weekly, starred review

"[In Is, Is Not,] carefully constructed reveries are a bridge between then and now, consciousness and belief. . . . This is the joy of poetry, for both writer and reader: each poem is handmade on the page. . . . Readers of quiet, thoughtful poetry will find much to savor."—Library Journal
Graywolf Press, 9781555978419, 160pp.
Publication Date: May 7, 2019
About the Author
Tess Gallagher is the author of eleven books of poetry, including Midnight Lantern: New and Selected Poems, Dear Ghosts, and Moon Crossing Bridge. Gallagher spends time in County Sligo, Ireland, and also in her hometown of Port Angeles, Washington.
or
Not Currently Available for Direct Purchase