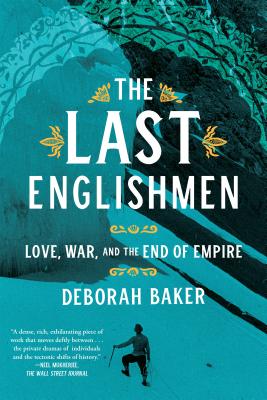 The Last Englishmen
Love, War, and the End of Empire
Paperback

* Individual store prices may vary.
Other Editions of This Title:
Digital Audiobook (8/20/2018)
Compact Disc (8/21/2018)
MP3 CD (8/21/2018)
Hardcover (8/21/2018)
MP3 CD (1/1/2019)
Description
A sumptuous biographical saga, both intimate and epic, about the waning of the British Empire in India

John Auden was a pioneering geologist of the Himalaya. Michael Spender was the first to draw a detailed map of the North Face of Mount Everest. While their younger brothers—W. H. Auden and Stephen Spender—achieved literary fame, they vied to be included on an expedition that would deliver Everest's summit to an Englishman, a quest that had become a metaphor for Britain's struggle to maintain power over India. To this rivalry was added another: in the summer of 1938 both men fell in love with a painter named Nancy Sharp. Her choice would determine where each man's wartime loyalties would lie.

Set in Calcutta, London, the glacier-locked wilds of the Karakoram, and on Everest itself, The Last Englishmen is also the story of a generation. The cast of this exhilarating drama includes Indian and English writers and artists, explorers and Communist spies, Die Hards and Indian nationalists, political rogues and police informers. Key among them is a highborn Bengali poet named Sudhin Datta, a melancholy soul torn, like many of his generation, between hatred of the British Empire and a deep love of European literature, whose life would be upended by the arrival of war on his Calcutta doorstep.

Dense with romance and intrigue, and of startling relevance for the great power games of our own day, Deborah Baker's The Last Englishmen is an engrossing story that traces the end of empire and the stirring of a new world order.
Praise For The Last Englishmen: Love, War, and the End of Empire…
"In her ambitious new book, The Last Englishmen: Love, War, and the End of Empire, [Deborah Baker] brings to bear this art of juxtaposition upon a much-told story, the last two decades of the British Empire in India, to create something wholly original. . . . It is to Ms. Baker's credit that she keeps the big events always in view, dramatizing and humanizing the workings of history, particularly the story of empire and its machinations, in a way a novelist would—by making it a story of individuals. She understands everything about these people, the details of their lives, the connections and the criss-crossings, intersections, overlaps, friends-of-lovers-of-friends. It wouldn't be an exaggeration to say that there is something Tolstoyan to her vast project."—The Wall Street Journal

"Baker writes beautifully, and she's done ample research. Drawing on a host of private and public archives, she crafts memorable portraits of dynamic, flawed men and women."—San Francisco Chronicle

"Ms. Baker draws from a rich stock of unpublished memoirs, journals, police reports and other documents, deploying fresh material with a light touch. . . . As narrative history this is skillful work."—The Economist

"What the deeply researched, marvelously portrayed life stories recounted in The Last Englishmen show is just how muddled these world-historical changes actually look when you're living in the middle of them. That makes the book a valuable supplement to the more conventional accounts of decolonization as a process driven by clear-eyed activists and historical logic. If anything, histories like Baker's may be precisely what are needed in the present heated moment, as reminders of the many ways in which people find their way through political transformation."—Foreign Affairs

"Incisive and illuminating. . . . This is a thoroughly researched, relentlessly engrossing epic tale. Baker is adept in all areas — on the slopes of Everest or within corridors of power, among Calcutta's intellectuals or London's art crowd. She writes with verve and authority on colonial tension, cultural achievement and global conflict. . . . Baker's study of national endeavor and personal struggle throws a valuable light on past upheavals and ideals. There is much to admire and a lot to learn."—Star Tribune (Minneapolis)

"An extraordinarily deft account of the complexities of love and empire, in India and Britain, from the 1920s through independence and partition in 1947 and beyond."—BookPost

"A fascinating ensemble drama that elegantly brings to life that slice of time around World War II and the waning days of British control over India."—The National Book Review

"A Pulitzer Prize and National Book Award finalist takes readers on a journey through the Indian subcontinent at the closing of the British Empire. . . . Seemingly covering disparate topics, Baker beautifully connects them all with an incisive, clear writing style and sharp descriptions of the terrain."—Kirkus Reviews, starred review

"[The Last Englishmen is] her most creatively conceived, deeply delving, and wizardly blend of biography and history to date."—Booklist, starred review

"An elegant and complex narrative of India and the British Empire. . . . Baker skillfully navigates numerous interlaced tales, illuminating in a lively and stylistic fashion both the inner lives of intriguing individuals and weightier geopolitical developments."—Publishers Weekly

"Baker's talent for crafting an intriguing narrative provides thorough views of the characters and settings involved. . . . [Her] angle is distinct in its use of Auden and Spender's stories to mirror Britain's struggle to maintain its position of power."—Library Journal
Graywolf Press, 9781555978464, 384pp.
Publication Date: July 9, 2019
About the Author
Deborah Baker is the author of In Extremis: The Life of Laura Riding, a finalist for the Pulitzer Prize, as well as A Blue Hand; The Beats in India. She divides her time between Calcutta, Goa, and Brooklyn.
1. There are multiple ways in which the title The Last Englishmen can be interpreted. In what ways could each of the men Baker writes about be considered "last Englishmen?"
2. What was the significance of John Auden and Michael Spender's 1937 survey expedition to the Karakoram? Why were accurate topographical maps of these remote and inaccessible mountains considered important?
3. Brothers John and Wystan (W. H.) Auden were both concerned with manliness, seeing in each other aspects of masculinity they felt were lacking in themselves. To what extent was masculinity integral to this generation of Englishmen? How do John and Wystan's feelings about masculinity and Englishness change over the course of the book?
4. What role did the quest to reach the summit of Mount Everest play in England's effort to project its power over India? Why were all the European powers so invested in climbing the tallest mountains of the Himalaya during the 1930s?
5. A number of well-known historical figures, such as Winston Churchill and Gandhi, appear in the book. Sometimes they cross paths with the book's main subjects, sometimes they are just objects of curiosity, speculation, or gossip. How are they important to the story of The Last Englishmen?
6. How does Baker's portrayal of Churchill differ from the more heroic treatments we have seen in recent films like "The Darkest Hour" or in the TV series "The Crown?"
7. How were geological survey and mapmaking technologies repurposed for warcraft and intelligence? What benefits did postwar India derive from being rapidly industrialized into a wartime economy?
8. Despite the fact that England refused to promise India independence in exchange for support of the war, Sudhin Datta, John Auden's best friend in Calcutta, was prepared to enlist on behalf of the Allies after the fall of France. What do you think this decision says about his loyalties?
9. How do the recent historical reappraisals of India's wartime role change our perceived narrative of WWII? What lessons can be learned?
10. In 1938 both John Auden and Michael Spender fell in love with a London painter named Nancy Sharp. What role does Nancy play in this book largely about men and largely set in India?
or
Not Currently Available for Direct Purchase