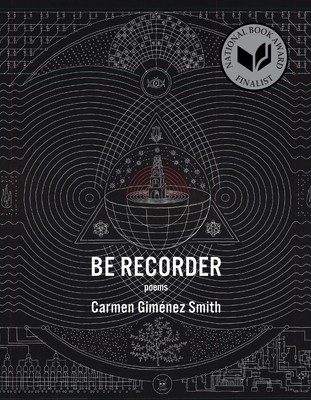 Be Recorder
Poems
Paperback

* Individual store prices may vary.
Description
Finalist for the National Book Award for Poetry • Finalist for the PEN Open Book Award • Finalist for the Los Angeles Times Book Prize

Carmen Giménez Smith dares to demand renewal for a world made unrecognizable

Be Recorder offers readers a blazing way forward into an as yet unmade world. The many times and tongues in these poems investigate the precariousness of personhood in lines that excoriate and sanctify. Carmen Giménez Smith turns the increasingly pressing urge to cry out into a dream of rebellion—against compromise, against inertia, against self-delusion, and against the ways the media dream up our complacency in an America that depends on it. This reckoning with self and nation demonstrates that who and where we are is as conditional as the fact of our compliance: "Miss America from sea to shining sea / the huddled masses have a question / there is one of you and all of us." Be Recorder is unrepentant and unstoppable, and affirms Giménez Smith as one of the most vital and vivacious poets of our time.
Praise For Be Recorder: Poems…
"With an urgency propelled by largely unpunctuated language and nimble lines, Giménez Smith careens between devastating accounts of racial and xenophobic violence . . . while taking on gentrification and border walls, white feminism and late capitalism, Giménez Smith manages to frame a queer, Latinx, immigrants' daughter, motherhood poetics that's entirely her own."—The New York Times Book Review

"As she documents a range of subjects — including reality TV, capitalism and the exploitation of immigrant workers — Smith questions how an individual's experiences are shaped by the dominant culture and how to push back."—The Washington Post

"With a powerful allegiance to the freedom of free verse, Giménez Smith tells a sort of fragmentary superhero origin story about a girl who faces the disdain of her country to become a woman, poet, and mother. . . . For Giménez Smith, there is no distance between the personal and the political, such that they don't even need separate words."—NPR.org

"Be Recorder . . . [lays] bare the oppression and dismissal of marginalized people, even in supposed safe spaces."—Vox

"Be Recorder is necessary reading for our dark times. The collection reminds us of the rich, interconnected histories between both Americas, North and South, the one we live in and the one we wish we lived in."—Los Angeles Review of Books

"In simultaneously dreamy and lucid poems about nationality, identity, and the self, Carmen Giménez Smith's new collection calls readers to arms against complacency. Be Recorder highlights the precariousness of identity and the structures that must be torn down to imagine the possibility of a new, better world."—Literary Hub

"Carmen Giménez Smith criticizes the new normal and challenges us to be anything but comfortable in today's society."—Bustle

"The poems in Be Recorder zoom in toward and out away from the speaker as they consider the ways that the self is built or chipped away. . . . Each type of loss is rendered painfully, urgently, and vividly. . . . Hope is seated in that active, astute, and vigilant speaker, who is capable of recording the monolith, deconstructing it, and reassembling it as a world that looks a little more like one we can bear."—Ploughshares

"Be Recorder is Smith's most important and stunning collection to date. She is truly one of our contemporary masters, and her drive to write poems that she feels are essential to the understanding of who we are in times of change, crises, or social evolution is clear from the breadth and scope of this collection."—The Adroit Journal

"Be Recorder: Poems is a shockingly personal yet sharply political collection. Carmen Giménez Smith's fluid free verse offers an urgent reckoning of self and nation. Giménez Smith calls Americans to account for their complicity in upholding a power-and-profit-driven model and forges the path toward a redefined America."—Sojourner Magazine

"Stunning. . . . With a prophetic voice rooted in awareness of a dying planet, 20 poems and a middle lyric sequence are impressively served by Smith's ear for pithy encapsulation."—Publishers Weekly, starred review

"Accomplished, vibrantly subversive."—Library Journal, starred review

"An award-worthy, cling-to-every-word collection."—BookPage, starred review

"Bold and unapologetic, this collection is everything poetry needs to be in our age of hateful, anti-intellectual race-baiting: deeply thoughtful, urgently provocative, and endlessly imaginative."—Booklist

"Be Recorder is indispensable, required for the next evolution. This is the one. Giménez Smith is going to take it all down."—Juan Felipe Herrera

"[A] magnificent, disarming new collection, the best yet from one of our major poets."—Stephanie Burt

"Carmen Giménez Smith's Be Recorder—at once tender and rageful, vulnerable and renegade—. . . . is unrelenting fire!"—Dawn Lundy Martin

Graywolf Press, 9781555978488, 88pp.
Publication Date: August 6, 2019
About the Author
Carmen Giménez Smith is the author of six books, including Milk and Filth, a finalist for the National Book Critics Circle Award in poetry, and Bring Down the Little Birds, winner of the American Book Award. She teaches at Virginia Tech University.