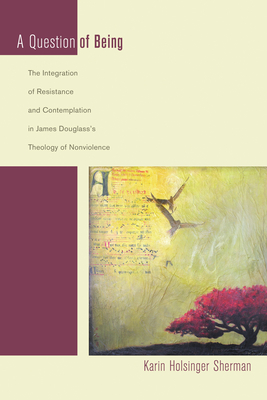 A Question of Being (Paperback)
Wipf & Stock Publishers, 9781556351440, 112pp.
Publication Date: July 20, 2007
Other Editions of This Title:
Hardcover (7/20/2007)
* Individual store prices may vary.
Description
James Douglass's writings have been recognized as among the most challenging and inspiring explorations of nonviolence and Christian discipleship in the last century. Throughout his career, Douglass has argued forcefully for the integration of contemplation and resistance, theology and cultural critique, spirituality and prophetic involvement. His work has inspired many of the key figures in recent debates regarding just war, Christian nonviolence, and radical discipleship and continues to be highly relevant in our contemporary situation. In A Question of Being, the first book-length treatment published on Douglass's writings, Karin Holsinger Sherman provides an introduction to and engagement with this important body of work through an exploration into its contextual history, influences, and main themes. Moreover, the author argues that these themes work together to create an ""ontology of nonviolence,"" an ontology that integrates the forces of resistance and contemplation so important to Douglass. The book begins by examining Douglass's biography and three broad historical trajectories that give context to his thought: the fusion of Christianity and American nationalism in the early Cold War period; the emergence of cultural critique in the late fifties and early sixties, and the Catholic pacifist tradition; and the post-1972 period of disillusionment. Holsinger Sherman then considers the lives and thought of Dorothy Day, Mahatma Gandhi, and Thomas Merton, as well as their unique intellectual and exemplary influence on Douglass's ideas. After explicating the themes of the cross and the kingdom as they developed chronologically in Douglass's writing career, this book draws together Douglass's thought to reveal an ""ontology of nonviolence."" In her conclusion, Holsinger Sherman argues that this ontology of nonviolence is the key to understanding Douglass's integral theology of contemplation and resistance. ""Karin Holsinger Sherman has written a beautiful exposition of my books. By identifying an underlying, nonviolent 'question of being, ' she has united their themes in a deeply perceptive way. I am grateful to her for her work."" --James Douglass, Catholic Worker, Founder of Mary's House and Ground Zero Center for Nonviolent Action ""More than just a fine exposition of the development and thought of James Douglass, A Question of Being sheds light on a whole generation which grappled with the relationship between spirituality and social engagement. Well researched, historically astute, clearly written, and nuanced in its criticisms, . . . Holsinger Sherman's synthesis of Douglass's ethic of 'cross and kingdom' around an 'ontology of nonviolence' is creative and opens up a new path of universal practice for all those engaged in the pursuit of peace."" --Joseph P. Chinnici, OFM, Franciscan School of Theology and American Catholic Historical Association ""Like a good gardener, Holsinger tends the field of theologian and activist Jim Douglass's life work. Here is scholarship at its very best. Not only is Holsinger pointing us to one of the most important prophets of our time; she also creates a space where the seeds of his thought can flourish into good fruit. I devoured this book like the first strawberries of spring."" --Jonathan Wilson-Hartgrove, author of To Baghdad and Beyond ""Finally, the first serious study of the groundbreaking theology of James Douglass, one of the world's most influential theologians and activists. . . . This book will be a great help to everyone interested in the Gospel journey of peace and nonviolence, and the coming of a new world without war, poverty or nuclear weapons."" --John Dear, author of The God of Peace: Toward a Theology of Nonviolence ""Karin Holsinger Sherman presents Douglass's] prophetic insights . . . and] skillfully applies Douglass's 'Ontology of Nonviolence' to address this latest threat of global warming]. This book is a great companion to the republishing of the class.