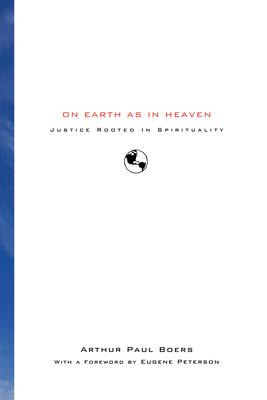 On Earth as in Heaven (Paperback)
Wipf & Stock Publishers, 9781556357848, 199pp.
Publication Date: February 1, 2008
* Individual store prices may vary.
Description
Do we touch God and meet Jesus in a church or a soup kitchen? In a monastery or on skid row? In a Bible camp or a housing project? In heaven or on earth? Such distinctions are false, says Arthur Paul Boers. We can't experience God in heaven without loving the needy on earth. Nor can we truly love the needy on earth if not empowered by God in heaven. ""Too often personal spirituality and social justice pass each other as ships in the night. Based on biblical insights and rich personal experience, Arthur Boers creatively links them together in true biblical fashion."" --Donald B. Krayhill, author of The Upside-Down Kingdom ""Boers attests to the huge necessities of worship and prayer in our lives. He shares his much-tested conviction that a contemplative life is not an alternative to--but the root and foundation of--active life."" --from the Foreword by Eugene H. Peterson, author and former pastor of Christ Our King Presbyterian Church Arthur Paul Boers teaches pastoral theology at Associated Mennonite Biblical Seminary. A Mennonite minister and Benedictine oblate, he has pastored in rural and urban settings in the U.S. and Canada. The author of six books, his degrees include the following: DMin, MTh in Pastoral Counseling, MDiv, and an MA in Peace Studies. Boers, a Canadian, is the oldest child of Dutch immigrants. He and spouse Lorna McDougall are the parents of two young adults.