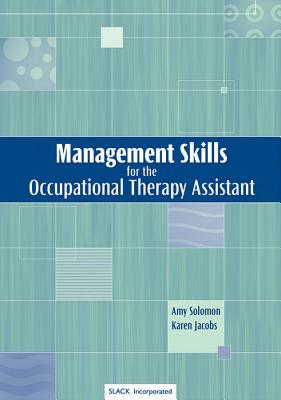 Management Skills for the Occupational Therapy Assistant (Paperback)
Slack Incorporated, 9781556425387, 176pp.
Publication Date: January 9, 2003
* Individual store prices may vary.
Description
Management Skills for the Occupational Therapy Assistant is a unique and comprehensive new text on management specifically written for the occupational therapy assistant.
One of the only texts on this emerging topic in OTA, the student and practitioner alike will find this text beneficial to the learning process faced by students as they prepare for this step in their education and careers.
The text's chapters cover important areas of skills such as communication, ethics, reimbursement, and managing change. To assist the reader with integrating the material presented, a section called "Skills You Will Use" precedes each chapter. The user-friendly case studies facilitate student-directed learning, allowing for a complete learning experience. Review questions at the end of each chapter will assist students in tracking and evaluating their own personal growth.
Management Skills for the Occupational Therapy Assistant is an excellent resource to be added to the personal libraries of all in OTA.

Additional Chapter Topics Include:
Roles and Responsibilities of the Occupational Therapy Assistant in Management
History of Health Care Management
Personnel Considerations and Supervision
Continuous Quality Improvement
About the Author
Amy Solomon, OTR
Amy Solomon, OTR has been an occupational therapist since 1982 when she graduated from Colorado State University with a bachelor of science in occupational therapy. She is currently in the process of completing her thesis for her advanced master's degree in occupational therapy, also from Colorado State. Amy's clinical practice has focused primarily in the area of inpatient psychiatry at Denver Health Medical Center (formerly Denver General Hospital). Her other clinical experience includes inpatient rehabilitation and home health. During her tenure at Denver General Hospital, she became involved in education as the fieldwork coordinator for the OT Department in the Department of Psychiatry. Deciding that education was her passion, she began teaching in the OTA Program at Arapahoe Community College in Littleton, CO in 1994, moving on to develop and direct the OTA Program at Denver Technical College from 1995 through 2001. In July 2003, Amy will begin her second consecutive term on the Roster of Accreditation Evaluators of the Accreditation Council for Occupational Therapy Education of the American Occupational Therapy Association. She recently completed her term as newsletter editor for the Occupational Therapy Association of Colorado. Amy is currently a curriculum writer/developer for Quantum Integrations in Denver and also serves as a lower elementary team member at the Montessori School of Denver.
Karen Jacobs, EdD, OTR/L, CPE, FAOTA
Karen Jacobs, EdD, OTR/L, CPE, FAOTA is the immediate and past president of the American Occupational Therapy Association. Dr. Jacobs is a professor of occupational therapy at Boston University. She earned a doctoral degree at the University of Massachusetts, a master's at Boston University, and a bachelor's at Washington University in St. Louis, MO.
In addition to being an occupational therapist, Dr. Jacobs is also a board-certified professional ergonomist and the founding editor of the international journal WORK: A Journal of Prevention, Assessment and Rehabilitation. Two special areas of research interest are children and backpack use and "healthy computing," as more Americans, children and adults, spend increasing time working at computer keyboards, putting themselves at risk for repetitive strain injuries and other conditions that can result from overuse.
Karen is also an entrepreneur. She is the co-founder of Field Informatics, LLC, a software developer for personal digital assistants (PDAs). Karen Jacobs has appeared in a number of print and broadcast stories about occupational therapy, including the New York Times, U.S. News and World Report, Business Week, 20/20, CNN, NPR, and others. She is also the co-host of the Andover local access television show, &I.
or
Not Currently Available for Direct Purchase