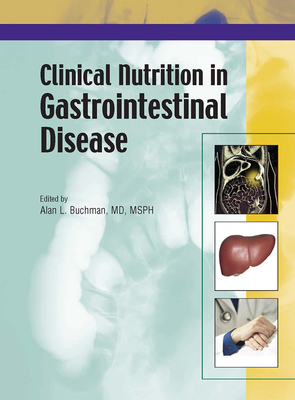 Clinical Nutrition in Gastrointestinal Disease
Hardcover

* Individual store prices may vary.
Description
Nutrition has been identified as one of the most neglected, but important aspects of gastroenterology. Clinical Nutrition in Gastrointestinal Disease covers all of the vital aspects of nutrition and serves as the definitive resource on this topic.

Dr. Alan Buchman has teamed up with more than 70 world renowned leaders in the field to provide today's professional specializing in gastrointestinal disease with a practical guide that examines and explains the necessary elements and principles of nutrition. With more than 100 images and 180 tables, Clinical Nutrition in Gastrointestinal Disease contains essential information to optimally and successfully manage pediatric and adult patients.

Some Topics Covered Include:

• Nutritional assessment
• Nutrition in critical care
• Nutritional support
• Management of intestinal failure
• Obesity
• Pediatrics
• Probiotics
• Nutrient absorption
• Metabolism
• Home care


Some Gastrointestinal Diseases Covered Include:
• Inflammatory bowel disease
• Irritable bowel syndrome
• Colon cancer
• Pancreatititis
• Heptatic failure
• Celiac sprue

Clinical Nutrition in Gastrointestinal Disease delivers the latest information in a comprehensive and well-organized format that is perfect for gastroenterologists, general surgeons, and general internists looking to increase their knowledge of clinical nutrition. The extensive use of images, graphs, and tables compliments the text and makes this one of the most authoritative and thorough books on gastrointestinal disease currently on the market.


Praise For Clinical Nutrition in Gastrointestinal Disease…
"Gives a complete, up-to-date view of the problem with the help of several figures, diagrams, tables, photos and many seminal references…A useful addition to gastroenterology libraries for occasional consultation by gastroenterologists, endocrinologist, surgeons, dietitians and primary care physicians."  

— G. Bianchi Porro, Digestive and Liver Disease
 "Dr. Buchman deserves congratulation for his vision in putting together this book, which provides a thorough reference in how gastrointestinal disease affects nutritional status, how nutritional status affects disease processes, and how the most appropriate nutritional interventions can lead to improved outcomes. There are 53 well-chosen chapters, written by contributors who are almost all North American physicians, with a number of nutritional scientists and dieticians as co-authors. . .The various chapters seem to be appropriately balanced to meet the requirements of physicians who want to learn about, or update their knowledge of nutrition. The relevance to clinical practice is clear throughout, yet there is enough basic background to serve as a resource for teaching and intellectual inquiry. . . The book is easy to read, with frequent use of tables and black and white figures. . . It is, however, an important new resource for all gastroenterologists in training and in practice. It should find a place in the offices of all involved in luminal gastroenterology, and enable the understanding and the advancement of clinical nutrition, with benefits to our patients." 
— Julian R F Walters, 
Gut
"Topics are logically organized so that the reader can find a specific area of interest with reasonable ease. The section on adult and pediatrc nutrition support provides practical tips on implementation and recognition of complications. Many gastrointestinal radiographs, photgraphs, comprehensive tables, and well-structured figures are included. Clinical algorithms are offered at appropriate junctures. In an age when printed information gives way to Web-based information, a text that is this easy to use and that quickly delivers an accurate answer is refreshing to find."  

— Jeffrey I. Mechanick, MD, Annals of Internal Medicine
 "This comprehensive text, the effort of seventy experts in nutrition, is very appropriate for the trainee, as well as for all health care professionals seeking an update in clinical nutrition. . . Each chapter contains well organized tables that summarize key points, making this text a valuable resource for the busy clinician. Excellent chapters on the management of obesity, childhood obesity, and nutritional needs following bariatric surgery provide up-to-date information useful to all gastroenterologists given the emerging epidemic of obesity. I found the chapters on probiotics, and herbal nutritional supplements to be balanced and informative. I highly recommend this textbook for both trainees, and physicians in practice."  
— John D. McCracken, MD, 
Practical Gastroenterology
 "What is needed is a book on nutrition and gastrointestinal disease that covers causes and treatments in traditional and new areas of interest and that also forges links between gastrointestinal disease and systemic disease. Clinical Nutrition in Gastrointestinal Disease meets this need. . . The chapters are clearly written, and the contributors have used evidence-based medicine to reach conclusions about the treatments discussed. . . This book covers well the broad range of topics concerning the body's largest endocrine and lymphatic organ, which contains more bacterial cells that the body has eukaryotic cells. The book is likely to be consulted frequently." 
— David J.A. Jenkins, MD, PhD, DSc, 
The New England Journal of Medicine
 "Covering all of the vital aspects of nutrition and serving as the definitive resource on this topic, this book delivers on the editor's vision of improving knowledge on nutritional concepts in the training of gastroenterologists." 
— Savannah Jones, SirReadaLot.org
Slack Incorporated, 9781556426971, 672pp.
Publication Date: May 1, 2006
About the Author
Alan L. Buchman, MD, MSPH is a graduate of Northwestern University and The Chicago Medical School. He completed his residency in internal medicine at Cedars Sinai Medical Center. He began his training in nutrition and gastroenterology under his mentor Dr. Marvin Ament at UCLA, where he completed his master's degree in nutrition and a fellowship in clinical nutrition. Following his gastroenterology fellowship at Emory University, Dr. Buchman served on the faculties of the Baylor College of Medicine and the University of Texas Houston Medical School prior to moving to Northwestern, where he is the Medical Director of the Northwestern Inflammatory Bowel Disease and the Northwestern Intestinal Rehabilitation Centers. He is recognized as an international authority on intestinal failure, inflammatory bowel disease, and nutrition in gastrointestinal disease.

Dr. Buchman's nearly 200 contributions to the medical literature have served to advance the field in these arenas. He has served on many peer-reviewed journal editorial boards, and has had leadership positions on numerous national committees, including the American Gastroenterological Association, the American Society for Parenteral and Enteral Nutrition, the American Federation for Clinical Research, and the United States Food and Drug Administration.
or
Not Currently Available for Direct Purchase