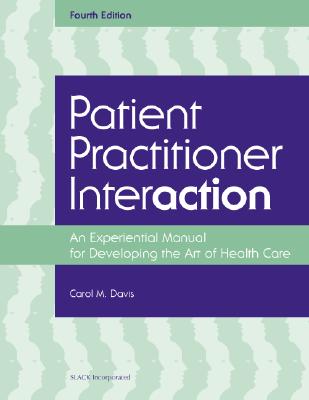 Patient Practitioner Interaction (Paperback)
An Experiential Manual for Developing the Art of Healthcare
Slack Incorporated, 9781556427206, 304pp.
Publication Date: November 1, 2005
* Individual store prices may vary.
Description
One of the most recognized and respected texts in rehabilitation for nearly two decades,
Patient Practitioner Interaction: An Experiential Manual for Developing the Art of Health Care
has been updated into a substantial
fourth edition
that includes the latest information on the relationship between the patient and the practitioner.
Dr. Carol Davis, along with contributions from three of today's leaders, has written this fourth edition to assist health care professionals in learning about themselves. Patient Practitioner Interaction is filled with information designed to help improve personal interaction and communication skills, specifically when dealing with difficult circumstances. Students and professionals are instructed on the finer points of how to learn about the patients with whom they will come in contact as well as the challenges of interacting with therapeutic presence in the ever-changing world of health care under demanding circumstances.
Patient Practitioner Interaction, Fourth Edition offers students and professionals a chance to explore self-awareness and how their communication patterns and values were originally developed. This practical and user-friendly resource encourages the use of reflection and problem solving skills to achieve professional maturation and explains how the nature of their own decisions and values affects their attitudes and actions toward others.
The updated fourth edition of Patient Practitioner Interaction, by Dr. Carol Davis, will guide health care professionals to promote the healing process in patients and their loved ones through sensitivity and improved communication. This renowned text is a proven essential and belongs on the bookshelf and in the minds of every physical therapy student and health care professional.
New to this Fourth Edition:
Cultural awareness and sensitivity material is expanded to include results of work done with physical therapy and medical students.
Ethical dilemmas that reflect unrealistic demands on the part of institutions and managed care.
Exercises at the end of each chapter assist the students to personalize and interact with the content.
New material on calming hostile patients and visitors.
Contemporary examples and updated vignettes to reflect modern-day practice.
Updated chapters that reflect current theory and practice.
Special Features:
Workbook format with space for reflection and interaction.
Thought-provoking, realistic case studies to better illustrate concepts and situations and to help develop solutions for difficult and stressful situations.
Includes the Feeling Wheel, which offers a framework that delineates and identifies the six basic feelings.
About the Author
Carol M. Davis, PT, EdD, MS, FAPTA received her undergraduate degree in biology from Lycoming College, an MS in physical therapy from Case Western Reserve University, and a Doctorate in Humanistic Studies (psychology and philosophy) in the School of Education at Boston University.

As a faculty member at the University of Miami School of Medicine, Dr. Davis has served as Clinical Assistant Professor with Family and Internal Medicine from 1983 to 1985, where she coordinated the Fellowship in Clinical Geriatrics, and from 1987 to present, serves as Professor and Assistant Chair of Physical Therapy. Additionally, she has held the positions of clinical staff and clinical instructor at Massachusetts General Hospital, Assistant Professor and Co-Chair ad Interim of Physical Therapy at Sargent College of Boston University.

She is an internationally recognized speaker and consultant in teaching and developing curriculum in attitudes and values, ethics, geriatrics, and complementary therapies in rehabilitation. Dr. Davis authored this book, Patient Practitioner Interaction: An Experiential Manual for Developing the Art of Health Care, now in its fourth edition. She is the editor of Complementary Therapies in Rehabilitation: Holistic Approaches for Prevention and Wellness, now in its second edition, and with Dr. Christine Williams, she coauthored the text, Therapeutic Interaction in Nursing.

Today, Dr. Davis is an active researcher, teacher, and practicing physical therapist in Miami, Florida. She conducts research in complementary therapies, clinical geriatrics, and ethics; teaches entry-level doctoral studies and PhD students in physical therapy; and treats patients. She has studied Myofascial Release since 1989 and uses it regularly as a complement to her physical therapy treatments. In 2003, she was awarded the Catherine Worthingham Fellow award for a lifetime of outstanding service to the profession by the American Physical Therapy Association.

Praise For Patient Practitioner Interaction: An Experiential Manual for Developing the Art of Healthcare…
"Patient Practitioner Interaction: An Experiential Manual for Developing the Art of Health Care, 4th Edition, is an excellent text full of exercises to help physical therapy students and clinicians improve communication. The unique aspect of this manual is the many exercises at the end of each chapter. This manual will encourage discussion about real-life therapy and better prepare students for work. I will use it with my students when they are on clinical to help them understand who they are and how to communicate more effectively with patients."

— Mary Casey, MS, PT, UVA Medical Center, Charlottesville, VA, ADVANCE for Physical Therapists & PT Assistants

or
Not Currently Available for Direct Purchase