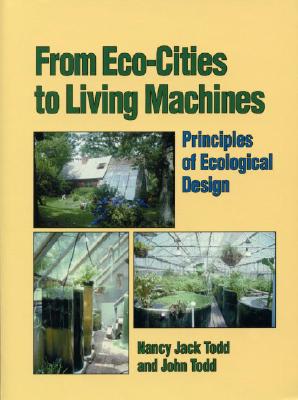 From Eco-Cities to Living Machines: Principles of Ecological Design (Paperback)
Principles of Ecological Design
North Atlantic Books, 9781556431500, 224pp.
Publication Date: April 18, 1994
Description
From Eco-cities to Living Machines presents the ecologically-based working designs and prototypes of biologist John Todd and writer and environmental activist Nancy Todd. Since 1969 with the founding of New Alchemy Institute on Cape Cod, the Todds have become known world-wide for their leadership in the restoration of pure water, bioremediation of wild aquatic environments, food production, and urban design. In this new book, the Todds further develop the idea of Eco-cities, designs for integrating agriculture and flowing pure water into green urban settings and introduce Living Machines, a family of technologies for purifying wastewaters to tertiary quality effluent without chemicals. Provocative and grounded firmly in the principles of biodiversity, the Todds' work encompasses site-specific technological interventions and systems-wide ecological planners and designers, environmental economists, and systems-based engineers working to change the way we utilize production, technology, water and energy.
About the Author
Biologist Dr. John Todd and writer Nancy Jack Todd have been honored with major global environmental awards, including the Threshold and Environmental Programme Award. Nancy Jack Todd publishes Annuals of Earth for the Center for the Restoration of Water at Ocean Arks International and writes widely about international environmental affairs.
Praise For From Eco-Cities to Living Machines: Principles of Ecological Design…
"If these Living Machines of John Todd's succeed in creating an immune system for truly cultured ecologies, then we really will have a new age. We've glimpsed its science; now all we have to do is envision its appropriately symbiotic politics."
-William Irwin Thompson

"He [John Todd] is a visionary, with an uncanny knack for ecology. He is as much artist as scientist, but his medium is biology."
—Donnella Meadows, Harrowsmith Magazine

"We recognize his [John Todd's] pioneering work in developing Solar Aquatics, and environmentally responsible family of technologies for wastewater purification and reclamation."
—William Reilley, Past Directory of the Environmental Protection Agency, presenting the first Chico Mendes Memorial Award to John Todd.
Advertisement