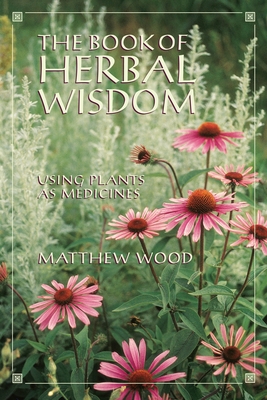 The Book of Herbal Wisdom
Using Plants as Medicines
Paperback

* Individual store prices may vary.
Description
Hailed as a "classic" by leading herbalist Rosemary Gladstar, this botanical compendium provides a wide-ranging history of herbalism and useful guidance for healing with herbs
 
Matthew Wood is one of the United States' most renowned herbalists and the author of Seven Herbs: Plants as Healers, a watershed book in teaching herbal healing as a part of total wellness. With The Book of Herbal Wisdom, he continues and expands this study, creating a must-read guide for anyone who works in the natural health field or is interested in self-healing with herbs.
 
Wood creates a vast and sweeping history of herbalism, drawing on Western botanical knowledge, homeopathy, Traditional Chinese medicine, and Native American shamanic botany. Detailing the history and use of more than forty plants, he shows how each tradition views a plant, as well as its use in cases drawn from his own herbal and homeopathic practice. An initial section describes signatures, similar, and patterns in these traditions, and elements, temperaments, and constitutions. Wood has two objectives: to demonstrate how herbal medicines are agents of healing and wisdom, and to give the reader a useful catalog of plants for medicinal uses. His clinical observations of his patients bear the wry wisdom of the country doctor; his love of plants is evident in lush botanical descriptions, which show the connection between remedies—whether homeopathic, Chinese, or Native American—and the plants from which they are derived.
 
An introduction to centuries of lore about healing from indigenous traditions, The Book of Herbal Wisdom integrates and describes North American Indian medicine, homeopathy, Traditional Chinese Medicine, and Western herbalism like no other contemporary botanical compendium.


Praise For The Book of Herbal Wisdom: Using Plants as Medicines…
"There are many fine herb books written by our country's great herbalists gracing the shelves these days. But only once in a while does a classic arise. The Book of Herbal Wisdom is surely that. Written with grace, intelligence, and warmth, this book is richly infused with the gift of wisdom and earns its title at every turn."- Rosemary Gladstar
North Atlantic Books, 9781556432323, 592pp.
Publication Date: September 15, 1997
About the Author
Matthew Wood is a registered herbalist with the American Herbalists Guild, and has maintained a private practice as an herbalist for twenty years. He is the author of Seven Herbs: Plants as Healers and The Book of Herbal Wisdom, two acclaimed books on the practice of herbal healing. He lives and practices at Sunnyfield Herb Farm in Minnetrista, Minnesota.