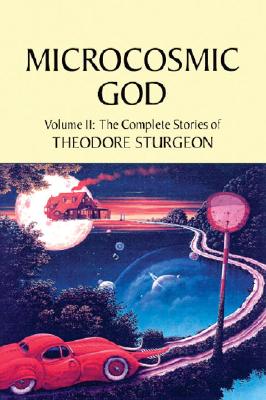 Microcosmic God: Volume II: The Complete Stories of Theodore Sturgeon (Paperback)
Volume II: The Complete Stories of Theodore Sturgeon
North Atlantic Books, 9781556433016, 408pp.
Publication Date: November 12, 1998
* Individual store prices may vary.
or
Not Currently Available for Direct Purchase
Description
The second of a planned 10 volumes that will reprint all Sturgeon's short fiction covers his prolific output during 1940 and 1941, after which he suffered five years of writer's block. Showcasing Sturgeon's early penchant for fantasy, the first six selections include whimsical ghost stories, such as "Cargo," in which a World War II munitions freighter is commandeered by invisible, peace-loving fairies. With the publication of his enduring SF classic, "Microcosmic God," Sturgeon finally found his voice, combining literate, sharp-edged prose with fascinating speculative science while recounting the power struggle between a brilliant scientist, who creates his own miniature race of gadget makers, and his greedy banker. Voice found or not, every one of the stories here is readable and entertaining today because of Sturgeon's singular gifts for clever turns of phrase and compelling narrative. As Samuel R. Delaney emphasizes in an insightful introduction, Sturgeon was the single most influential SF writer from the 1940s through the 1960s.
About the Author
Theodore Sturgeon was born on February 26, 1918 in Staten Island, New York. He died in Eugene, Oregon, on May 8, 1985. A resident of New York City, upstate New York, and Los Angeles, he is the author of more than thirty novels and short story collections.
Praise For Microcosmic God: Volume II: The Complete Stories of Theodore Sturgeon…
"Historically, the Complete Sturgeon is one of the most important reissues in years. In terms of reading, this is a goldmine both for those already familiar with Sturgeon's work and for a new generation of readers ready for something real."-Strange Worlds Magazine"Theodore Sturgeon has become a kind of patron saint of SF short story writers. His fiction demonstrated a love of humanity and an understanding of human emotion unparalleled in the field. At the time of his death in 1985, no short story writer was held in so high a regard."-David Brin, author of Heaven's Reach
Advertisement