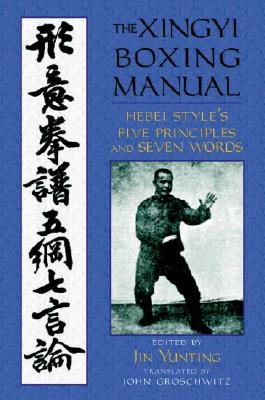 The Xingyi Boxing Manual: Hebei Style's Five Principles and Seven Words (Paperback)
Hebei Style's Five Principles and Seven Words
North Atlantic Books, 9781556434730, 68pp.
Publication Date: March 2, 2004
* Individual store prices may vary.
or
Not Currently Available for Direct Purchase
Description
Famed for its clear-minded, unstoppable practitioners, the martial art of Xingyi is known for both its street fighting quality and its spiritual practice. Written in China before World War II and never previously available in English, this is an invaluable illustrated guide for today's practitioner of this traditional martial art. Coming directly from an eighth-generation practitioner of a famous lineage, this book is a distillation of the knowledge and experience of many of the major figures in the history of Xingyi boxing. It offers a rare and unique perspective on the martial and healing aspects of the internal art of Xingyi Quan.
About the Author
Jin Yunting was a student of Shang Yunxiang and Sun Lutang and grand-student of Li Cunyi.

John Groschwitz began his martial arts training in 1995 with the study of Northern Shaolin. He began training in Xingyi Quan in 1996 and is currently an Assistant Instructor in Xingyi with the North American Tang Shou Tao Association. In addition to continuing study in the above arts, he has also studied Lanshou Quan, Gao-style Bagua Zhang, Water Boxing, Yang-style Taiji Quan, and various systems of Qi Gong, in the U.S. and Mainland China.
Praise For The Xingyi Boxing Manual: Hebei Style's Five Principles and Seven Words…
"The Xingyi Boxing Manual is a light, poetic read with profiles of Masters dating back to over 900 years ago. For the Xingyi boxers out there, this book will add to your collection."
—Dojo Rat
Advertisement