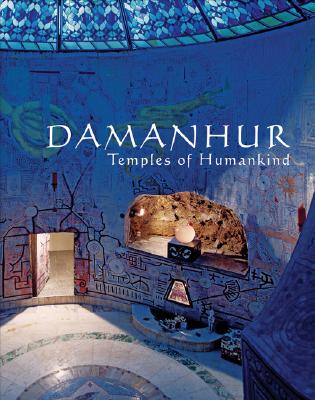 Damanhur: Temples of Humankind (Hardcover)
Temples of Humankind
North Atlantic Books, 9781556435775, 136pp.
Publication Date: November 1, 2006
* Individual store prices may vary.
or
Not Currently Available for Direct Purchase
Description
Nearly three decades ago, Italian spiritual leader Oberto Airaudi had a vision of sacred temples built inside a mountain near Turin. As artists, artisans, and builders excavated the equivalent of a five-story subterranean building, it remained a secret from even its closest neighbors. Twenty years after the project began, the Italian government received word of the burgeoning community and became suspicious. Threatened by a full-scale military invasion, Damanhur revealed itself to local officials and the world.

This handsome coffee-table book offers a guided tour of the village, whose stunning murals, sculpture, mosaics, and stained glass draw from all sacred traditions to celebrate universal spirituality. Merging ancient mystic customs and contemporary consciousness, intensive labor and visionary artistry, the story of this remarkable underground community appeals not only to spiritual seekers, but to artists and idealists from all disciplines.
About the Author
Silvia Buffagni (aka Esperide Ananas) provided text for this collaborative book project. A writer, lecturer, and Damanhur's Communications Director, she graduated in Spanish and English Literature at Milan University and later gained a master's degree in Media Studies at New York University. Before joining the Federation of Damanhur in 1992, she worked for the European Parliament as the assistant to the Vice-President, and later as a communications consultant for Italian and international institutions. Esperide was actively involved in the press campaign to save the Temples when they came under attack from local government. For the last ten years she has been an International Ambassador for the Federation. She lives in Damanhur.

Alex Grey is the author of "Sacred Mirrors, The Mission of Art and Transfiguration." His work has been exhibited worldwide. The Chapel of Sacred Mirrors (CoSM), a cultural center in New York City exhibits over fifty works of art by Alex Grey. Alex lives in New York with his wife, artist Allyson Grey, and their daughter, actress Zena Grey.
Praise For Damanhur: Temples of Humankind…
"The Damanhur Temples are a masterwork of human invention, inspiration, and dedication. They are a monument testifying to the power of vision in a community of people dedicated to the search for higher consciousness and true spirituality."
—Ervin Laszlo, scientist, philosopher, Nobel prize candidate, and author of 70 books.

"Now is the time for the light of Damanhur to be seen by the world."
—Gwendolyn Grace
Advertisement