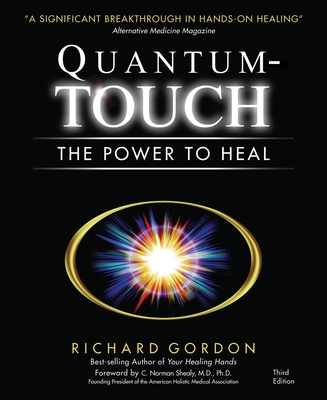 Quantum-Touch: The Power to Heal (Paperback)
The Power to Heal
North Atlantic Books, 9781556435942, 219pp.
Publication Date: September 1, 2006
* Individual store prices may vary.
or
Not Currently Available for Direct Purchase
Description
Quantum-Touch is the touch-based healing technique that uses the chi of both practitioner and client, bringing them into harmony to allow the body to heal itself. Quantum-Touch differs from other healing techniques because it does not require long years of study and presents none of the common hurdles of understanding or application; anyone can learn to use it to become a healer, both of others and of self. In this new edition of his best-selling guide, Richard Gordon leads the reader step by step, clearly explaining how to use breathing and body-focusing techniques to raise one's energy levels. Once that is achieved, the healer can correct posture and alignment, reduce pain and inflammation, help balance emotional distress, and even heal pets. Above all, Quantum-Touch can be used in tandem with all other healing modalities, including Western medicine, and its efficacy has been attested to by physicians, acupuncturists, chiropractors, and other healing professionals.
About the Author
Richard Gordon is recognized as one of the pioneers in the field of energy healing. Today, as the founder of Quantum-Touch, Richard is an internationally acclaimed speaker at conferences, medical centers, chiropractic colleges, and holistic health institutes. Mr. Gordon has been on faculty at Heartwood Institute and The Holistic Health Institute.
Praise For Quantum-Touch: The Power to Heal…
"A signifcant breakthrough in hands-on healing."
—Alternative Medicine Magazine

"Quantum-Touch appears to be the first technique that may truly allow us all to become healers."
—C. Norman Shealy, M.D., Ph.D., Founding President of the American Holistic Medical Association

"Quantum-Touch is a remarkably effective and easily learned method of generating powerful healing energy...I highly recommend this book."
—Dr. William S. Eidelman

"Quantum-Touch is a powerful hands-on healing technique that can be used effectively by lay people as well as professionals. I highly recommend it."
—Dr. Patricia Warkus

"You actually have to see this work to know how good it is. Bones move into alignment with just a light touch, and it speeds up the healing process."
—Darla Parr, D.C.

"I am thrilled at the simplicity and the effectiveness of this technique. Quantum-Touch is a great awakening."
—John Jacob, PhD
Advertisement