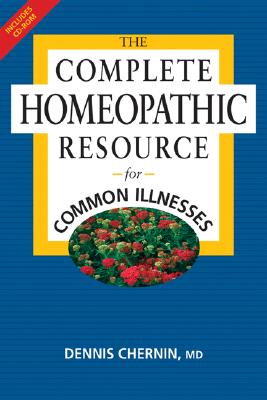 The Complete Homeopathic Resource for Common Illnesses (Paperback)
North Atlantic Books, 9781556436086, 496pp.
Publication Date: December 5, 2006
* Individual store prices may vary.
Description
This useful guide is a single, indispensable resource for anyone interested in using homeopathic medicines. Noted author Dennis Chernin introduces readers to the basics of homeopathic theory, laws, history, and practical applications, as well as to clear explanations of the fundamental homeopathic vocabulary. He provides a brief synopsis of homeopathy's present status and compares it with conventional medicine, before proceeding to a step-by-step guide to creating a home remedy kit.
The bulk of the book focuses on more than 150 common disorders, conditions, and illnesses, each treated in a separate section, alphabetically organized. Each section includes basic background information as well as accessible guidance on how to consider the symptoms and how to treat and heal them. For each condition, all the possible symptoms are matched with the remedy appropriate to them.
The bundled CD-ROM integrates these resources with a simple, graphics-based user interface incorporating the latest research. Please note that the CD is only intended for use on Windows 2000, ME, and XP.
About the Author
Dennis K. Chernin, MD, MPH, is a medical doctor, a homeopath, and the medical director of two county public health departments in Michigan. He has practiced homeopathic medicine since 1976. Currently, Dr. Chernin practices holistic and family medicine in Ann Arbor, Michigan, where he uses homeopathy as well as nutritional and meditational approaches to health care. He often lectures at the University of Michigan Medical School. Dr. Chernin received his BA and the Phi Beta Kappa honorary from Northwestern University and his MD and MPH from the University of Michigan. He did residencies in psychiatry and preventive medicine and is board certified in preventive medicine. His three other published books include Health: A Holistic Approach; Homeopathic Remedies for Health Professionals and Laypeople; and How to Meditate Using Chakras, Mantras, and Breath (with audio CDs).
Praise For The Complete Homeopathic Resource for Common Illnesses…
" Dr. Chernin is one of the preeminent clinical homeopaths practicing in the United States today. Under his tutelage I have witnessed miraculous results with this modality of medicine."
— Rick Frires, MD, FACEP, Chair, Department of Emergency Medicine, Huron Hospital; Former Chief of Staff, Cleveland Clinic Health System, Cleveland, OH

"The Complete Homeopathic Resource is a user-friendly source of information for health and medical professionals as well as the general public. Now that research is encouraging physicians to reduce prescriptions for antibiotics and pain-killing drugs, homeopathic medicines have an increasingly important role in health care."."
—Mary Guerrera, MD, FAAFP, Associate Professor, Department of Family Medicine, University of Connecticut School of Medicine, Hartford, CT

"Hurray for Dr. Chernin and this new book and CD! The history is fascinating. The scope is comprehensive. The material is everyday practical and to the point. This book is a great help to me regularly and I place it on my desk ready for the next patient."
—Jerry Gore, MD, Board certified psychiatrist, Director and cofounder of the Center for Holistic Medicine, Deerfield, IL
or
Not Currently Available for Direct Purchase