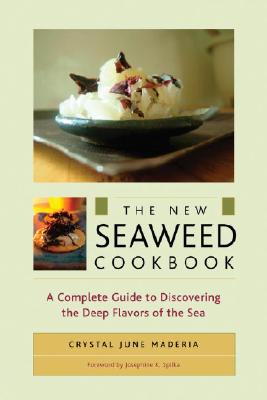 The New Seaweed Cookbook: A Complete Guide to Discovering the Deep Flavors of the Sea (Paperback)
A Complete Guide to Discovering the Deep Flavors of the Sea
North Atlantic Books, 9781556436529, 155pp.
Publication Date: July 3, 2007
* Individual store prices may vary.
or
Not Currently Available for Direct Purchase
Description
Recent trends suggest a wide range of consumer concerns in food choice and consumption. Increasingly, buyers prefer organic and locally produced ingredients; good taste; high nutritional and medicinal value; and low-allergen factors. The humble seaweed, nature's richest source of iodine and loaded with minerals, addresses all these concerns.
In this combination cookbook and food guide, Crystal June Madeira explains the properties of each variety of seaweed kombu, nori, arame, wakame, and dulse and provides simple instructions for its preparation in delicious recipes such as Lime Cumin Aioli, Sauteed Wakame and Green Beans, Summer Chicken Soup with Sea Palm, and Baked Figs with Honey Lemon Thyme Sorbet. Seaweed's healing properties in detoxifying the body, alleviating cramps, and lowering blood pressure, have been well documented. That factor, along with the absence of gluten and other allergy triggers, make these recipes ideal for anyone seeking improved health, as well as those who enjoy sea vegetables in Japanese cuisine and want to learn how they can eat them more often. Maderia includes current information on how to purchase local foods, and a directory of seaweed harvesters worldwide.
About the Author
Crystal June Maderia is a cook, caterer, and consultant to people with diet-specific needs due to health conditions. She has lived and traveled throughout New Zealand, Australia, and the U.S. She lives in Montpelier, VT.
Advertisement