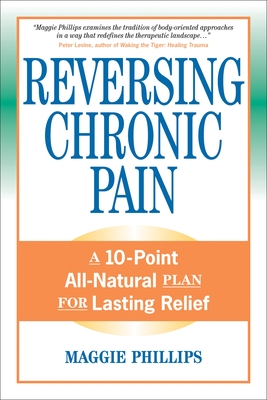 Reversing Chronic Pain: A 10-Point All-Natural Plan for Lasting Relief (Paperback)
A 10-Point All-Natural Plan for Lasting Relief
North Atlantic Books, 9781556436765, 229pp.
Publication Date: September 25, 2007
Description
Reversing Chronic Pain offers a dynamic framework for joining body and mind to speed the healing of traumatic pain from the body level up. Each chapter presents a body-centered skill set that can be mastered through a broad menu of practice exercises. The resulting interlinked somatic building blocks help readers shift from physical pain to body awareness, and from unstoppable suffering to heartfelt connection and peace.
Building on the AIDS cocktail approach that reflects the fact that chronic pain is complex and no one tactic is likely to solve the problem, renowned expert Maggie Phillips presents a 10-1 pain plan comprised of easy strategies based on somatic experience. Even if the reader's pain is perceived as a "10" at the onset of the program, with 10 being intolerable, the somatic building blocks help shift the pain one point at a time until it gradually diminishes to "1" or even "zero." Showing how the common professional interventions--medication, physical therapy, acupuncture, biofeedback--may be more harmful than healing, Reversing Chronic Pain stresses self-treatment throughout, involving sufferers in attaining lives not simply endured but actively enjoyed.
About the Author
A licensed psychologist with 30 years of experience in clinical practice, Maggie Phillips leads workshops, online seminars, and teleclasses nationally and internationally on chronic pain, hypnosis, Somatic Experiencing, stress disorders, the treatment of trauma, and uses of energy psychology and other approaches in mindbody healing. In her private practice, Dr. Phillips specializes in the treatment of complex chronic emotional and physical pain, and posttraumatic and dissociative stress conditions. Phillips is the author of two previous books in addition to numerous articles and book chapters, She has been honored with the Cornelia Wilbur award from the International Society for the Study of Dissociation (ISSD) for her contributions to the field of trauma and dissociation, the Crasilneck award for excellence in writing and the President's Award from the American Society of Clinical Hypnosis, and is contributing editor for the American Journal of Clinical Hypnosis. Dr. Phillips frequently presents at conferences around the world. She has been awarded Fellow status in both the American Society of Clinical Hypnosis (ASCH) and in the International Society for the Study of Dissociation (ISSD).
Praise For Reversing Chronic Pain: A 10-Point All-Natural Plan for Lasting Relief…
"Maggie Phillips uses her considerable expertise in hypnosis, Somatic Experiencing®, and the treatment of pain to create an intelligent, holistic, refreshing new roadmap for reversing pain. Her approach is smart and sophisticated, yet user-friendly and accessible. Most important, her methods work."
—Belleruth Naparstek, LISW, author of Invisible Heroes: Survivors of Trauma and How They Heal and creator of the Health Journeys guided imagery audio series

"Reversing Chronic Pain offers specific, practical, and effective pathways out of physical suffering. Perhaps more important, it provides hope, so desperately needed by people who have been dragged by persistent pain into hopelessness and despair."
—Bill O'Hanlon, author of Do One Thing Different: Ten Simple Ways to Change Your Life, Thriving through Crisis, and Pathways to Spirituality

"Reversing Chronic Pain is a tremendously helpful guide for dissolving fear and trauma that perpetuate chronic pain. Maggie Phillips's gentle and soothing style is wonderfully reassuring and healing. Simply reading this book will lend some relief, but when you use the techniques, well-deserved miracles are bound to happen."
—Fred Gallo, PhD, author of Energy Psychology and Energy Tapping for Trauma

"Reversing Chronic Pain fills a niche that has been sorely lacking in the pain management field. An important book for physicians, psychotherapists, and anyone who suffers from this ubiquitous and poorly-understood condition."
—Robert Scaer, MD, author of The Body Bears the Burden and The Trauma Spectrum

"Maggie Phillips has written the first truly multi-modal, mind-body therapy self-help book for people with chronic pain. She offers usable, nuts-and-bolts techniques that can be used by readers in pain and pain professionals alike. I could not put this book down."
—Bruce N. Eimer, PhD, ABPP, author of Hypnotize Yourself Out of Pain Now and Pain Management Psychotherapy
Advertisement