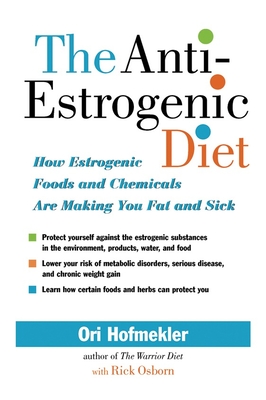 The Anti-Estrogenic Diet
How Estrogenic Foods and Chemicals Are Making You Fat and Sick
Paperback

* Individual store prices may vary.
Other Editions of This Title:
Paperback, Large Print (2/25/2017)
Description
A nutrition and fitness expert shares an effective, no-fuss way to lose weight—and keep the pounds off—through a diet rich in anti-estrogenic foods, spices, and herbs

Estrogenic chemicals—known for causing the near extinction of various living species—are found in some of the most common foods we eat. In this revolutionary diet book, Ori Hofmekler addresses the millions of overweight and obese individuals who have failed or are disappointed with other diets—those who suffer from yoyo dieting, weight gain rebounds, or accumulation of stubborn fat in the belly and other estrogen-sensitive areas. He shows you how to:
 
• Lower your risk of metabolic disorders, disease, and chronic weight gain

• Protect yourself against the estrogenic substances in the environment, products, water, and food

• Pick foods and herbs that can protect you
 
Focusing on our current over-exposure to estrogenic chemicals in the environment, foods, and water, The Anti-Estrogenic Diet provides a practical solution to fat gain, estrogen-related disorders (PMS, endometriosis, fibrocystic disease), and increased risk of common cancers in women and men (breast, ovarian, cervical, prostate).

Allowing you to still enjoy your favorite foods, the program is based on incorporating anti-estrogenic foods, spices, and herbs into your diet, while eliminating estrogenic foods and chemicals. Exposing dietary myths and fallacies, Hofmekler teaches readers that some foods commonly regarded as "healthy" may actually be harmful and vice versa.

Special chapters dedicated to readers with different needs and health conditions, recipes, a question-and-answer section, and a list of scientific references are also included in this valuable resource.
Praise For The Anti-Estrogenic Diet: How Estrogenic Foods and Chemicals Are Making You Fat and Sick…
"I strongly support The Anti-Estrogenic Diet, which provides simple guidelines on how to reach an optimal hormonal balance that revitalizes and protects the organism."
—Daniel Kuhn, MD, founder of Integrative Neural Psychiatric Services of New York

"The Anti-Estrogenic Diet is a must read for anyone who cares about their own health, the health of their family, and the health of our global community."
—Scott Treadway, PhD, world-renowned botanical expert and assistant director of Naturally Occurring Standard Group

"Ori Hofmekler has outdone himself and has put out my favorite nutrition book on building muscle, burning fat, and clearing excess estrogens."
—Mike Mahler, strength coach and author of The Aggressive Strength Solution for Size and Strength

"On the Anti-Estrogenic Diet, I lost weight I had not been able to lose using any other diet. My hormones are balanced, essentially eliminating any PMS and peri-menopausal symptoms. This is not a diet but an eating plan for life. I feel comfortable in my own body for the first time in a long time."
—Testimonial from Nancy Loeffler, project manager at Whiting-Turner Contracting Company, North Carolina

"Through a carefully laid 3-Phase protocol, this diet is designed to clean-up detox pathways, eliminate estrogenic foods and chemicals, and then incorporate anti-estrogenic foods for a long-term lifestyle change. Hofmekler still manages to allow many favorite foods but shows how to balance them with an overall anti-estrogenic way of life… Overall, this would be a beneficial diet for anyone living in today's toxic environment."
—Reader Views
North Atlantic Books, 9781556436840, 208pp.
Publication Date: May 15, 2007
About the Author
Ori Hofmekler is a well-known political artist and health expert. As the founder, editor-in-chief, and publisher of the health and fitness magazine Mind and Muscle Power, he introduced his revolutionary approach diet, nutrition, and exercise and went on to write The Warrior Diet; Maximum Muscle, Minimum Fat; and The Anti-Estrogenic Diet. His dietary and training methods have been endorsed by nutritional and medical experts, scientists, champion athletes and martial artists, and military and law enforcement instructors.

The Warrior Diet, LLC and Defense Nutrition, LLC currently provide nutrition and training workshops for their followers, as well as certification seminars for health experts, medical clinicians, coaches, trainers, and military and law enforcement instructors.
or
Not Currently Available for Direct Purchase