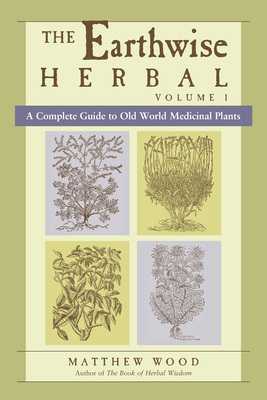 The Earthwise Herbal, Volume I
A Complete Guide to Old World Medicinal Plants
Paperback

* Individual store prices may vary.
Other Editions of This Title:
Paperback (4/28/2009)
Description
Noted herbalist Matthew Wood brings twenty-five years of clinical experience to this comprehensive book on medicinal plants. The first in a two-volume set, The Earthwise Herbal profiles Old World plants (volume two will treat American plants). Organized alphabetically, the book encompasses all of the major—and many of the secondary—herbs of traditional and modern Western herbalism. Author Wood describes characteristic symptoms and conditions in which each plant has proved useful in the clinic, often illustrated with appropriate case histories. In addition, he takes a historical view based on his extensive study of ancient and traditional herbal literature. Written in an easy, engaging, non-technical style, The Earthwise Herbal offers insight into the "logic" of the plant: how it works, in what areas of the body it works, how it has been used in the past, what its pharmacological constituents indicate about its use, and how all these different factors hang together to produce a portrait of the plant as a whole entity. Ideal for beginners, serious students, or advanced practitioners, The Earthwise Herbal is also useful for homeopaths and flower essence practitioners as it bridges these fields in its treatment of herbal medicines.
Praise For The Earthwise Herbal, Volume I: A Complete Guide to Old World Medicinal Plants…
"In The Earthwise Herbal, Matthew Wood has revived the richness, depth, and dignity of the herbal medicine of the old masters, while at the same time endowing it with a new cosmopolitan, cross-cultural flavor that lifts it to a genuinely planetary level."
—Rudolph Ballentine, MD, author of Radical Healing

"Matthew Wood propounds with great clarity, wisdom, and his own experience the gifts the earth in its wisdom has given us in the form of amazing medicines for almost all our ills, whether of body, mind, emotion, personality, or constitution. How refreshing it is to find a new herbal that explores the depths of each plant's contribution and does not attribute its powers solely or even mainly to its chemical constituents."
—Anne McIntyre, English Herbalist


"What [Matthew Wood] brings to herbalism is a first-hand sense of the old Western herbal knowledge with each plant steeped in its historic role."
—The American Herb Association

"Another valuable resource by Wood, a practicing herbalist with 25 years experience under his belt. Part of a two volume set, this complete guide to old world medicinal plants describes the characteristic symptoms and conditions from a holistic perspective."
—Within Kingston Magazine


North Atlantic Books, 9781556436925, 592pp.
Publication Date: June 3, 2008
About the Author
Matthew Wood, a practicing herbalist for over twenty-five years, lives on an herb farm thirty minutes west of downtown Minneapolis. He is a graduate of the University of Minnesota and holds a Master of Science degree in Herbal Medicine from the Scottish School of Herbal Medicine, accredited by the University of Wales. Wood is the author of four previous books (all published by North Atlantic Books) and a registered herbalist, or professional member, of the American Herbalists Guild, the only self-regulating body of practicing herbalists in the United States. He is also a regular contributor to the Journal of the American Herbalists Guild.