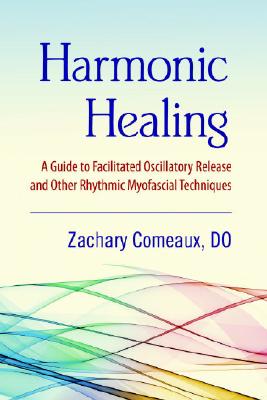 Harmonic Healing: A Guide to Facilitated Oscillatory Release and Other Rhythmic Myofascial Techniques (Paperback)
A Guide to Facilitated Oscillatory Release and Other Rhythmic Myofascial Techniques
North Atlantic Books, 9781556436949, 176pp.
Publication Date: April 8, 2008
* Individual store prices may vary.
or
Not Currently Available for Direct Purchase
Description
Connective tissue release, or myofascial release, is a major component of manual therapies, including osteopathic medicine. Most methods involve placing the patient in a passive, relaxed position for diagnosis and treatment. However, many practitioners have intuitively sensed that rhythmic motion should be a component of therapy, and increasingly include it in their practice. Harmonic Healing introduces such an application of connective tissue principles, which author Dr. Zachary Comeaux calls Facilitated Oscillatory Release (FOR).

The book reviews the role of oscillatory or vibratory work as an extension of other connective tissue techniques, explains the relevant physiology and the principles of wave propagation in tissue, and then provides illustrated introductory exercises, applications, and case studies. Building on the work of his mentor, Robert Fulford, to get more deeply into the core of patients' injuries, Dr. Comeaux presents FOR as a lens through which to reinterpret the strategic use of force in manual therapy, including osteopathic manipulation. Based on both his clinical experience and neurophysiology principles, the author develops practical applications of these principles. These methods are compatible with generally accepted manual methods, and Harmonic Healing shows students, advanced practitioners, bodyworkers, and osteopaths how to integrate FOR into a variety of manual healing approaches.
About the Author
Zachary Comeaux, DO, is an associate professor and practicing physician at the West Virginia School of Osteopathic Medicine. An internationally renowned lecturer on FOR and other manual therapy techniques, and coauthor of "The Pocket Manual of OMT," he lives in Lewisburg, WV.
Praise For Harmonic Healing: A Guide to Facilitated Oscillatory Release and Other Rhythmic Myofascial Techniques…
"Harmonic Healing allows the reader to follow the development of thought regarding therapeutic vibration over the past century in North America and Europe. I can honestly say that this little tome is well worth the time you will invest in reading, and rereading, it."
—Kenneth E. Nelson, DO, FAAO, FACOFP, professor, Chicago College of Osteopathy and author of Somatic Dysfunction in Osteopathic Family Medicine

"Zachary Comeaux very successfully avoids propagating a new osteopathic way of healing, and instead shows how well this approach can be integrated into existing osteopathic treatments. It is ideal for students and practicing osteopaths...."
—Torsten Liem, DO, principle, Osteopathie Schule Deutschland and author of Craniosacral Osteopathy

"In this fine book, Zachary Comeaux clearly describes the underlying concepts, as well as offering practical examples of almost universally applicable ... rhythmic, oscillatory/vibratory release techniques."
—Leon Chaitow, ND, DO, honorary fellow, University of Westminster, London and editor-in-chief of Journal of Bodywork and Movement Therapies
Advertisement