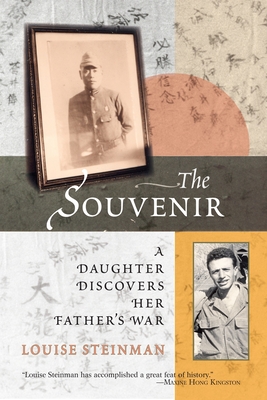 The Souvenir
A Daughter Discovers Her Father's War
Paperback

* Individual store prices may vary.
Other Editions of This Title:
Digital Audiobook (4/21/2011)
Hardcover (10/12/2001)
Paperback (9/1/2002)
Description
Louise Steinman's American childhood in the fifties was bound by one unequivocal condition: "Never mention the war to your father." That silence sustained itself until the fateful day Steinman opened an old ammunition box left behind after her parents' death. In it she discovered nearly 500 letters her father had written to her mother during his service in the Pacific War and a Japanese flag mysteriously inscribed to Yoshio Shimizu. Setting out to determine the identity of Yoshio Shimizu and the origins of the silken flag, Steinman discovered the unexpected: a hidden side of her father, the green soldier who achingly left his pregnant wife to fight for his life in a brutal 165-day campaign that changed him forever. Her journey to return the "souvenir" to its owner not only takes Steinman on a passage to Japan and the Philippines, but also returns her to the age of her father's innocence, where she learned of the tender and expressive man she'd never known. Steinman writes with the same poignant immediacy her father did in his letters. Together their stories in The Souvenir create an evocative testament to the ways in which war changes one generation and shapes another.
Praise For The Souvenir: A Daughter Discovers Her Father's War…
"Exceptional . . . a graceful, understated memoir . . . that draws its strength from the complexities it explores."—The New York Times Book Review"Ms. Steinman skillfully weaves her father's emotional letters into the present-day story line, sensitively taking readers through Norman Steinman's transformation from naïve American soldier to hardened combat veteran. . . . The Souvenir underscores the indescribable way war affects not only veterans but also their families and future generations."—The Dallas Morning News"The book is the story of entwined 'gifts' resulting from [a] personal journey—Steinman's discovery of a side of her father she never expected to share. For many, her account could provide an understanding of how the war changed one generation and shaped the next." —Library Journal (starred review)"A moving memoir about reconciliation and honor."—Publisher's Weekly"The Souvenir is a powerful testament that, regardless of time and place, the effect of war on the human spirit remains the same. Steinman's remarkable discovery shows how war separates our common humanity. It is a journey to repair that broken bond, a journey to know the humanity of those we have made enemies."—Ishmael Beah, author of A Long Way Gone"Partly a detective story, partly a meditation on the legacy of war . . . this is a bold, unusual, and moving book."—Adam Hochschild, author of King Leopold's Ghost"The Souvenir is an intimate and powerful story of the effects of war."—James Bradley, author of Flags of Our Father"Luckily for her readers, Ms. Steinman . . . interviewed not only American veterans of the Pacific war, but Japanese veterans as well. In this quest, she discovered more than just her father's wartime souvenir; she discovered her father's war and those experiences that shaped the life of her family in the '50s. . . . The Souvenir is a graceful blend of history, wartime storytelling and investigative reporting that dives deep into the traumatic experiences of war. Military enthusiasts, especially veterans and their families, will find The Souvenir a proactive [and] rewarding read."—The Jewish Veteran
North Atlantic Books, 9781556437014, 240pp.
Publication Date: March 18, 2008
About the Author
Louise Steinman is curator of the award-winning ALOUD at Central Library literary series at the Los Angeles Public Library. Her work appears frequently in The Los Angeles Times and L.A. Weekly, and has appeared in syndication in The New York Times and other publications.
or
Not Currently Available for Direct Purchase