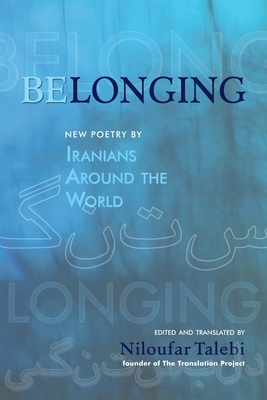 Belonging
New Poetry by Iranians Around the World (Scala Translation)
Paperback

* Individual store prices may vary.
Description
Recent political developments, including the shadow of a new war, have obscured the fact that Iran has a long and splendid artistic tradition ranging from the visual arts to literature. Western readers may have some awareness of the Iranian novel thanks to a few breakout successes like Reading Lolita in Tehran and My Uncle Napoleon, but the country's strong poetic tradition remains little known. This anthology remedies that situation with a rich selection of recent poetry by Iranians living all around the world, including Amir-Hossein Afrasiabi: "Although the path / tracks my footsteps, / I don't travel it / for the path travels me." Varying dramatically in style, tone, and theme, these expertly translated works include erotic divertissements by Ziba Karbassi, rigorously formal poetry by Yadollah Royaii, experimental poems by Naanaam, powerful polemics by Maryam Huleh, and the personal-epic work of Shahrouz Rashid. Eclectic and accessible, these vibrant poems deepen the often limited awareness of Iranian identity today by not only introducing readers to contemporary Iranian poetry, but also expanding the canon of significant writing in the Persian language. Belonging offers a glimpse at a complex culture through some of its finest literary talents.
Praise For Belonging: New Poetry by Iranians Around the World (Scala Translation)…
"Niloufar Talebi's accomplishment in gathering the poetry of the Iranian diaspora is unprecedented and breathtaking. It is as if she has, by force of commitment and vision, and by way of cultural hunger, bequeathed a new literary heritage to Iran and the world. Here is a lyric symphony of utterance in the voices of exiles, immigrants, refugees, and expatriates. That Talebi assembled such an extraordinary collection is impressive enough—that she translated most of these poems herself is nothing short of remarkable."
—Carolyn Forché, editor of Against Forgetting: Twentieth Century Poetry of Witness

"In Belonging, with literary skill and passion, Niloufar Talebi has made a major contribution to the recognition of contemporary Iranian literature in the West, to the appreciation of diaspora poetry by Persian speakers everywhere, and to the important project of producing good translations from rich but underrepresented literary canons for the anglophone reader."
—Nahid Mozaffari, editor of the PEN Anthology of Contemporary Iranian Literature

"Poetry is a world art because of brilliant editors and translators like Niloufar Talebi ... Here are the poets, in all their power, defiance, dignity, wildness, and lyric grace, scattered across the earth, yet united in this book. Here is proof that poetry humanizes: now contemporary Persian culture has a face, and the Persian tongue a voice, for those of us in the English-speaking world, and we are all richer for it."
—Martín Espada, Pulitzer Prize nominee and author of The Republic of Poetry

"After reading her introduction and the first few sections of Belonging, I realized that Talebi had accomplished perhaps the greatest service that a translator of Iranian poetry for American audiences can provide: she made the Iranian poetic landscape feel familiar. Not only familiar, but modern, full of laughter, rich with wonder, completely joyful and terrible and worthy of revisiting multiple times."
—Peter Conners, Three Percent

"Niloufar Talebi has accomplished the ultimate magic trick in her clean and modern translation. She has made the work of modern Persian poets read like original English ... an unparalled contribution."
—Willis Barnstone, author of With Borges on an Ordinary Evening in Buenos Aires

"The poems speak of lost places and missing people; of the fear and freedom that come with new surroundings; of love, sex, and passion; of prison and protest; of the commonplace and the universal; and of subjects classical, political, and taboo… In form and imagery these poems often allude to works of Persian classical literature, but they are also the heirs of Rimbaud, Lorca, Dante, Shakespeare, and the literatures of adopted countries… Talebi's translation process included thorough review and collaboration with the poets themselves… While one can always find phrases with which to quibble, the translations are of consistently high quality… not only do the poems work in English, but they adhere closely to the originals in tone, content, and format."
—Harvard Review Online Journal

"If you will trust me though, and don't want to read my justification, you can know that this is simply one of those books you need to have on your shelves, one you can look for and find at a party, and hand to one of your closer American friends and smilingly say, 'Here Bradley, this will explain everything!'"
—Iranian.com

"This collection is impressive by making a good sample of contemporary Iranian poets in the diaspora so beautifully accessible to English readers and by presenting them so deservingly as a part of world literature today."
—World Literature Today Magazine
North Atlantic Books, 9781556437120, 256pp.
Publication Date: August 5, 2008
About the Author
Niloufar Talebi founded The Translation Project (www.thetranslationproject.org), whose mission is to bring contemporary Iranian literature to worldwide audiences in multiple languages and media. She lives in San Francisco. Zack Rogow has translated Colette's Green Wheat, Marcel Pagnol's play Marius, and other works. Dan O'Connell is an award-winning poet and the author of Different Coasts, a full-length collection of poetry on the theme of alienation.
or
Not Currently Available for Direct Purchase