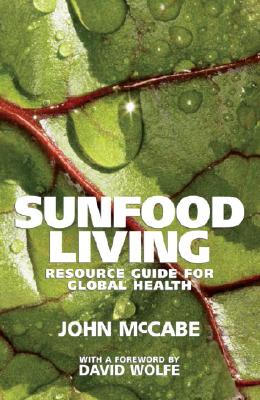 Sunfood Living (Paperback)
Resource Guide for Global Health
North Atlantic Books, 9781556437335, 576pp.
Publication Date: October 30, 2007
* Individual store prices may vary.
Description
With this encyclopedia-style guide, you have at your fingertips everything you need to know to live a healthy, eco-friendly life in our industrialized, consumer-driven society. Collected here is concise information on every relevant topic imaginable, including: the food shortage myth, pollution caused by farm animals, poisons in cooked food, plant-based food and health, soaps and detergents, fair trade, heart disease, hunger and homelessness, etc. Woven in among the tips are countless quotes from Albert Einstein, Martin Luther King, Jr., David Attenborough, and many other famous, respected figures. The bulk of the book is made up by the Sunfood Living Directory, which directs readers to the organizations, publications, and other resources they can turn to for in-depth information on each topic.
About the Author
John McCabe is the author of "Surgery Electives: What to Know Before the Doctor Operates, "an expose of the financial ties of the unethical and dangerous allopathic hospital, insurance, and pharmaceutical industries whose business practices and "health care" result in the deaths of thousands of people every year. The book received much media attention and was endorsed by all the patients' rights groups in North America as well as by members of the U.S. Congress.

McCabe has been a ghost co-writer on health-related books by other authors. He has also been a content and research editor on books written by David Wolfe, including the best selling raw vegan lifestyle book "The Sunfood Diet Success System. "His new book, "Hemp: What the World Needs Now, " will be published later in 2007.

Considered the world's leading authority on raw-food nutrition, foreword-writer David Wolfe is the author of the best-selling book "The Sunfood Diet Success System. "He conducts 70 to 80 health lectures and seminars each year in the United States, Canada, Europe and the South Pacific, and hosts at least five health, healing, and beauty retreats each year at various retreat centers around the world.
Praise For Sunfood Living: Resource Guide for Global Health…
"Sunfood Living is a lifesaving book. Its abundance of documented facts demonstrates how our current way of living and eating rapidly destroys the environment and our health. John McCabe offers a wide spectrum of sustainable solutions from around the world. I consider this book a timely eye-opener for individuals, families, businesses, and governments."
–Victoria Boutenko, author of the books Green for Life; 12 Steps to Raw Food; and co-author of The Raw Family: A True Awakening; RawFamily.com

"This is one of the most comprehensive educational tools available on the market today. John McCabe is doing the world a great service, helping others help themselves through education. Sunfood Living is carefully researched and covers every topic you need to know in order to thrive in excellent health and make conscious choices in everyday life."
–Cherie Soria, owner of Living Light Culinary Institute; author of Angel Foods: Healthy recipes for Heavenly Bodies; The Raw Food Diet: Feast, Lose Weight, Gain Energy, Feel Younger!; co-author of Comiendo Pura Vida; RawFoodChef.com

"Sunfood Living is a heroic compilation that every household will benefit from. A key catalyst for action and responsible living is access to information, and these pages provide an encyclopedia of resources for just that. Sunfood Living is a steadfast tool to reclaim the power of choice each of us wields in shaping the future of global health. In a time when consumerism and lifestyle have an unparalleled, momentous impact on our planet, this book offers information, options and solutions for shaping the change we wish to see in the world."
–Renée Loux, author of Living Cuisine: The Art and Spirit of Raw Foods; celebrity chef and TV personality; EuphoricOrganics.com

"John McCabe's Sunfood Living is very timely and important. It is the researcher's resource for gaining inspiration, insight, and information for learning how to actively participate on a personal level in cleaning up our individual and collective pollution by being a part of the sustainability solution. Accessible and down-to-earth, Sunfood Living offers not only resources but also commentary loaded with facts from the dangers of eating 'flesh food' and its byproducts, to the importance of organic foods, to eating solely a plant-based diet and living healthfully by returning to Nature. He also gives a plethora of crucial how-to information from battery and cell phone recycling, to heart disease, hemp, environmental protection, sprouting, solar energy, money and investing, and much more. Are you ready for massive personal and planetary transformation? This invaluable resource guide is more than food for thought; it could actually change and save your life, the lives around you, and many species facing extinction. It is true that the truth sets you free. Roll up your sleeves, McCabe has given us a powerful and potent hands-on source of truth and empowerment."
–Amy Rachelle, author of Transformation: A 33 Day Self-Empowerment Program for Cleansing Body, Mind, & Spirit; AmyRachelle.com

"This book serves as an excellent reference book. Inside Sunfood Living are literally hundreds of facts on why the raw food diet is good for you and the planet. If you want to learn from someone who walks the walk of saving the planet, John McCabe is your teacher."
—Raw Food Right Now blog
or
Not Currently Available for Direct Purchase