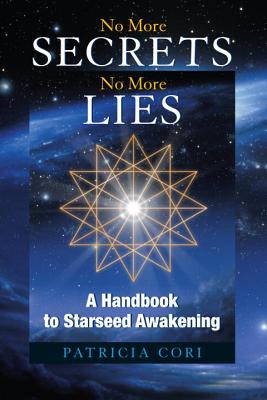 No More Secrets, No More Lies
A Handbook to Starseed Awakening (Sirian Revelations #3)
Paperback

* Individual store prices may vary.
Other Editions of This Title:
Paperback, Large Print, Large Print (6/1/2012)
Description
Building on the historical perspective that characterized the previous book in the trilogy, Atlantis Rising, this final volume asks readers to remember that when they decided "to come to this earth adventure... blowing down the Establishment Walls would be a Herculean task." But, she adds, "Fall they would indeed." Hastening this necessary next step in evolution to higher being, says author Patricia Cori, requires understanding the forces at work and how to challenge and conquer them. No More Secrets, No More Lies unmasks the lies that have been employed to disempower the human race, while illuminating the tools necessary for those who intend to ascend with a revitalized Planet Earth. Intended as a guide for overcoming the designs of the dark warriors, and a blueprint for achieving the absolute freedom that is our true birthright as the super race of the realm, this provocative book brilliantly integrates into a larger schema such issues as media manipulation, racism, dark forces, crop circles, our food and water, and imminent extraterrestrial contacts, with the cosmic unfolding of human awareness and the evolutionary activation of our complex DNA codes—our blueprint to immortality.
Praise For No More Secrets, No More Lies: A Handbook to Starseed Awakening (Sirian Revelations #3)…
"Patricia Cori has channeled some extraordinary text for humankind and its Spiritual Awakening. Her trilogy of the Sirian Revelations is truly illuminating, at the doorstep of Gaia's Golden Age…. Cosmic Knowledge has been handed over via the Hopi Indian Culture. In the form of the Hopi Peace Prophecy, it has survived the centuries, and through Patricia Cori, is now revitalized as a Spiritual Awakening for our decade ahead."
—Ove Svidén, President, World Peace Foundation

"In these times of twisted jihadist stories, false flag events, and excessive warmongering, required classroom reading should include such books as No More Secrets, No More Lies by Patricia Cori."
—Santa Fe New Mexican

"Without question, the most interesting and best written book of any I have read in its genre."
—Nexus Magazine, Italy edition

"This may be my favorite book...[No More Secrets, No More Lies] asks us to reclaim our birthright of absolute liberation as unparalleled spiritual beings within our realm of existence."
—Starseed Shaman

"The Sirian Revelations—a series of books based on higher dimensional teachings, as given by the Speakers of the Sirian High Council, channeled through Patricia Cori, challenge our predominate worldview, revealing our true origins and empowering us to make conscious choices in our ever evolving and often baffling world. Meticulously detailed throughout, the series sheds new light on the historical timeline and offers concrete guidance for 'starseed awakening.' Excellent, well-written masterpiece, and highly recommended."
—Kathy Doore, author of Markawasi: Peru's Inexplicable Stone Forest

"This material is extraordinary... It is clear the Council, through the channel, Patricia Cori, are absolutely attuned to our experience on earth."
—Marcia McMahon Mastroddi, Peaceful Planet Radio

"Patricia Cori is a tremendous gift to us all. She has honoured the call of her Soul, and walks as an example of one dedicated to service of the awakening human spirit. Her multidimensional agility in conversation, grounded in her rich personal life experience, offered such sweet music for the dance we shared with all of the listeners, and more to come, who will enjoy the archives. Many thanks to you, Patricia, for your courage and for choosing to be with us all at this time."
—DJamil Graham, Alchemy of Light Broadcast, BBSRadio.com

"Patricia and her Sirian contacts are one of the most inspiring sources available during this time of shifting potentials and human evolution."
—Steve Crow, Soul Adventure TV

"Patricia Cori is one of the most fascinating, charismatic, articulate, knowledgeable and intriguing guests I ever had on The Paranormal Show. I was so captivated by Patricia that the hour interview passed by like a flash of light. When the folks in the control room at the TV station gave me the instructions in my earpiece to wind down the show as we were nearing the end of it, I had to look at my watch to validate that I was being given the correct message. She is a class act, both on the inside and the outside. Needless-to-say, Patricia will be a welcome guest on my show whenever her travels take her to Canada."
—Stan Mallow, Host, The Paranormal Show

Patricia Cori is a prolific author who has a lot of insight about many things..."
—Dr. Gregory A. Smith, KABC Radio, Los Angeles
North Atlantic Books, 9781556437380, 312pp.
Publication Date: February 26, 2008
About the Author
Patricia Cori is a highly regarded clairvoyant/channel and the founder of the LightWorks Association, a spiritual center and New Age library in Rome. A native of the San Francisco Bay Area, Patricia Cori moved to Italy in 1983 and, although she travels the world year round, she resides in Rome.