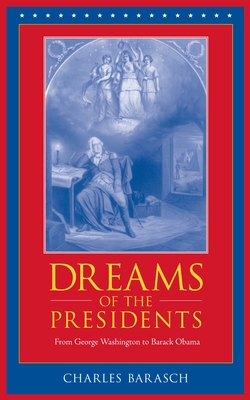 Dreams of the Presidents: From George Washington to George W. Bush (Paperback)
From George Washington to George W. Bush
North Atlantic Books, 9781556437502, 93pp.
Publication Date: September 9, 2008
* Individual store prices may vary.
or
Not Currently Available for Direct Purchase
Description
The stuff of dreams hopes, fears, and longings represents universal subjects to which everyone can relate. Dreams take on a new cultural currency in this collection of dream-poems, one for each American president. Exploring power, as well as its limits and possibilities, linguistics instructor Charles Barasch plays no favorites, making light of the sense of entitlement and self-importance that afflicts too many politicians. Fun to read, humorous, and laced with events of historical interest, each poem gives a dose of insight into the president's life and his relationships with others, including his family, allies, and rivals. Where contemporary people or important references to American history such as slavery and the Indian wars occur, notes explain and contextualize them within the poem's meaning. Published during an election year, this book offers a well-timed look at politicians, some much-needed laughs at leaders who take themselves too seriously, and a fun platform from which readers can start to explore the lives of those who, for better or worse, have led America.
About the Author
Charles Barasch s poems have been published in many literary and general-interest magazines, as well as in the anthology "Baseball, I Gave You All the Best Years of My Life. "He has created crossword puzzles for the "New York Times, "the "Washington Post, "and other major publications. A linguistics instructor at the University of Vermont and a speech pathologist working with children, he lives in Plainfield, VT."
Praise For Dreams of the Presidents: From George Washington to George W. Bush…
"With the grueling neverending election finally behind us, Charles Barasch's magnificent book lets loose one last broadside at the insane zoo that is American politics. The conceit is simple: 42 poems, one for each president, in the form of a possible dream that president might have. The result is surreal, funny and even poignant at times."
—Dan Szczesny, Hippo Manchester

"The dreams drift lazily over the harder prose of the footnotes, forming a world saturated with sexual imagery and guilt about slavery and imperialism. Melancholic Presidents wander the White House hallways, grieving over dead children and spouses. Lillian Gish and Marilyn Monroe, who were half ghosts already, rub against the dreams' surfaces. The poems are a delicious smoke curling around the Presidents; something like the fantasy air around the ad men on TV drama Mad Men, which could've easily been Barasch's title."
—Allen Shelton, PASTE Magazine

"None of the dreams in Dreams of the Presidents is real. But they're a brilliant concoction. And if we are ever to come to terms with the exaggerated importance we have assigned to our presidents, we will have to see these men (and women) as they are, not larger than life, but sized appropriately—and as human and flawed and brilliant and scarred as each of us."
—Nat Frothingham, The Bridge
Advertisement