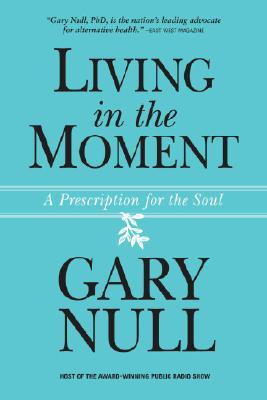 Living in the Moment: A Prescription for the Soul (Hardcover)
A Prescription for the Soul
North Atlantic Books, 9781556437632, 296pp.
Publication Date: August 19, 2008
* Individual store prices may vary.
or
Not Currently Available for Direct Purchase
Description
Anecdotal and reflective, Living in the Moment comprises health expert Dr. Gary Null's lifetime of observation and wisdom. Following Einstein's belief that "we can't solve problems by using the same kind of thinking we used when we created them," Null offers fresh, paradigm-breaking solutions to living our life to its fullest potential—through our relationships, health, and self-expression. Dr. Null's "prescription for the soul" bids readers to take an active role in their own lives—to carefully distinguish truth from past conditioning. While he espouses a natural-foods and alternative-health lifestyle as part of our well-being, Null also shows us how crucial it is to do those things with the right awareness and intention; if we go to yoga and eat right but stress out at work and are stuck in a difficult relationship, we're not in balance and able to truly awaken to our deepest energy for life. Dr. Null has presented much of the material in Living in the Moment throughout his career—in his lectures, his award-winning radio show, documentary films, and investigative reporting. Now Living in the Moment enlightens readers on the many tools at their disposal for achieving the balance, self-esteem, and passion missing from their lives.
About the Author
Dubbed "The New Mr. Natural"by "Time "magazine, Gary Null, PhD, has written over seventy books on nutrition, self-empowerment, and public health issues, including two "New York Times "bestsellers. His work has been featured in the "Daily News, Time, People, Fitness, Time Out, "and "Vegetarian Times. "Also an award-winning documentary filmmaker, he lives in New York City.
Praise For Living in the Moment: A Prescription for the Soul…
"Gary Null has written an exceptional book. It poignantly depicts the crisis we as Americans—who are adrift in the world and who, as aging boomers, think we have discovered eternal youth—are in. More profoundly, it points the way forward to spiritual and civic renewal, which, if we attain it, could provide for us the youthfulness we have spent our lives pursuing."
—Dr. Jim Garrison, president of Wisdom University and State of the World Forum

"Gary Null is an experienced, brilliant, and rare holistic visionary healer for humanity in the twenty-first century. He understands that there are cultural and institutional disorders that trace how we are conducting—actually mis-conducting—our consciousness. In this powerful and accessible narrative, he presents a diagnosis for our current cultural disorders and taps the enormous power of global wisdom through the ages in prescribing a deep healing for our human condition as we mature and learn to live in this moment. This is a must-read for anyone concerned about our sustainability and flourishing at the individual and cultural levels."
—Ashok Gangadean, PhD, chair of the Department of Philosophy at Haverford College and author of The Awakening of the Global Mind

"Gary Null's gift for storytelling and his depth of knowledge guide us firmly and lovingly in how to take responsibility for our lives and live from our highest potential. This is a brilliant book! I know I will reread it many times to absorb the wisdom, practice, and powerful tools shared."
—Sandra Ingerman, MA, author of Soul Retrieval and How to Heal Toxic Thoughts

"Gary Null has the amazing capacity to see the world through a big-picture perspective, while many people see through a narrow scope. He draws from his vast knowledge of diverse scientific and spiritual disciplines to give answers to many of our human problems. This is a timely book that I highly recommend."
—Dr. Henry Grayson, founder of National Institute for the Psychotherapies

"Living in the Moment is about showing individuals that we can live our best life possible…excellent for anyone looking for an educated perspective. Null gives sound advice to help individuals break free of distractions that are detrimental to our true potential."
—Hope News
Advertisement